Mother Nature versus Your Run (or, When Lightning Strikes…)
Mother Nature versus Your Run (or, When Lightning Strikes…)
Last Wednesday (6/23), my training buddies and I were gearing up for what would have been (for many of us) our first post-Boston Marathon speedwork session, in preparation for the Chicago Marathon on 10.10.10.  Since there were five of us involved, and one gal had to trek in from the suburbs to do it, you can only imagine all the back-and-forth emails, detailing our logistics, that passed among us in the impending hours.
And then Mother Nature gave us a big F-U and decided that speed just wasn't going to happen that night.
If you're not from the Chicago area, it's likely that you didn't hear about the tornado that swept through parts of the greater Chicagoland area or the absolutely wicked, somewhat infernal thunderstorm we had that night.  Though no tornado touched down in Chicago, proper, we had what amounted to a laser light show of lightning and just buckets' worth of rain pelted down on us from roughly 5:30 until well after 9 that night.  The picture, below, taken by a Tribune photographer, gives you a glimpse into the amazing weather conditions we had last week.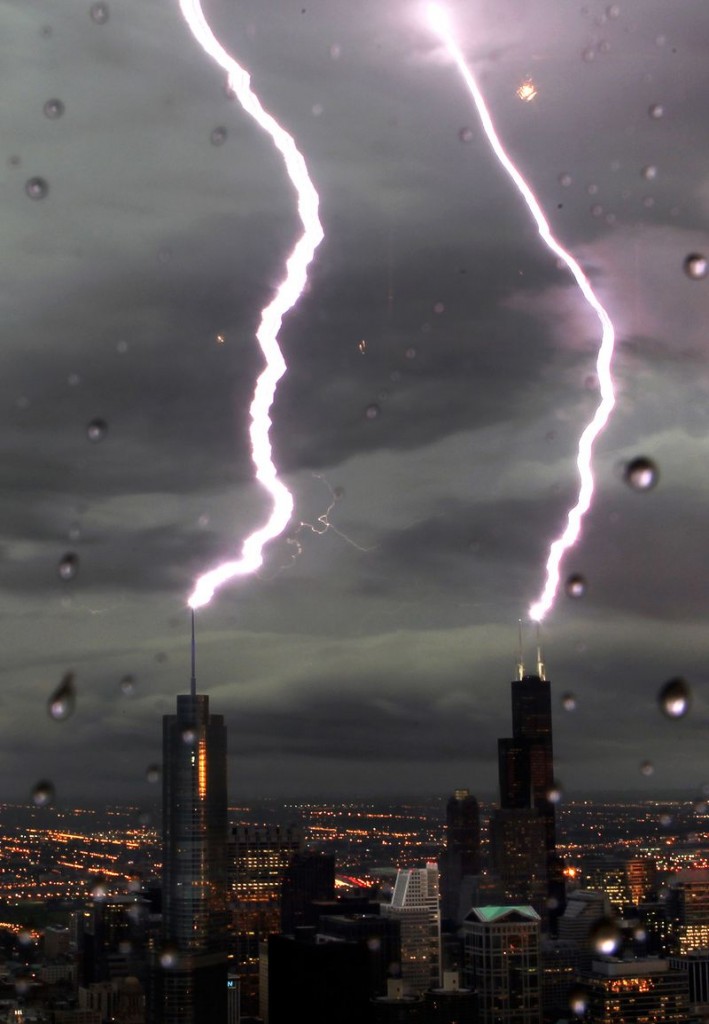 …which leads me to the real purpose of this post.  I'm the type of runner who doesn't mind running in the element—thunder, rain, snow, ice, heat, frigidity, whatever—but as soon as lightning enters into the fray, I'm high-tailing it out to seek cover.
A quick scouring online just now brings up all sorts of formulas about how fast you'd have to run to "outrun" an eminent thunder and lightning storm, but I'll take this quick little adage from the National Lightning Safety Institute: "if you can see it, flee it (take shelter immediately); if you can hear it, clear it (stop what you're doing and find a safe place to wait)." The National Weather Service also has a good resource on lightning safety for outdoor activities.
Though irked I was to not be able to do my speedwork that night, at the end of the day, I run to maintain and increase my health.  And I can't do either if I've been struck dead by lightning.
Can't get a much more self-evident formula than that.