Warming back up to running, a la Hot Chocolate
Warming back up to running, a la Hot Chocolate
In the immediate 3-4 weeks post-Chicago marathon, fatigue hit me like a Mack truck day in and day out.  I'm not sure if it was preg related or not, since I was also in the throes of my fall quarter with FT grad school and since I was also working FT (those two, together or alone, are enough to make anyone tired).  At any rate, post-marathon I slooooooooowly got back into running again by running the Trick or Treat Trot 10k (dressed up like Robin – see pictures here!) and by having an awesome little "reunion run" with my buddies at the Hot Chocolate 15k.
I mentally prepared myself for the Hot Chocolate race by saying that no matter what, it was going to be a win-win type of day for me, simply because I had never run that race or that distance before—in other words, instant PR (and by extension, PPR)!  The Saturday of the race, the first Saturday in November, was one of Chicago's first really cold days, so I had to pile on the layers of tights, long sleeves, gloves, and hats in order to stay sufficiently warm for the 15k.  Check out the pic below (right under the "ee" in "volunteers"), taken from Running Away Multisport's race site for the event—you can see my pals Chris and Casey, along with me, in the starting area totally decked out in cold-ish running gear.  (We are local celebrities!)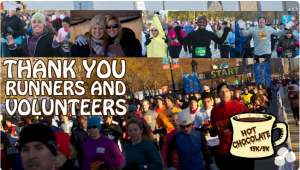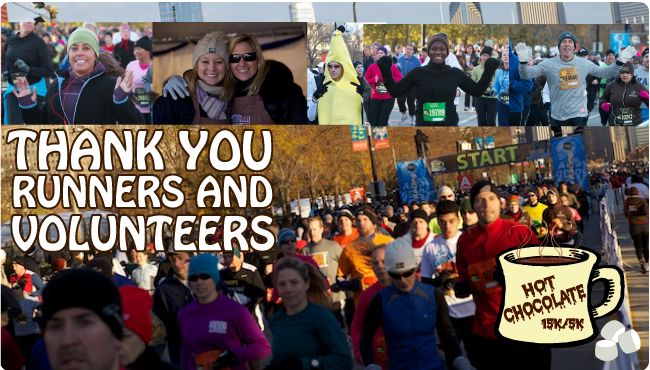 The race, which has grown a lot in its short history, was actually pretty fun.  We started and finished in Grant Park and ran south along the lakefront path, so while the course wasn't anything exotic or necessarily "new" for me, the run was well organized.  Runners also had a 5k option, which meant that as we were waiting to start our race, we got to see a lot of the 5k runners finishing their race… very cool for us and them both, since we all got the chance to motivate and psych each other up.
Following the race, a bunch of my buddies and I ventured over to John's for a post-race brunch and impromptu birthday party for Guerline and me.  As the pictures below indicate, it was a pretty awesome time 🙂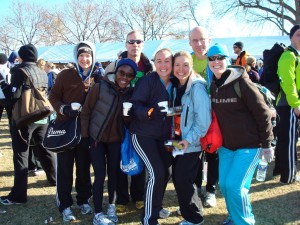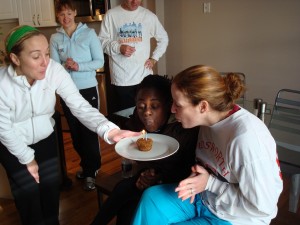 So, would I do the Hot Chocolate race again?  Probably.  The only unfortunate thing is its sticker price—in the upwards of $60-70, if I remember correctly—but at the same time, there's really no other race of that distance, in that time of the year, in Chicago.  Likewise, Running Away typically puts on good races and features great swag for their runners, so you could consider it an investment.  Running this race seemed to give me the reenergizing that I needed to beat off some of the fatigue that had been plaguing me post-marathon, though, and for that, I am quite grateful.