Best. Running. Partner. Ever :)
Let's do this thing… er, things
Thanks for the commentary on my earlier post about training plans. I've decided to give the Pfitzinger 55 mpw plan a try (from Advanced Marathoning). I'm going into it already with solid mileage, so I think it's totally doable. I have also heard and read some great things about it (including my training partner who used it and ran his PR), so I'm cautiously optimistic.
In other news, I bought my airfare to Oregon for the Eugene Marathon on 4/28; this s— just got (more) real!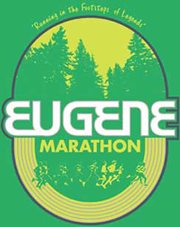 Last week ended up being surprisingly high mileage for me–almost 50–and I've been feeling great and totally unfazed (and not at all like I just did a marathon on 1/13). I think this is a good sign. I'd like to think I'm smart and experienced enough to avoid committing the TMTSTF mistake–too much, too soon, too fast–but seriously, words cannot adequately describe how energized I am at knowing that what used to be decently high mileage for me not that long ago now doesn't have the same lasting effects. It's interesting.
To that extent, a friend–my buddy, Dan, whom I met at Houston and ran with for the majority of the race–and I have been talking about women endurance runners and their performance versus their age, and he sent me this really interesting article about that very topic. Check it out at your leisure (and let me know what you think; I'm curious!).
In other news, Chicago is having freakish weather this week (high in the mid-40s yesterday; high-50s today; and oh, yeah, it'll be sub-20 tomorrow), so I'm looking forward to taking advantage of some nice temps to run with A today. I haven't taken her out in a few weeks, thanks to the marathon, said recovery, and then the Siberian temps we had last week. Pics forthcoming…
And finally (short post today), I'm pretty stoked about this 10k race I'm doing at Soldier Field on Sunday. For starters, I haven't run a 10k since I was about… oh… 14 weeks pregnant (give or take a few weeks), back in late October 2010. I haven't done a ton of 10ks in the first place, so I'm eager to see what I can do on Sunday with my fitness being what it is now (note: that's a horribly veiled way of me saying that I want to annihilate… whoa, violent… my PR). It should be an awesome day, between what looks to be decent weather, a friend doing it as his first road race ever (awesome!), and catching up with some other awesome runner friends… lots of pics to follow, for sure.