My interview… with myself
My interview… with myself
I remember really long email surveys were all the rage with my high school group of friends; seriously, no exaggeration, we would all answer these sometimes 100+ long survey questions about ourselves—even though we already knew the answers to each others' questionnaires—so I don't think I've willingly touched a survey like that since.
However, when I saw that Laura had posted it on her blog, I thought it was actually too fun to pass up, so here we go. Consider yourself forewarned that a) I've never done a running-specific survey, and b) I haven't done a survey like this in a decade. I **might** get a lil excited. 😀
–e
[Ed. note: I was recently somewhat off the grid in rural MO; hence the flux of blog posts…and probably way longer answers than you care to read.]
———————————————————————————————–
1.  How did you get into running?
I've actually been thinking about this question for the past month (well before I read this survey… kinda funny it came up here). Of course, I got into marathon running in 2007 (I'll get to that in a second), I ran track in middle and high school, but my absolute earliest memories of running stem from elementary school when a) I was chasing boys and b) boys were chasing me. Yup.  (In fact, I have distinct memories of coming home, telling my mom that Chase (his real name!) wouldn't stop chasing me at school during recess, and she told me to tell him that if he didn't stop chasing me, she would chase him instead. My mom rules).
Anyway, backing up, besides chasing and being chased in elementary school, I was a sprinter in middle and high school- 100 up to the 400 and all the corresponding relays. For a hot minute in middle school, I hurdled, and was pretty decent at them, but once I figured out that I could be faster when I didn't have to jump over random objects, I left 'em. I also think I ran track because, besides from the whole "chase or be chased by Chase" thing, both my bro and my sis ran, so it was the Mink thing to do.  Anyway.
Digression. In June 2006, the weekend before my undergrad commencement, I walked the AVON Walk for Breast Cancer over two days (26.2 on Saturday, 13.1 on Sunday) with two college friends, and I distinctly remember saying that it would be cool to run a marathon but that I would never been in the requisite shape to do so. Well, come December of that year, I decided that I wanted to run a marathon before I died (I think about my mortality a lot, probably almost every day…is that normal?), and I didn't think I was going to die anytime soon, but I thought it was a good time to do it, just to be safe. I signed up with Team in Training/the Leukemia and Lymphoma Society in honor of another good college friend's mother who had been diagnosed with non-Hodgkin's lymphoma while we were in undergraduate together, convinced my friend (Traci) to run that year as well, and the rest is history. (Since then, that same friend has completed a veritable shitton number of Chicago marathons, all with Team in Training, and all in honor of her mom. And now she's in med school in the Pacific NW. Total rock star, that gal)

2.  Do you have a bucket list? If so, what's #1 on it?
A running bucket list? Nope, not particularly. I have goals that I've set for the year, but nothing is particularly bucket-worthy. I have marathon career goal; does that count?
3.  What has been your favorite race?
This is impossible. I love racing, and even the shittiest race still has some redeeming qualities for me. My favorite marathon has probably been any of my BQs- Austin, Madison, Rockford, Boston, Urbana/Champaign, or Houston—because a BQ is always so sweet, but each race has had its own special meaning for me, because of the people I've met during the race experience, the course itself, how I've felt or performed, or in general, the memories I've made in the process (in training, on race day, whatever).
I will say, however, that one of my favorite non-marathon race is a four-miler in Akron, OH, on Thanksgiving morning, called the Home Run for the Homeless. It's an awesome event (the second biggest race in Summit County, second only to the [also awesome] Akron Marathon) that benefits a kick-ass, totally volunteer-led organization in Akron, and the course is through a hilly cemetery. It's probably the lowest-key race I've ever done, but I look forward to racing it every time I'm in OH for Thanksgiving (and I even PRed and placed in my age group in 2012, which was a huge bonus. Really, they gave me a pie. How cool is that). I do love the marathon though.

4.  What motivates you to keep going?
I am very goal-driven, perhaps to a fault, but I also get off on the thrill of self-discovery that training can bring. Running brings such clarity and focus to my life that much of the time, I wonder how people don't run. Having races on the calendar, and specific goals, also helps 🙂

5.  What is one habit you have that you wish you could break?
Ha, I wrote about this recently; I tend to sandbag myself and be pretty self-deprecating. For what it's worth, I think it's humility; girl's gotta stay grounded…
6. If you could have ANY job in the world—what would you do?
Every job. Seriously. I have really disparate interests and passions, so I would love to do something different every single day (and somehow make a living out of that…). A short list: policy, analysis, writing, gender studies, teaching, coaching, counseling, nutrition, public health, law, immigration, literature, English, Spanish, urban anything, language, international relations, refugees, power, politics, exercise, physiology, running, marathoning, academia, vegetarianism and veganism, can you see my problem here? Same reason why I think I have to *settle* with two Masters, without a PhD… because I can't narrow my interests at all. On the other hand, maybe I should just always stay in school…

7. What's your favorite piece of gear?
I don't really have a favorite; I'm more function than form… that said, probably my shoes (right now, the Vomero 6). I can run without my watch pretty easily, and I rarely listen to music, but I always wear my shoes (and if it's daytime, sunglasses… squinting is a pain in the ass, and my eyes water like crazy on Chicago's windy lakefront).

8. What is your go-to pre-race meal?
Depends on the distance. It's usually some variation of 1-2 bagels with 1-2 bananas and some jam of some sort, spread out over several hours.

9. Do you take supplements? If so, what?
I do, but not so much for my running as for my general health. In addition to a daily multivitamin, I take 400mcg of folic acid (comes with the territory of being a woman of child-bearing age), and I just recently began taking B12. I've been vegetarian for five years now and have become increasingly more vegan (intentionally), so the B12 is a long time comin. Besides that stuff and my medication for my autoimmune disorder, that's it. Pretty clean (and truth be told, I'd prefer not to take anything, much to my endocrinologist's chagrin).

10. What do you love about running?
Another impossible question. In so many words, running is pure, clean, unadulterated, and restorative. It humbles and empowers me, gives me mental resolve and both physical and mental acuity that nothing I've ever experienced ever has before, and in general, it just makes me a better human being.
A few years back, I won a 250-word essay contest from Chicago Athlete magazine called "Why Chicago Runs." It was a pretty sweet deal—I got a year's worth of comped race entries, for an essay I wrote at work in about 20 minutes—and I think it pretty succinctly describes my attempt at answering this question.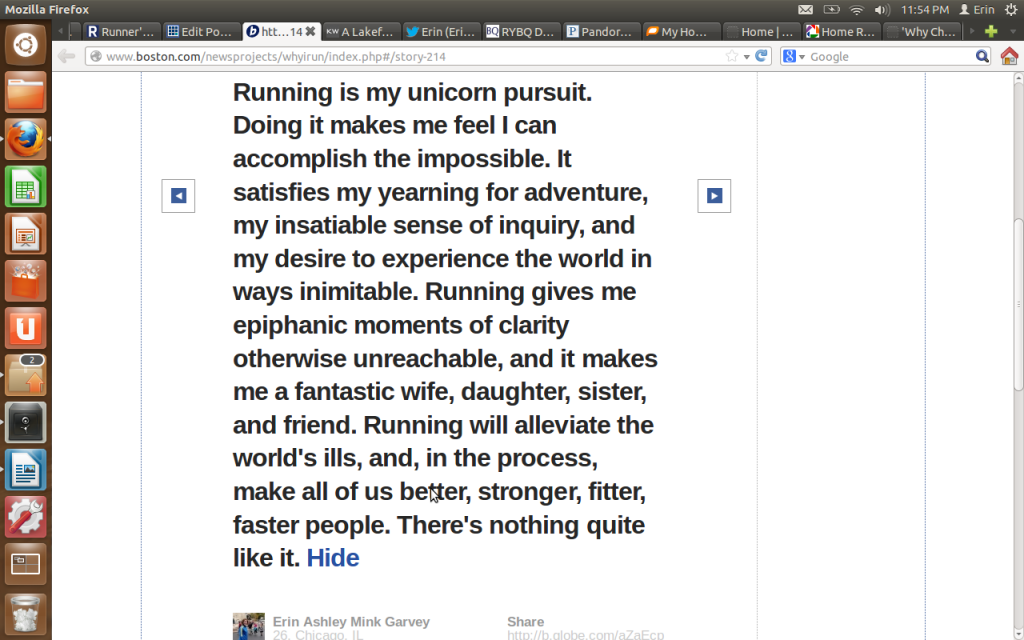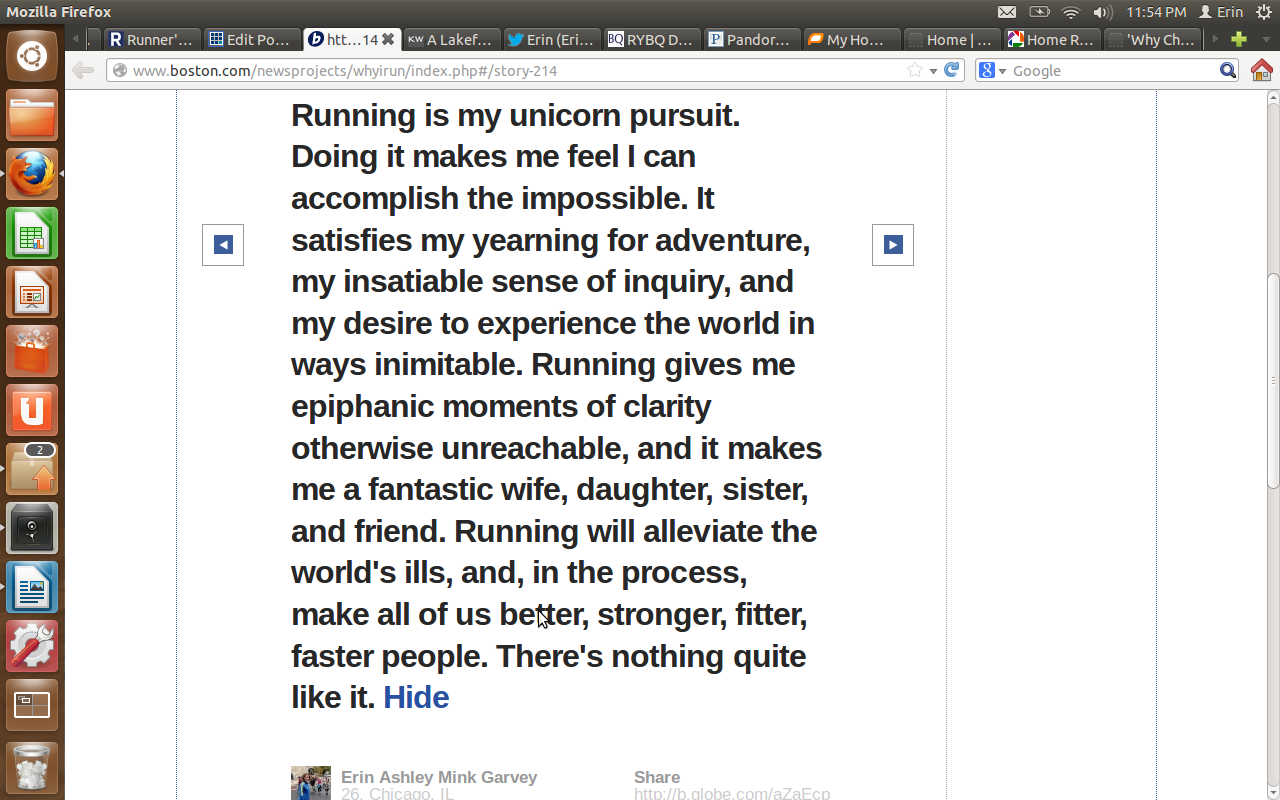 11. What is your next BIG race?
I'm doing an 8k in early April, but my next "big" race is the Eugene Marathon on April 28. It will be my second go at shooting for sub-3:30 (came close in Houston but just missed it), so I am pretty excited about it. After that, I've the Chicago Marathon in early October and then NYC in early November, but I'd like to get some more stuff on my calendar for the rest of the year. Addicted, I know 🙂 (but it could be worse…)