Oakland Marathon 2014 training: 7 weeks out
Oakland Marathon 2014 training: 7 weeks out
7 weeks out – week 5 – week of January 27, 2014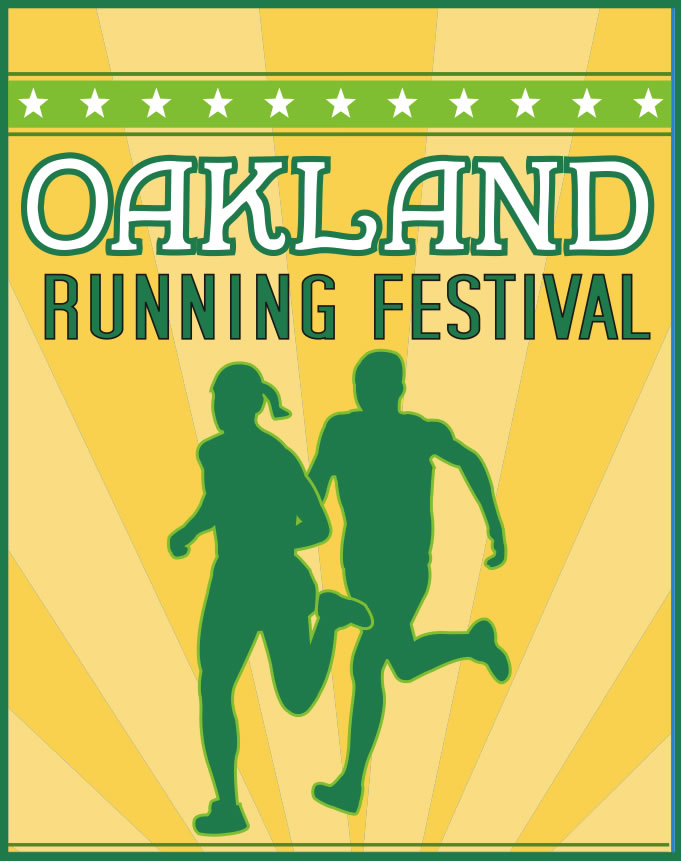 Yeah, uh, 7 weeks out, not 8. Apparently someone can't read an Excel spreadsheet too well, so all my numbers have been off so far. #facepalm
Anyway, few things were on my mind with my runs this week except a) being mindful of effort, given my intention of running-but-not-racing-but-doing-a-half on Sunday, the day following my LR, and b) getting through peak week #1. Pfitzinger's 70/12 is a tad different from others in that instead of building-building-building to a training apex, and then having runners topple down the huge taper tower and barrel toward race day, you basically keep the mileage somewhat consistently high but hit your maximum volume a few times in the 12-week cycle. (I'm not sure if he does this for his other plans that are longer in duration, but I'd imagine so).
That said, this week was my first time I would intend on hitting my 70-mile maximum, and due to some scheduling shuffling, I included the Kaiser half in San Francisco–a bit of a rundezvous with Austin, as well as some nice quality time with Stone, and Chicago Bootlegger galpal Meredith, who was in SF for work–in the mix. I knew that this week would be taxing, but I also felt like if done well, it could be great feedback 25% into the cycle.
Also! Super fun! Late in the week, I found out I was selected to be a race ambassador for the Zooma women's half marathon in Napa in late June. I never ran the Zooma series in Chicago, but when I saw announcements on twitter for Napa, I thought 'what the hell.' Most,if not all, women's-only races are inherently quite different from those of the co-ed flavor, and I thought that this could be a great opportunity for me to meet other runners in the Bay/NorCal area. I was really surprised (and quite honored) that I was selected, but I'm super stoked to meet everyone and go to Napa (about two hours away) in June. 🙂  Discount code coming soon!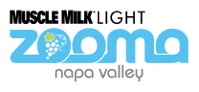 I also wrote a guest entry this week for TSFM's blog about the importance of setting, articulating, and then going after crazy-ass goals, and then I had a good little hyperventilation sesh with myself as I publicly admitted to the interwebz what I'm chasing this spring (and long-term). Oh baby.
Finally! If you're in the Bay or NorCal area, or even if you just want to travel here for some runs (heeeeeey), you could TOTALLY use my discount codes and actually probably have these races fit right into your training plan this spring/summer!
Run the 408k – 8k – Sunday, March 2 – San Jose – $4.08 off with code 408hookup
ZOOMA women's half marathon – 13.1 – Saturday, June 28 – Napa – discount code forthcoming 🙂
The San Francisco Marathon – 26.2, the first 13.1, the second 13.1, or the 5k – Sunday, July 27 –  $10 off with  code DSC10TSFM2014A26
Alright! Training!
Monday, January 27
p: rest/XT
a: rest. Like a boss. + PUs + glute med work
I can't recall anything I did last Monday. It was the day after the Shoreline to Stanford Dish 20 that I ran with the RunAddicts group, and I felt pretty well but noticed a little stiffness in one of my left toes and a bit of high calf/low hamstring tightness on my right side following the run. Nothing was particularly bad, nor did it bother me on subsequent runs this week; I was just cognizant of it.
Tuesday, January 28
p: GA + speed: 8 mi with 10x100m strides
a: MLR 15: 8.05 mi in the a.m.; 7.64 in the p.m. + PUs + glute med work + RYBQ 10×10 strength routine, 2 rounds
C's work schedule allowed me to do this run a bit later than usual, and since I was supposed to have my first two-a-day this week, I opted to break-up the MLR–not something I'd normally do, but the opportunity presented itself. The a.m. run was weirdly warm; for perspective, it's usually between 38-45 when I run, and it was mid-to-high 50s, if memory serves. Running south on Capitol gave me the opportunity to dreamily watch the sun rise over the hills like a big weirdo and attempt to try to capture the beauty of it on my (very dirty… thank you, toddler) phone camera. In addition, my watch was being a B (yup, I anthropomorphize technology) and didn't capture my splits: not a big deal.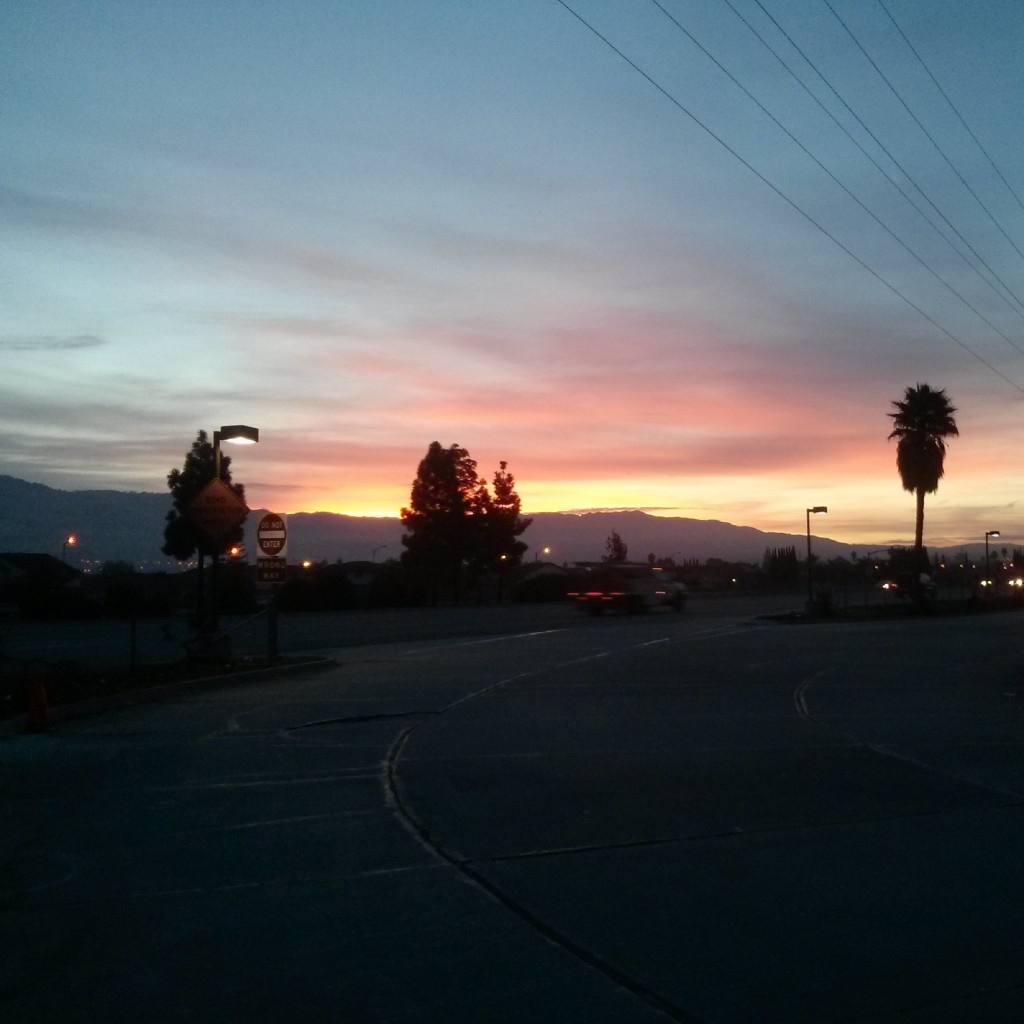 The p.m. run, around 3pm (read: nearly 40 degrees warmer than what I'm used to right now, ha), was lovely and vitamin-D infused. I returned to the PCP and ran on the west side for a jiffy before picking up the east side and the track. My legs wanted to move, but we had a little talk and decided to take things down a notch. By the end of this run, it also looked like I pissed myself because I was wearing gray spandex. Noted.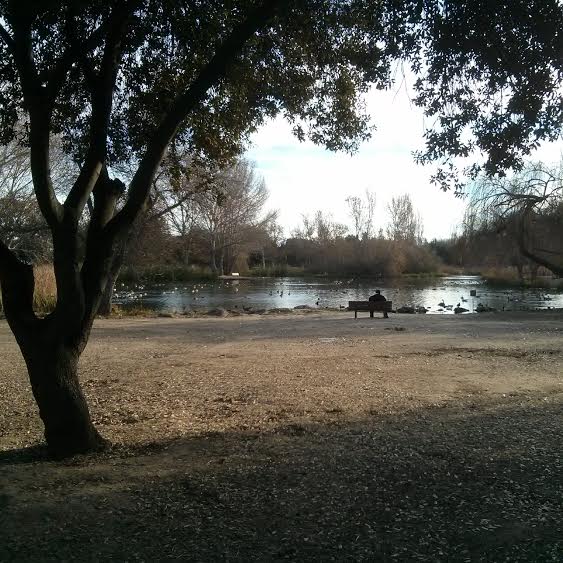 a.m. average: 8:20 (splits disappeared)
p.m. average: 7:51 (7:53, 42, 49, 8:01, 20, 7:51, 41, 27 for .64)
Also, finally got my ass back into doing the RYBQ 10×10 routine. I felt like I could have taken three showers on Tuesday; that's my contribution to the drought here.
Wednesday, January 29
p: MLR 15
a: recovery 5.05 (9:26 average; 9:48, 12, 21, 39, 12) + PUs + GM work
Another weirdly warm morning, probably the warmest pre-dawn that I've had here. Also had the joy of running in some rain/mist action for the first 1-1.5 miles. I was trying to keep things comfortable; mission accomplished.
Thursday, January 30
p: recovery 5
a: GA + speed, 7.19 miles with 8x100m strides (8:15 average, 8:57, 7:55, 8:13, 23, 12, 05, 01, 39 for .19) + PUs + GM work
Began this run planning to do 8 miles with 10×100 m strides but realized in my last 13 minutes of the run that my mental math faculties that morning were horrendous and that I'd have to stop at 7. NBD. Another wet morning here–which is WONDERFUL–but it made for slick sidewalks and some trepidation on my part to attempt any strides/speed for fears of wiping out. Things get slippery when wet here, folks. I try to avoid anything shiny (think pavement, sewer grates, and the like)…but everything is seemingly shiny when wet, or at least appears to be so between 4-6 a.m. Running in the rain is kinda novel though, so the fun factor mostly outweighed the fear Thursday morning. 🙂
Friday, January 31
p: lactate threshold 11 mi with 5 @ 15k/HMRP; recovery 4 in the p.m.
a: GA + speed, 8.1 with 10x100m strides (8:22 average; 8:40, 12, 39, 21, 16, 23, 25, 7:53) + PUs + abbreviated GM work
Tale of two runs. Part one, going south on Capitol, felt horrible–bloaty, heavy, just good and caca. Swung by home halfway through and then picked up the east side of PCP for the back half and hopped on the cinder-y track in nearly complete darkness, save for the bit of light from my headlamp and the stars. Running in the dark like that took me back to middle-of-the-night legs during Ragnar; initially, it is a bit unnerving, but it is also really cool and wonderfully serene. Besides a cat who didn't move from its spot the entire time I was on the track, I saw a dude walking on the path, but a quick yell and wave to him, and his reciprocation, indicated he probably wasn't going to knife me. And, really, truth be told, I was more averse to mountain lions coming down from the hills to play than I was with folks just out strollin' in the pre-dawn hours. The back half of this run 100% turned the entirety of the run around for me.
Saturday, February 1 – hellllllo, February!
p: GA + speed, 7 mi w 6x100m strides
a: LR 17 with Meredith! on the Guadalupe River Trail (8:03 average; 8:31, 23, 00, 10, 10, 09, 18, 09, 06, 06, 13, 06, 03, 7:58, 45, 30, 14)
So very happy to have Meredith in town and that she willingly drove about 70 minutes super early on a Saturday morning to come down to SJ to run with me. After lots of plan flip-flopping–doing her Daniels' workout, doing my 20, just doing 16 or 17–we eventually decided we'd do 17 and just run and not clockwatch or worry about hitting GMP or anything. My original plan was to do 20, but I ultimately decided to flip-flop my LRs from last week and this week, and given the Kaiser half on Sunday anyway, that seemed to be the most practical. I intentionally wanted to go into Kaiser tired, but 17 and 20, in the grand scheme of LR mileage, are comparable, and the difference, negligible, at best.
Anyway! Back we went to N SJ, to the GRT, where we ran north to Alviso, south to downtown, and then back north to the River Oaks area. Despite a few pit and fueling stops, this run was just wonderful and lovely–sun shining, a friend from home, no expectations, just awesome. We got to talking about goals for this year (and learned we share many!), and I think that inspired us to pick it up on the final 3-4 of the run. I had fun chasing Mere's backside down the GRT 🙂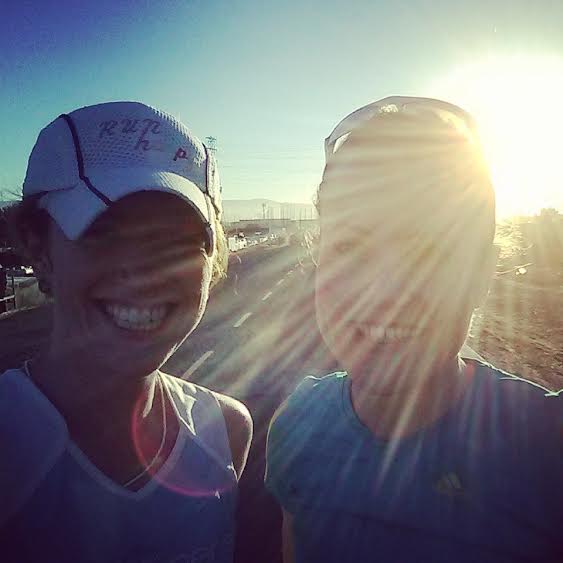 I felt really, really good during and after this run. The weird calf and toe things were inconsequential by now, and if anything, gave me some bio feedback that I need to spend some QT with my foam roller, a rolling pin, and a massage therapist.  We followed this run with Denny's with C and A and eventually went into SF, where we would meet-up with Stone and Austin and friends for dinner and fun before Kaiser on Sunday morning.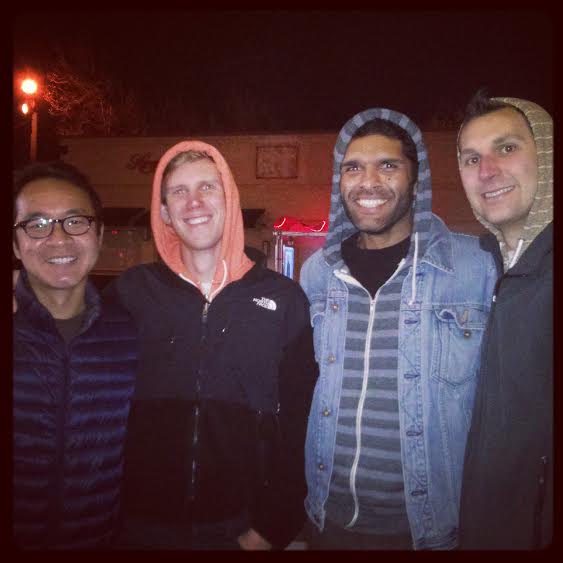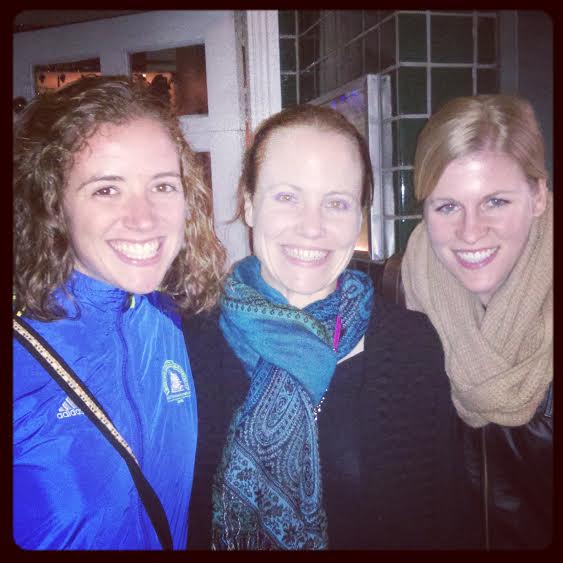 Sunday, February 2 — heeeey, Groundhog's Day!
p: LR 20
a: Kaiser half marathon (13.1) + 2.2 mi warm-up + 2.15 cool-down [race– 7:30 average; botched my watch and lost my splits. lowest was 7 on the descents; highest was an 8:43-8 on my pit stop. Most were in the 7:1x-2x range with a couple :3x, if memory serves]
Second road race ever in CA and first as a resident… what say whaaaaat. Stayed at Stone's overnight (thank you, hostess with the mostest) and ran over to the race start with her and Foxy in the rain. I keep bringing up this drought that's rockin' the Bay right now, and naturally, Murphy's Law apparently dictated that SF get more rain in the 12 hours preceding the race, and nearly all day, on the day of the race, than the Bay Area has gotten since I moved here in late December… and, oh yeah, some wind too, just to round things out. 🙂 Definitely not complaining–bitching about the weather is just silly–but it was just an uncontrollable variable to the race.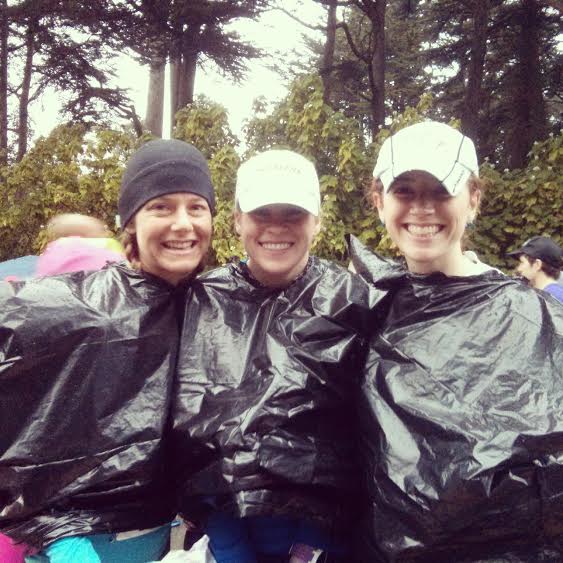 Anyway, I went into this race tired but ready to run as well as I could that day, going almost exclusively on feel. After running the first few miles with Austin, Stone, Foxy, and another Erin, I eventually settled into a 7:1x-2x range but slowly began to feel uncomfortable. I didn't think I was going super hard–I would describe it as "comfortably hard," post LR-day–but I just felt a little off. I rocked some PRPs, so I ruled out any gastrointestinal issues, but eventually, around mile 9.65, I made the executive decision to duck out for a second to tend to the Big D along the Great Highway. It didn't take very long, no doubt because the public bathroom was locked and I just had to quickly commune with nature, and as you would expect, I felt much, much better afterward. (You're welcome)
In addition, the race through the Panhandle and Golden Gate Park follows a lot of TSFM's course, which is awesome, and has a ton of descents and few ascents, making this a great course for a half PR. Once we got dumped onto the Great Highway though, we ran smack into a hearty headwind for around 3-4 miles (I think), which, while irritating, actually made me smile a bit because I felt like I was on the lakefront. 🙂
I saw Foxy and Stone ahead of me for much of the course and knew that they were going to PR–making me so very happy for them (I tend to celebrate friends' PRs like they're my own)–and literally steps before the finish line, I heard, and then saw, Meredith on the sidelines, freezing her toosh off from the nearly non-stop rain and wind, cheering. You might recall that Meredith and some other Bootleggers were on the Chicago Marathon course around mile 24 or 25 and change; seriously, there are few people I look forward to seeing more than this lovely cat that late in a race. 🙂
Ultimately, I squeaked in just under 1:40, my soft and unofficial goal for the race, and I'm quite pleased with it. The other halfs with potty breaks were in the mid-to-high 1:40s, so this  went considerably better… and on fatigued legs… and in sub-ideal weather… so I'm calling it a win. The race could definitely stand to be improved–hello, the shitshow and security nightmare that is gear check–but I'd do likely do it again.
For me anyway, the race was pretty inconsequential in the grand scheme of my last 24 hours; at the risk of sounding obnoxiously treacly, I was just really happy for the QT with my friends from Portland, SF, and Chicago 🙂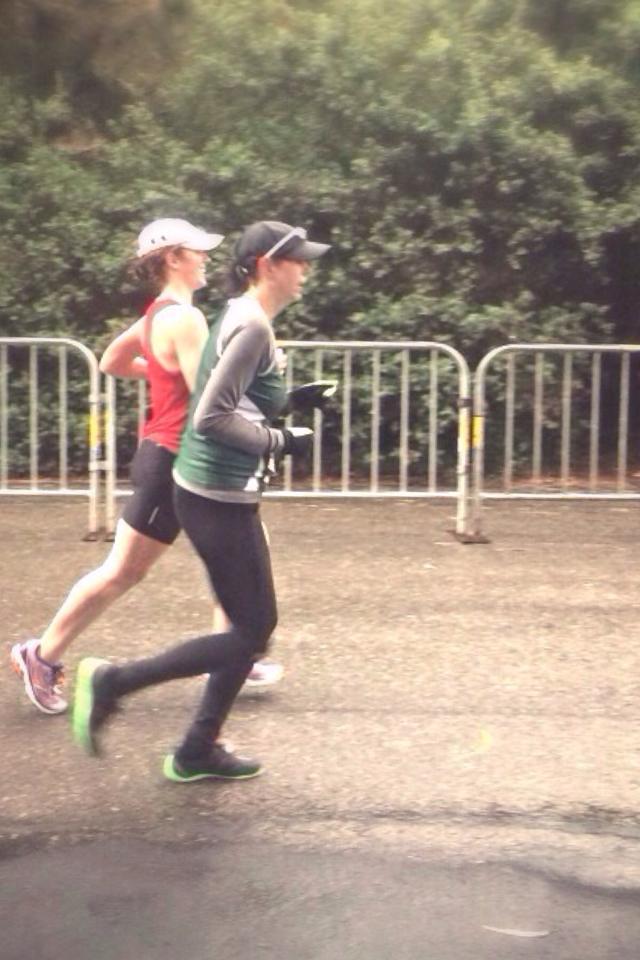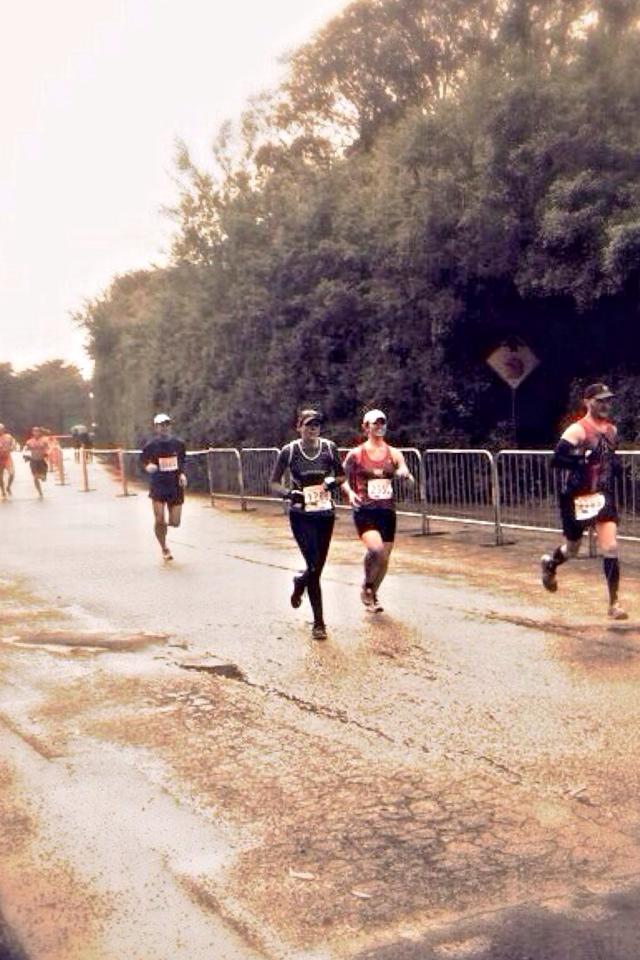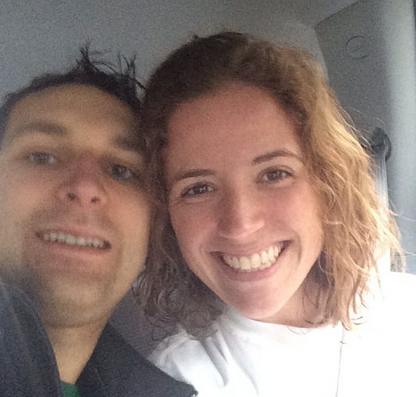 And there we have it, folks! Another week down, another week closer to Oakland, and finally, some race feedback to work from. Though it only happened once this week, I'm glad I got some strength stuff in the books, and all things considered, I'm floored with how Kaiser went down. We are movin' right along.
Weekly Mileage
p: 70
a: 70.48
Have you had to make a mid-race bathroom stop? How were your runs this week? Are you getting stoked for your target race(s)?!