Oakland Marathon 2014 training: 6 weeks out
6 weeks out – week 6 – week of February 3, 2014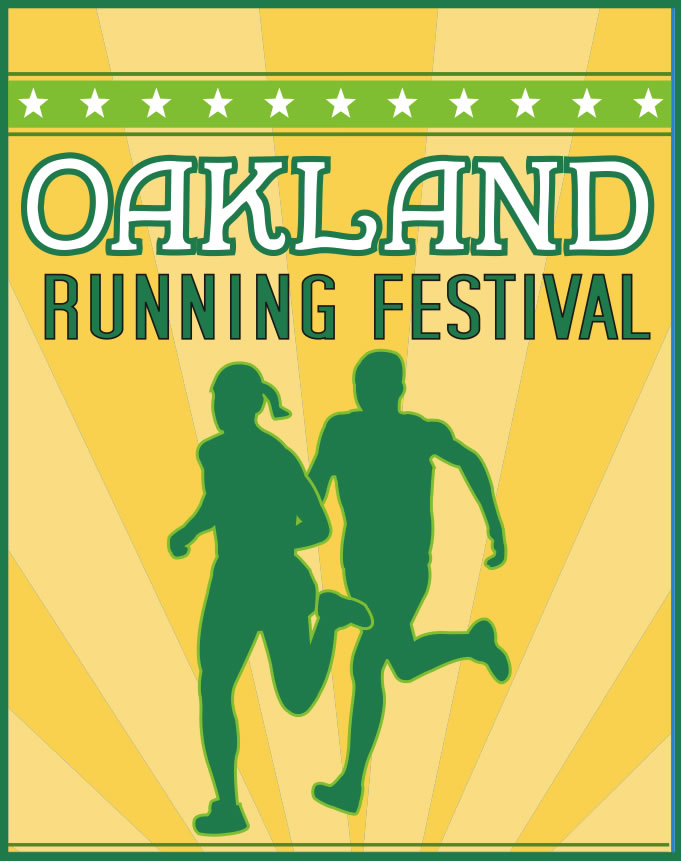 I can begin to see the light at the end of the tunnel, but it's not **quite** within reach yet. This week, which Mr. Pfitz tells me more or less marks the halfway point in the 70/12 training, was without hesitation the most trying. I re-arranged my runs more often this week than any of the preceding weeks, mostly to allow for some additional recovery from last week's peak + race, yet on some of my runs this week, I just felt blerg.
It's a super technical term, I know, but paces didn't feel as effortless as they usually do, my body wanted to sleep a lot more this week than before, and in the throes of what-was-going-to-be-my-LR on Saturday, I scrapped it for a GA shorter run, one that I was going to do Sunday anyway (and therefore eliminate the VO2 max workout this week, again, in the name of recovery. I'm erring on the conservative side in giving my body ample time to recover from last week's peak and my 17 LR-17 (including a 13.1) double).
Naturally, it's hard not to go completely in my head about this and internalize everything, but I know I'm moving in the right direction and that really, this is to be expected. Firsthand experience has taught me as much, as well as the experiences of close running friends (and the literature, of course). It can be super duper frustrating to have to scrap a planned run or workout for something else, but again, my experience has taught me that this shit's written in pencil, if not feather (ed. note: can one actually write something in 'feather'?), and that it absolutely, 110% behooves me to take every run on a day-by-day basis.
Don't get me wrong, I'm human, I'm a runner, I'm goal-driven, and I would be lying if I said that I don't question my own decisions periodically and fear that my flexibility and self-accommodation indicate some sort of mental or physical weakness… or that my goals for this spring (ahem3:15ahem) are too lofty…but it's fine.
It's almost like I have a little angel and a little devil on each shoulder, but instead of good and evil, it's emotional and rational; the emotional pleads with me to plow through every workout and not give myself any breaks or flexibility, injury or burnout be damned, and that acquiescing to my body's 'does not compute' signs is just an excuse… while the rational says, "Erin, chill the fuck out. You're fine. It's ok to be tired. You're not bionic. Just take this run from (fill in the blank) to (fill in the blank) and try again tomorrow. You're being smart."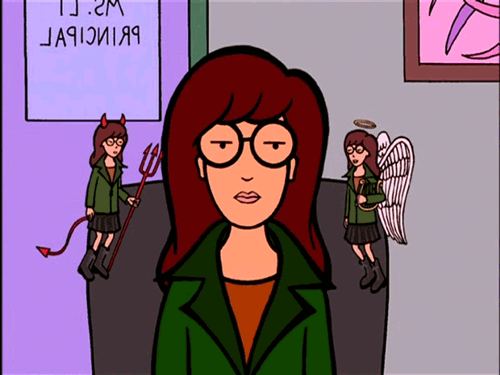 So now that I sound officially self-divisive… this week's training!
Monday, February 3
p: rest/xt
a: rest
Like a champ. The super fun previous weekend, including the travel to and from SF, definitely made me welcome a rest day on Monday. I didn't even do any PUs or glute med work because I wanted to fully and absolutely rest… and/or I'm pretty sure I just forgot. I did that a lot this week with my ancillary work. :/
Tuesday, February 4
p: recovery double: 6 a.m.; 4 p.m.
a: recovery double: 6.01 with A in the a.m. [9:01 average]; 4.01 sola in the p.m. [8:27 average]
Ran with A around the west side of PCP in the morning, and around the park in circles, to avoid doing any hillwork with her. Stroller running feels like uphill running as it is, so throwing down on some actual hills… while pushing 70 pounds… on what's supposed to be a recovery run? Pass. My hamstrings felt pretty tight, which I attributed to being DOMS from the Kaiser half on Sunday.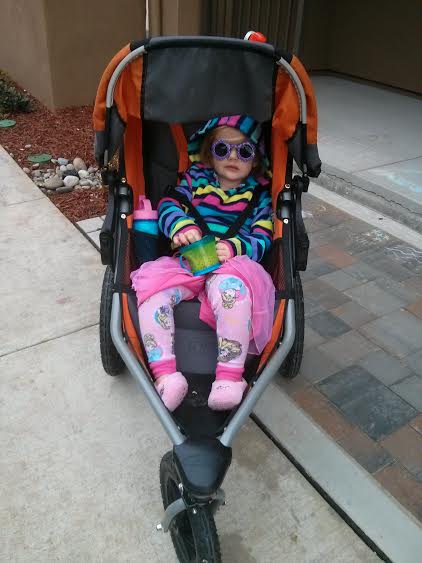 About 12 hours later, I ran part two, around and around in circles of our condo's subdivision. Each lap is about .65 (+/-) miles, and it's doable without a ton of stopping for vehicles or stoplights. By the time I ran this p.m. recovery run, my hamstrings felt substantially better than they had in the morning.
Wednesday, February 5
p: VO2 max: 11 mi with 5x1200m @ 5k RP; jog 2.5 mins between
a: recovery 6.02 with A [8:45 average]
Another day where, when I woke up in the 3 o'clock hour to begin to prepare for my run, my body begged for more sleep and easier miles. I hear ya, body… I hear ya. I opted for another recovery run around mid-morning with my girl, and we ran to and from storytime at the library and included some laps in the west side of PCP. I began to wonder why my motivation was seemingly tanking and my body felt so tired, until I realized that it was that time in the training cycle. Sometimes I miss the obvious, folks; good thing I have friends to help bring me back from la-la land.
Also, next week, I'm not getting ten books at the library and then running home with them. Holy weight!
Thursday, February 6
p: MLR 15
a: MLR 15.31 [8:13 average, 839, 23, 13, 21, 30, 11, 11, 15, 10, 05, 08, 08, 04, 759, 808, 02 for .31]
The mental reset run that I was itching for. Miraculously, SJ has gotten some rain several times this week, and when I awoke Thursday morning, this loud pitter-pat noise totally confused me: yes, rain. After running south on Capitol and turning around my usual spot, on the return north, I veered off into the perimeter of a cemetery I run by almost daily but have never explored. I quickly learned that it was a fantastic place for some hill repeats–down on one side, up on the other (and the up makes me think of Heartbreak–same grade, same length)–and the loop's about .8 miles long and with NO STOPLIGHTS. I was floored about this and ran nearly 8 full laps around the souls' resting places before heading home. It rained the entire time I was running, and besides the self-satisfaction of all the 'the fuck is wrong with you, crazy lady?!' glances I got from motorists and pedestrians, I cheerfully filed this route away to use for another run and was just elated to have felt so strong on a run this week at last.
Friday, February 7
p: GA 10
a: GA 10 [8:24 average, 8:23, 20, 12, 23, 29, 27, 17, 36, 25, 33] + PUs + glute med work (finally remembered, damn)
Nothing much to say here–just a standard, general aerobic run. On the return, I picked up two cemetery loops before needing to make a quick pit stop right around 8.75 (naturally), but overall, I felt strong and relaxed.
Saturday, February 8
p: recovery 6
a: LR 16 with 12 @ GMP GA 11 [8:11 average; 8:42, 33, 05, 742, 45, 48, 58, 813, 22, 32, 28]
Agh. Garbage from the get-go. I had looked forward to this run all week, mostly for the feedback on the MP miles, but it just wasn't in the cards. A good headwind made the attempted MP miles ridiculously challenging, and my legs just threw "does not compute" signs at me. I was getting super frustrated and stopped running several times to weigh my options. Ultimately, I decided to scrap the workout and just do the GA 11 that I was going to do on Sunday, and suddenly, the run just became enjoyable, once the pace expectations were out the window. I'm still not sure if I did the right thing–was this being smart and listening to my body, or being physically and mentally weak and not working through the distress–but I am leaning toward the former. I wrote off the run under the category "live to run another day."
With the rain that we've finally been having over the past few days, Alviso was also littered with slugs–I've never seen so many slugs in my life–and this little guy reminded me to be patient. Even though my run on Saturday kinda blew and wasn't at all what I wanted it to be, I need to just keep my head to the ground and continue to do the work.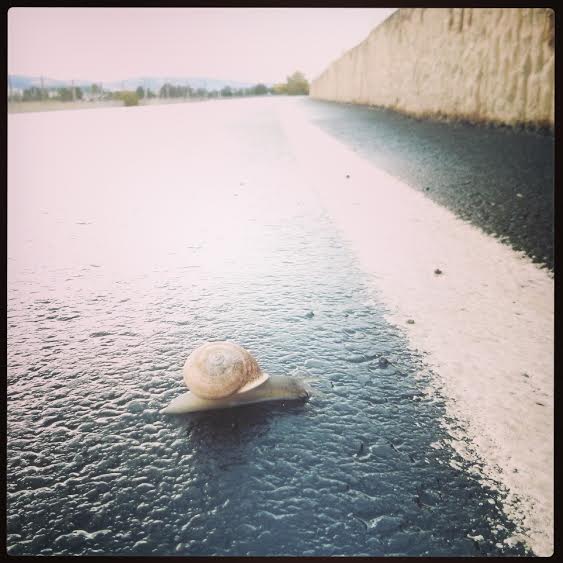 Sunday, February 9
p: 16 miles with 12 @ GMP [my goal range: 7:26-7:37]
a: 16.01 miles with 12 @ GMP [7:44 average; WU: 8:21,25, 07, 756
GMP: 741, 44, 11, 29, 24, 38, 29, 24, 26, 44, 805, 750] + PUs + GM work + 2 rounds 10×10
Redemption. Sweet, sweet redemption. Back to the GRT as I did yesterday, and last week with Meredith, to give the LR workout another try. The conditions were basically the same–pretty humid and windy out of the south–so my first four W/U miles and two MP miles were straight into that. Aside from contending with the wind during the MP portions of this (miles 4-6 and around 13.5-16), this felt good. I tried to be consistent with the GMP miles and was, eh, not super successful. That'll be something to work on in the future.
More than anything, as far as these types of WOs go, I really appreciated getting the feedback on MP. These workouts are usually pretty tough for me in the throes of training, but I feel like I'm moving right along and am where I should be for being just six weeks out.
Halfway, folks. Halfway.
And finally, in fun news, I'm on board with the Wolfpack Running Club, a group here wherein I'm pretty sure I'll be the slow girl–which is amazing–and through the RunAddicts group affiliation, I'll be the 1:45 pacer at the Santa Cruz half marathon in mid-April. 🙂
Weekly Mileage
p: 68
a: 68.36
How were your runs this week? How do you prevent yourself from goin' all up in your head when you have a few bad runs (in other words, how do you prevent yourself from overthinking things)? What's your fun news from the week?!