Oakland Marathon training: RACE WEEK!!!!!!!!!!!
Oakland Marathon training: RACE WEEK!!!!!!!!!!!
Aaaaaaaaaaand now, the last entry of the Oakland Running Festival/Oakland Marathon training cycle. It's a little weird to write this nearly a week post-marathon, but hey… I like closure.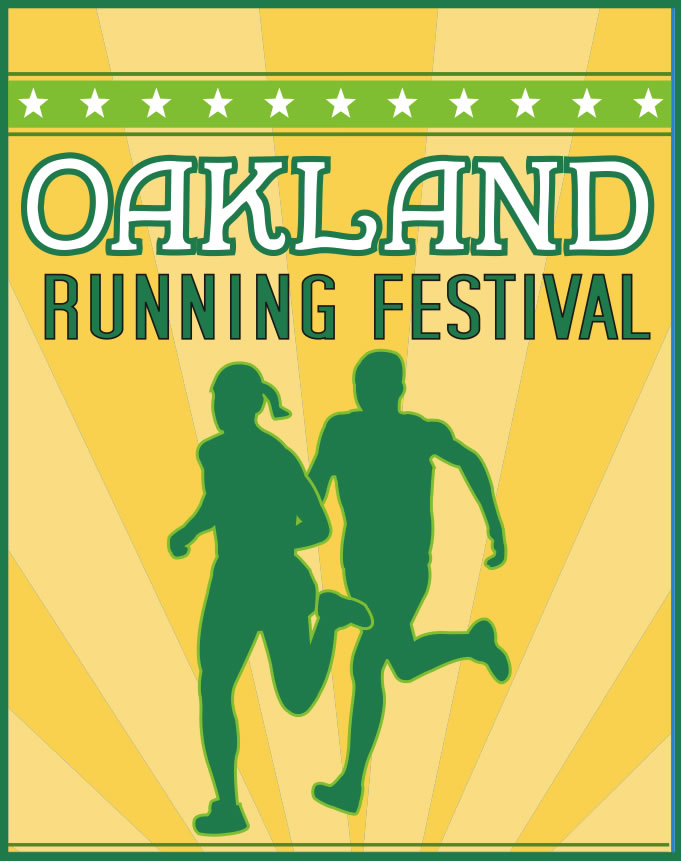 Hazy memory, so this will be brief. The theme of the week was RECOVERY and just waiting until the big day.
Monday, March 17
p: rest/XT
a: rest
Always the rest-day Monday.
Tuesday, March 18
p: recovery double: 5 mi a.m.; 4 mi p.m.
a: yup, a recovery double — 5.1 mi a.m.; 4.06 mi p.m.
Felt pretty solid on both of these recovery runs. On the first one, pre-dawn, the temperature allegedly dropped 11 degrees, which I'm not entirely sure I buy… but the gigundo full moon was to.die.for. I bet there'd be more pre-dawn runners out there if they knew how beautiful the moon was (or if they'd get to go back to sleep for a little bit after their run. Minor detail).
Part two felt great, especially after driving for three hours (another aquarium trip). My legs were all AMEN, SISTA for giving them the opportunity to streeeeeeeeeeetch.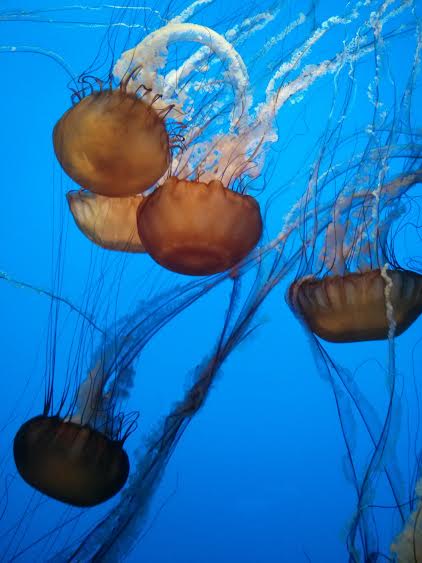 Wednesday, March 19
p: GA 7 with 2 @ GMP
a: GA 7.07 with 2 @ GMP (well, not exactly– 7:39, 42)
Missed the mark a bit on this and couldn't quite lock down the GMP very quickly. The goal was to do this descending, in accordance with my corresponding pace at Oakland, with a range of 7:37 down to :26. It was a bit of a 'eghhh' moment because it was hard not to overthink or overanalyze why I couldn't quickly lock down my pace, but rationally, I knew that at this point in training, it was kinda inconsequential and that it was probably more indicative of some sort of 'blergh' that morning and less so of something egregiously wrong with my training. It did, however, spur me to consider reigning in my pacing a bit for race day from a 1:39/36 split to a 1:40/38 split, which was definitely wise, given the course profile.
Thursday, March 20
p: recovery 5
a: yup, recovery 5.09
Decided to get outta my hood and run around the Catholic cemetery for a while. It's actually kinda cathartic to run in a big, .8-sized circle, that also throws me some little ascents and descents; it's just a bit weird to do so pre-dawn and see random shit strewn along the sidewalk leading up to it, like children's toys. What I also find interesting is that many headstones in the cemetery have these little LED votive things, presumably so the graves are always illuminated (I guess as a way to honor the deceased?). It makes the headstones kinda pretty… but also kinda eerie when you're circlin' the cemetery pre-dawn and only see little votive lights, in addition to that which your headlamp is illuminating. Kinda rave-y. Kinda weird.
Friday, March 21
p: recovery 5 + speed  w 5x100m strides
a: yup, recovery 5.01 with 5x100m strides
Very relaxing and cathartic laps around the 'hood. Totally kumbahya, totally wanted to run forever. Thank you, taper; thank you.
Also, on many of my runs this week, I had noticed the absence of my feral felines, my usual company that typically terrifies me graces my presence mid-run. Later in the day, during a walk with A, not only did I see some graffiti–NBD for SJ–but it was feline-themed. I had to preserve the moment.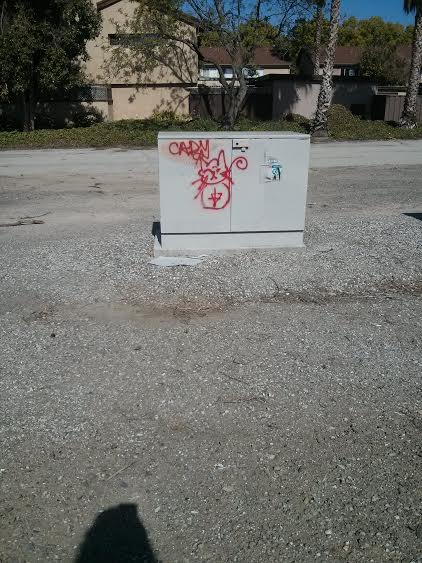 Saturday, March 22
p: recovery 4
a: recovery 4.03 with Lynton (!!) in the west side of PCP
Race weekend! Race weekend! Just a little jiffy with Lynton, who so awesomely flew over to the Bay from Chicago so he could race 13.1 at Oakland and run with Rozanne for her first 5k. Even after a late flight, he still drove a long haul down to SJ for a little shake-out. Beginning of an awesome weekend!
Sunday, March 23
p: 26.2 miles – RACE DAY!
a: 26.2 miles – RACE DAY! 3:23:47, third woman OA, second AG
Weekly Mileage
p: 56.2 mi
a: 56.56 mi
Aaaaaaaaaaaaand that's a wrap! Thanks for all the love and support during my Oakland '14 cycle; all ya'll are the best! 🙂 Lots of love from SJ!
Spring racing is fast upon us, and I'm super excited to see you crush it out there!