The San Francisco Marathon (TSFM) '14: race week.
The San Francisco Marathon (TSFM) '14: race week.
It's that time again, folks– race week.  Sunday is the annual running of The San Francisco Marathon, and the race, which The Wall Street Journal stupidly named "the race even marathoners fear" will be my third mary this year, my 24th lifetime, and my second go at the race on this course.
Another social media ambassador and pal, Trish, recently wrote about what TSFM signifies to her, and it got my wheels turning. I can't really supply you with a simple "if this, then that" explanation of what TSFM means to me, but instead, a narrative seems more appropriate. Much like, well, everything, a lot has happened between the time I learned I'd be running this race, to now, race week.
The last time I ran TSFM, in 2010, I didn't really train for it, per se. I was relying hot and heavy on residual fitness, the fitness that I had developed in training for and running and requalifying for Boston, at Boston, in April that year, so between late April and late July, my "training" was fairly minimal, and at best,  maintenance or foundational-based. Aside from a few hilly long runs out at Waterfall Glen in the Chicago burbs, I didn't really do anything special to prepare for TSFM. I just wanted to have fun; ideally,  do a sub-4; and quickly see as much of SF as possible before flying down to Orange County to meet C and his parents for a California vacation. My expectations for my race day performance were minimal or non-existent.  Of course, I'd later learn that I had run TSFM freshly pregnant–as in, just-conceived-a-couple-nights-prior-to-the-race pregnant–but aside from that little bit of trivia about my history with this race, when I left SF just a couple hours after the race, I left with a wonderful impression of the city, with a glowing recommendation of the race, and I figured sooner or later, I'd make my way back out to California for a TSFM redux, on better (read: actual) training to see what I was really capable of producing on this course.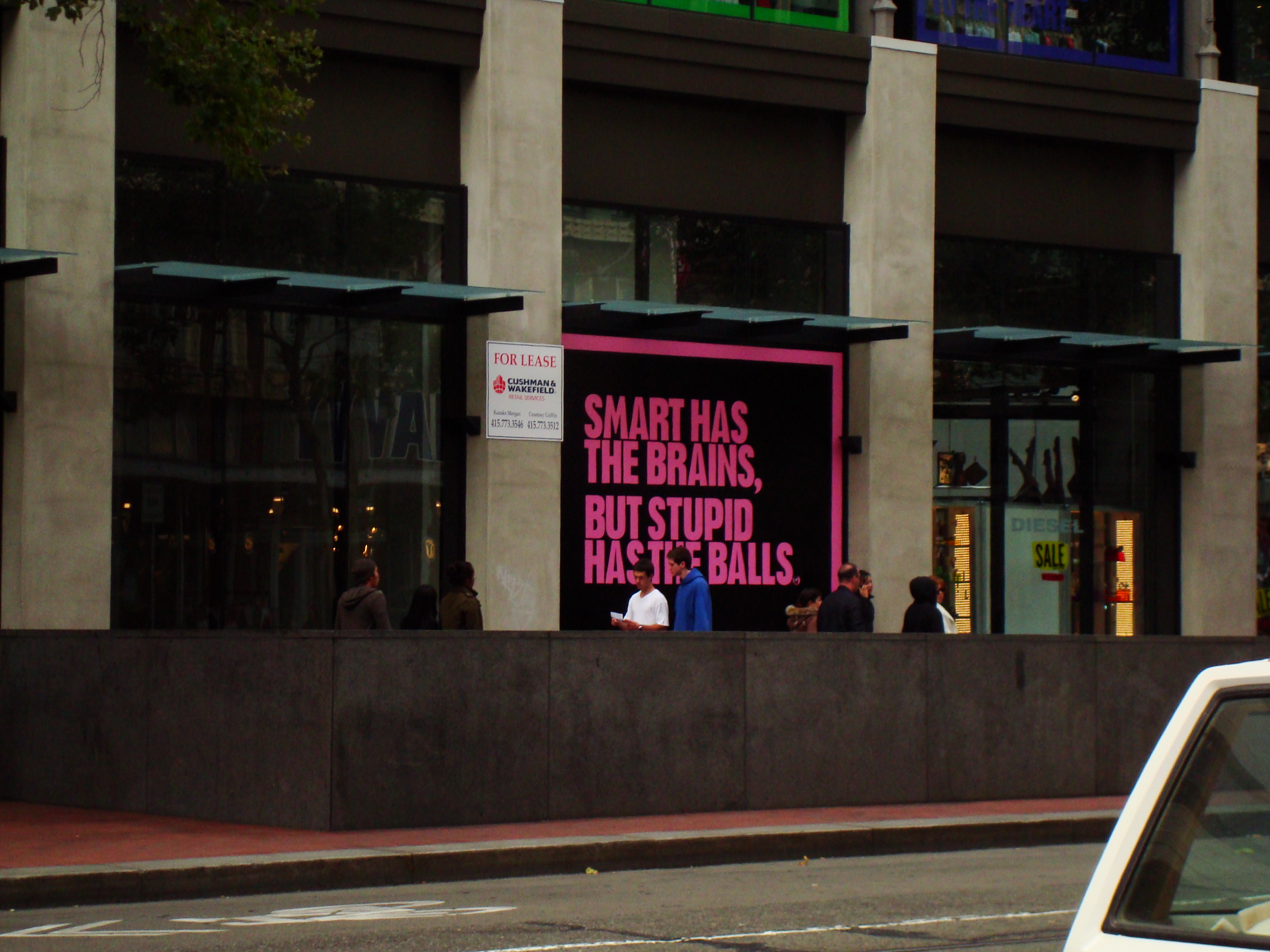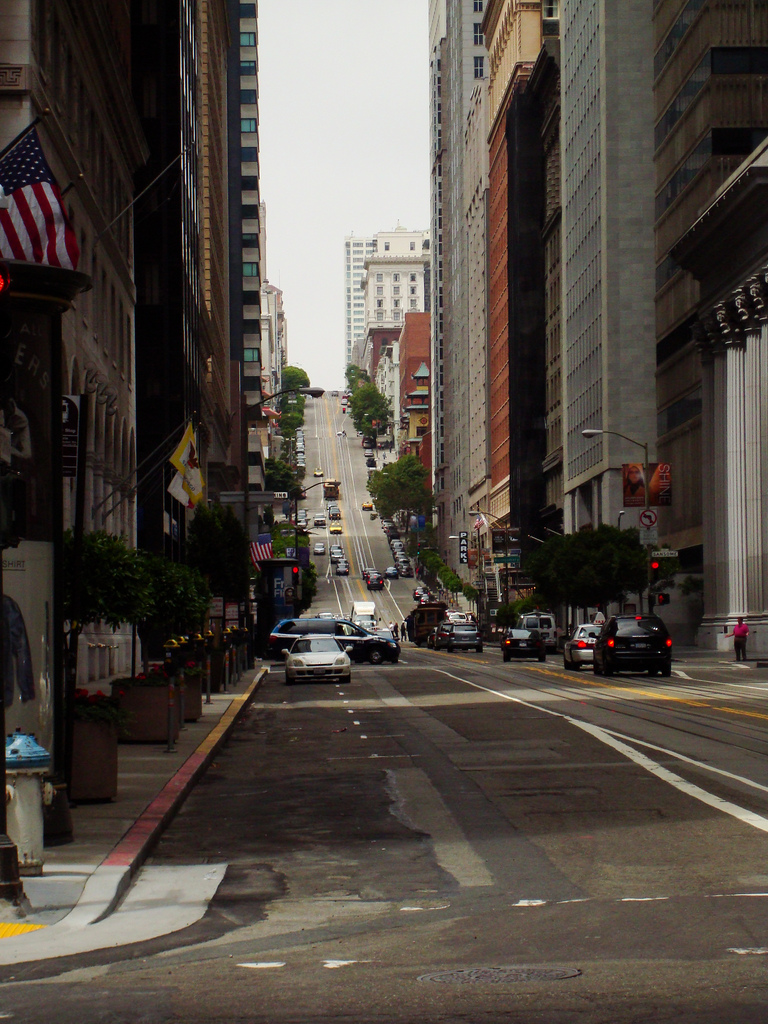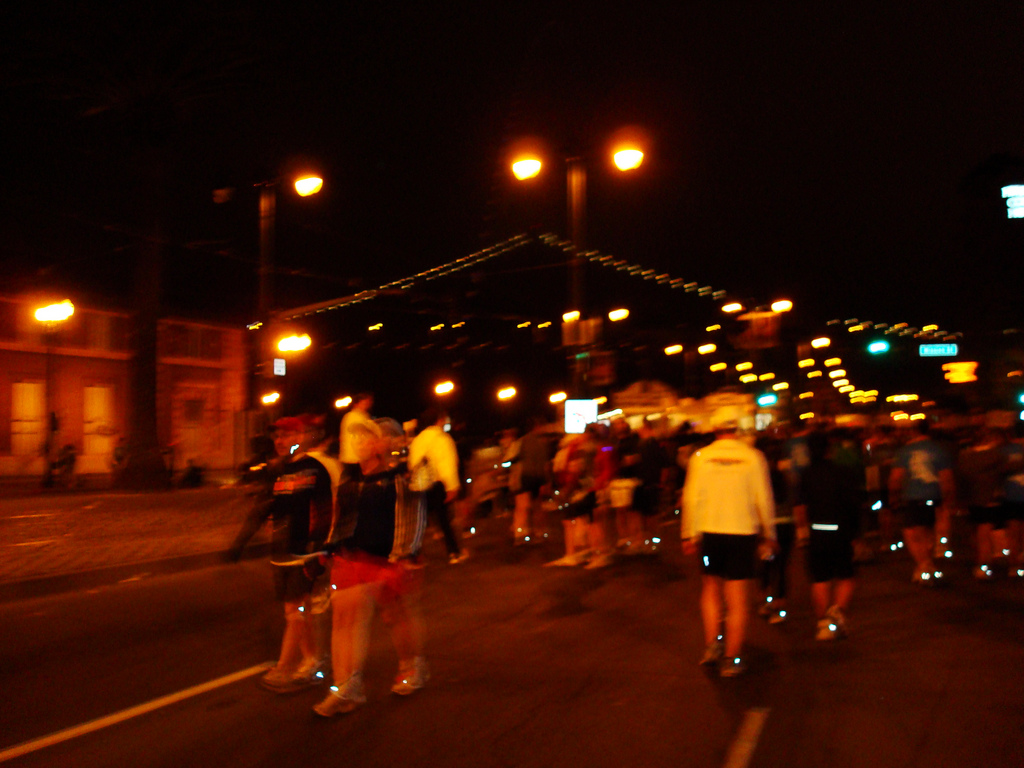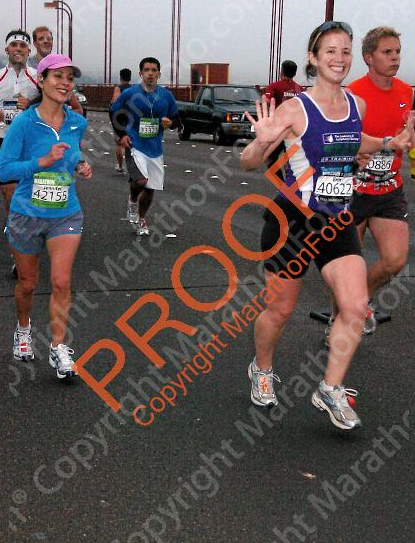 Anyway, several years passed, and though I opted to remain on TSFM's email newsletter and receive race-related announcements, there wasn't any foreseeable date in the future that I planned to run the race again; basically, it had become just a bucket-list thing, a race that I knew I should eventually "do-over" but when said "do-over" was to occur was anyone's guess. Even when C began working remotely for a Bay Area-based company in 2011, the timing never worked out for me to get back out here to run TSFM. Life, pregnancy, baby, school, whatever just kinda precluded it.
For whatever reason, though, in the summer of 2013, just a few weeks before I ran the Chicago Marathon, a TSFM newsletter email included a call for TSFM social media ambassadors. Among the other incentives the ambassadors would receive was a free race entry to the July 2014 race, and while I thought it'd be a cold day in hell before I'd get selected because of my intentional dearth of a social media presence, I applied. I banged out an application during A's naptime, talking about how profoundly my running has changed–for the better–since becoming a mother and how I ran the race unknowingly pregnant, and on sub-par training, and how I wanted a chance to see what I could really do on the course and, in the process, hopefully be able to show other new-moms out there in the social media world that pregnancy, childbirth, and the wholly life-changing process and experience of motherhood doesn't mean that their best running days were behind them… or something along those lines, and even more rambling and less coherent.
After my haphazard application on that summer day in Chicago in the late summer, life happened–and how. Before I knew it, on a whim, C accepted an interview request for a Bay Area company, flew out for it, and by mid-September, had accepted the offer and we began to figure out our relocation details from Chicago. I taught my classes, I continued to train and run and squeaked out a PR in Chicago and an *almost* PR in NYC, and I didn't give a ton of thought to TSFM because a) I had no idea when or if the move was actually going to happen… denial is a powerful thing, kids, and b) I hadn't heard back about the ambassador gig and kinda figured the obvious.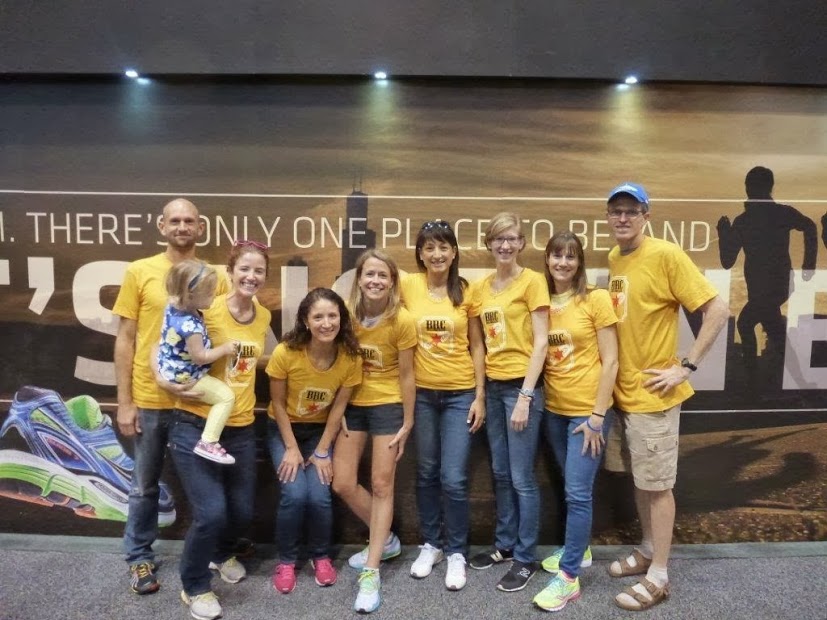 It wasn't until the day or two before the NYC Marathon, when I was sitting in a friend of a friend's kitchen in the Upper East Side in Manhattan, that I found out that for reasons unbeknowest to me, TSFM had selected me to be part of their 2014 social media ambassador group. And, in the universe always makes sense department, mere hours after I had learned of my acceptance, C, who was already living in CA, and I, while I was still in NYC, figured out our living arrangements for the foreseeable future in CA, at least until we sold our place in Chicago. While a lot of things were still up in the air about our family's cross-country relocation, some stuff was beginning to fall somewhat neatly into place.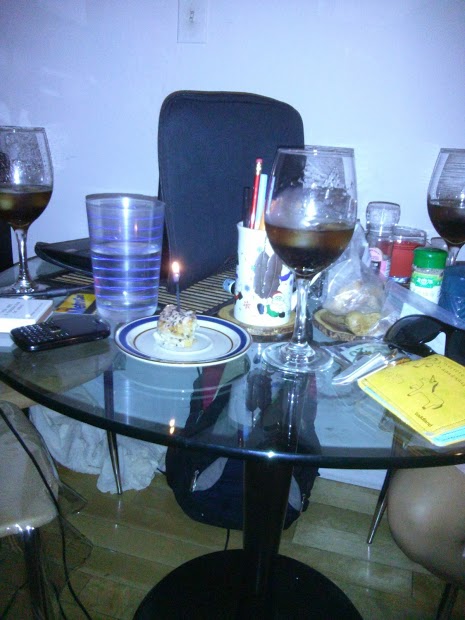 If you've read my stuff here since October, you'll know that the move was a mixed bag for me. Couple (triple?) the enormity of a cross-country move with the minor facts that we were doing it with a child in tow; that my husband was already on the other side of the country, eagerly awaiting our arrival; that we knew very few people here and really, no one who lived in our immediate vicinity of the Bay, and it doesn't–or shouldn't–take long to realize that leaving Chicago and the past 11 years of my life there (and more, for C) was rough. I figured shit would work itself out in CA, and whatever outstanding issues I couldn't resolve in Chicago would be fine once we got to CA because, again, the universe always makes sense.  Part of my biggest apprehension about moving to CA and leaving my Chicago past behind me was simply that I had no clue how I'd meet people, or, to be more candid, how the hell I'd meet and make friends once I got here. Getting a clean slate, a chance to really start anew in life, can be awesome, but it can also be a little intimidating, too, because you don't want to fuck stuff up. These chances don't come around very often.
This is where TSFM '14 has come into play–and in a way that I never really thought a mere footrace really could. Through this race, and all of the stuff leading up to it from November until now, I've met many other runners from not only all over the country but also from CA and the Bay Area, proper. This has been hugely significant to me because aside from the couple people I knew out here before the move (hi, Stone and Middhie!), I had no one (cue the dramatic music and the small violins). I kinda feel ridiculous admitting this, but it's because of TSFM and the ever-expanding network that social media can yield that I've even connected at all with anyone out here… and that's awesome. As I've written before, I think there's definitely something to be said for getting outside our comfort zones–as I've been trying to do here, in my little corner of the internet, since moving–and as has been my experience, doing so, putting myself out there in "social media land" has been a bit terrifying, no doubt, but it has also positioned me to meet a veritable flurry of amazing and inspiring runners people, including but not limited to the following and all of whom I'll see over the course of the weekend: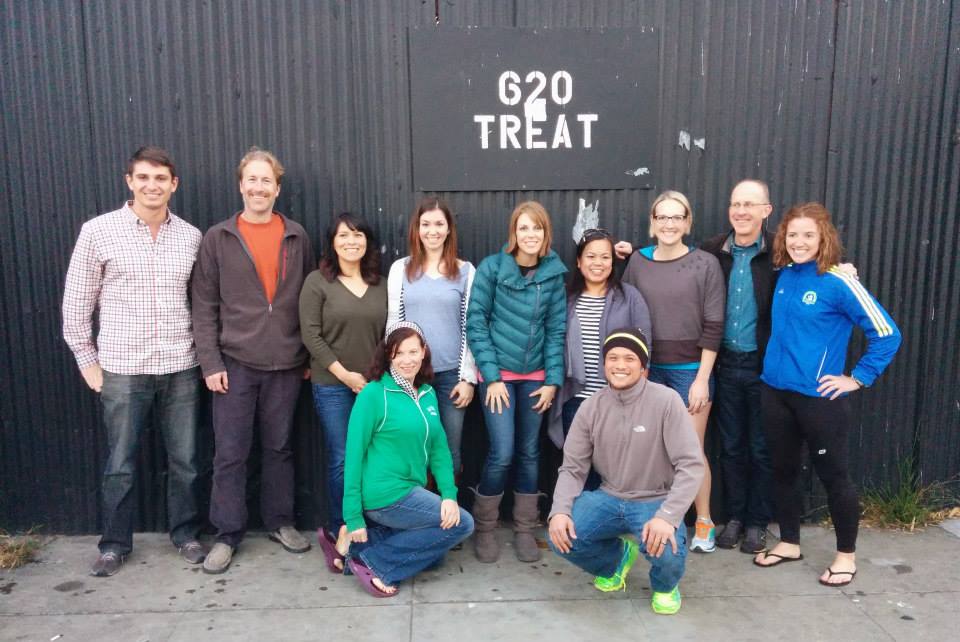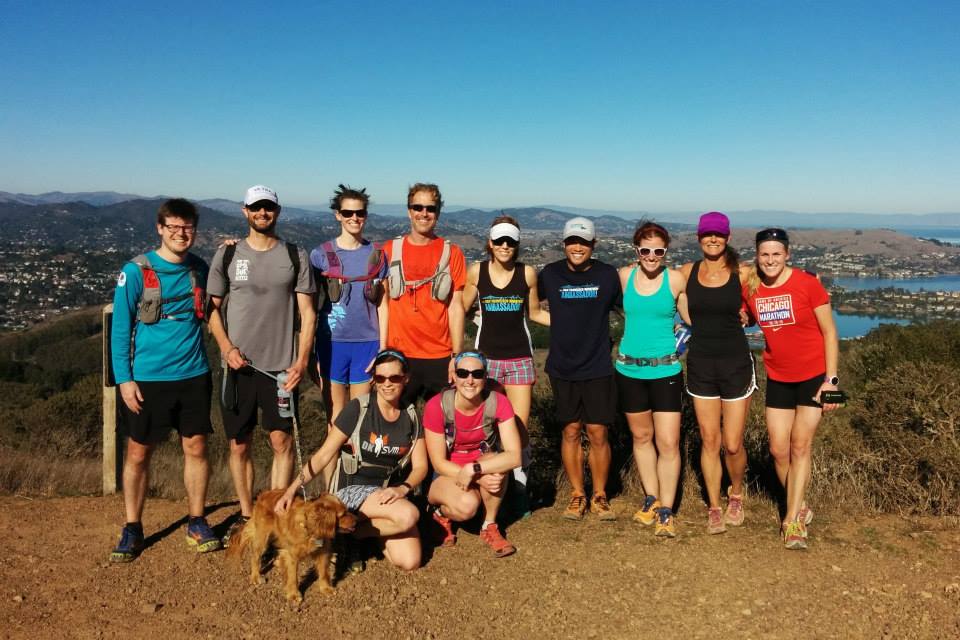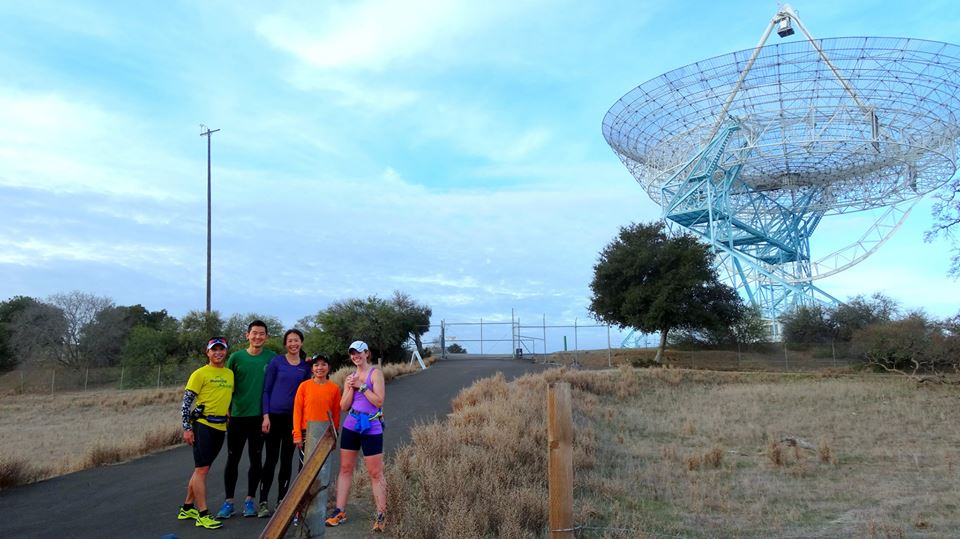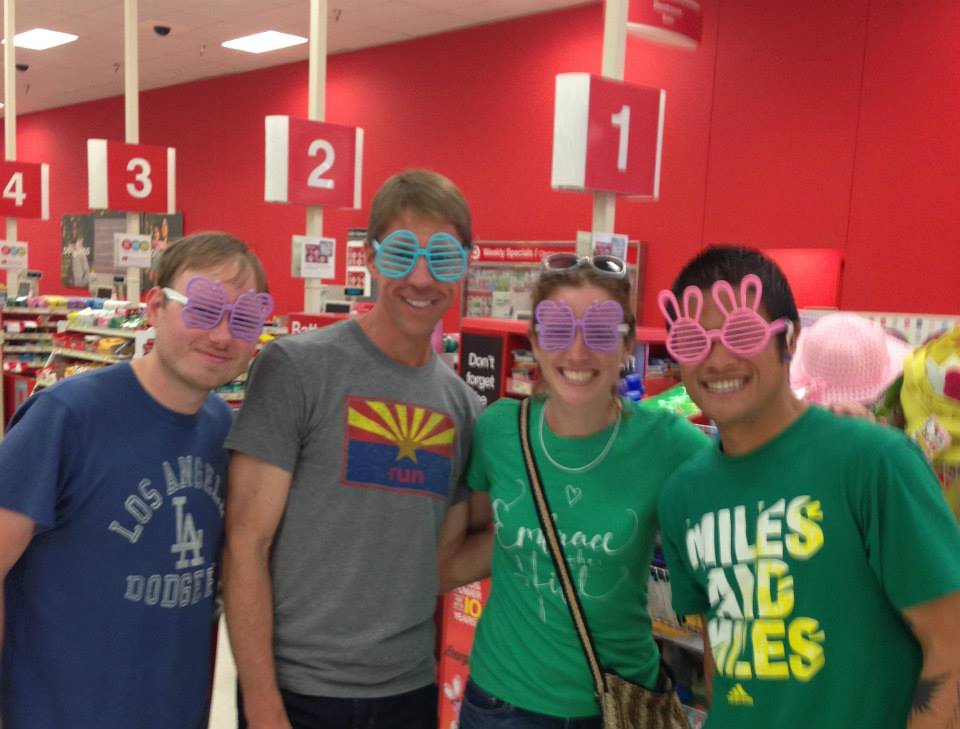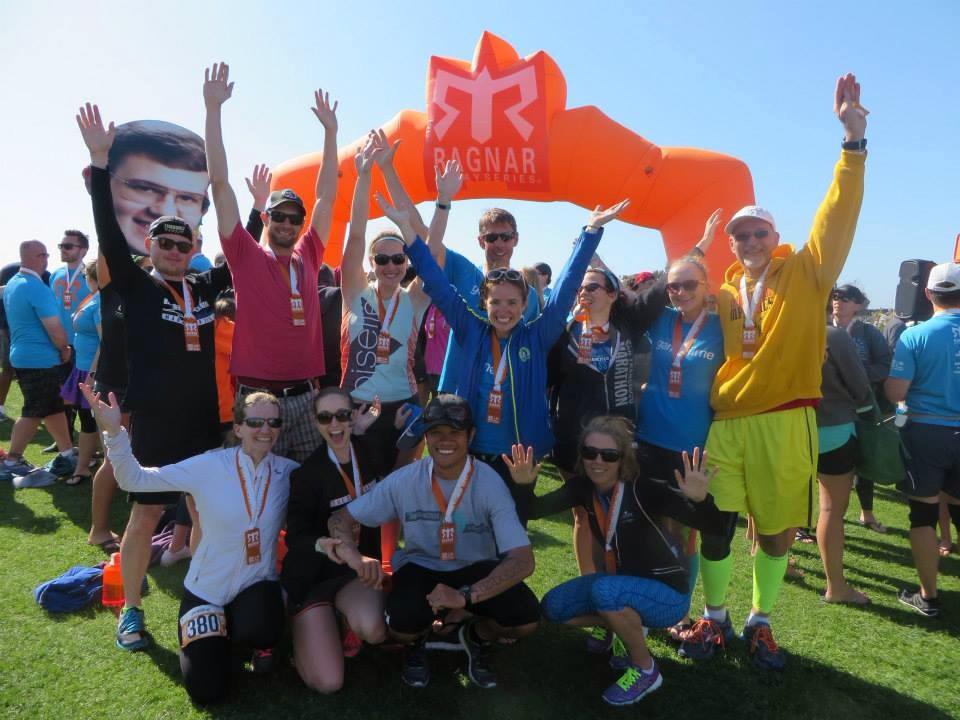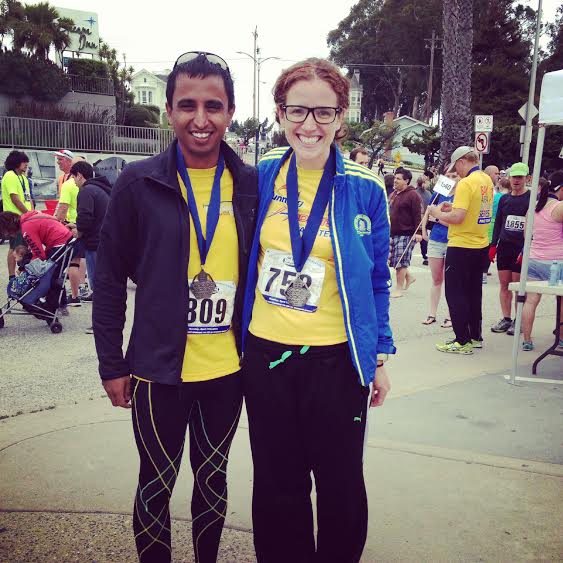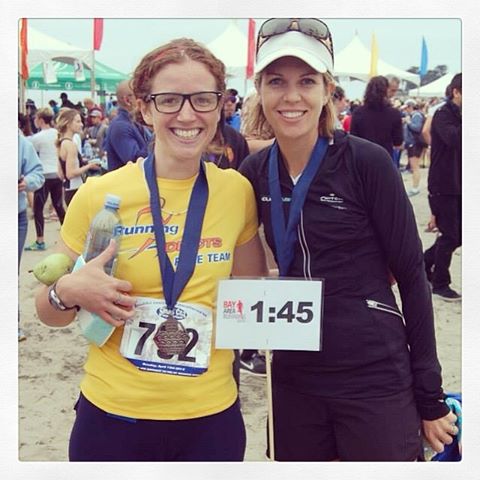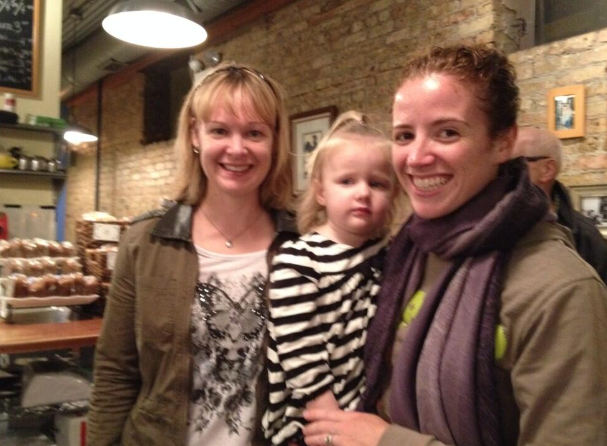 Going into race week, then, it's probably safer to say that right now, I'm thinking more about HOW EXCITED I AM TO SEE SO MANY AWESOME PEOPLE and less so about my race strategy, though the latter most definitely is in the works. Minimally, TSFM will be a long-ass training run for CIM; optimally, it will be a strong and strategically-run race. Sunday morning will be 100% effort, regardless.
Suffice it to say that I'm accidentally, or coincidentally, continuing on this theme that I've rocked so far in 2014 about my races being more than the actual footrace, then, and more about the accompanying experience. It might be odd to admit, but I really feel that TSFM, and the accompanying social media ambassador gig, has helped open doors for me since moving here, and for that, I am quite grateful.
It's really because of TSFM and its network that I've met and have been continuing to meet so many awesome and inspiring runners people, and I'm really looking forward to our time together in just a handful of days, with a 26.2 mile-long fast-moving partay in between.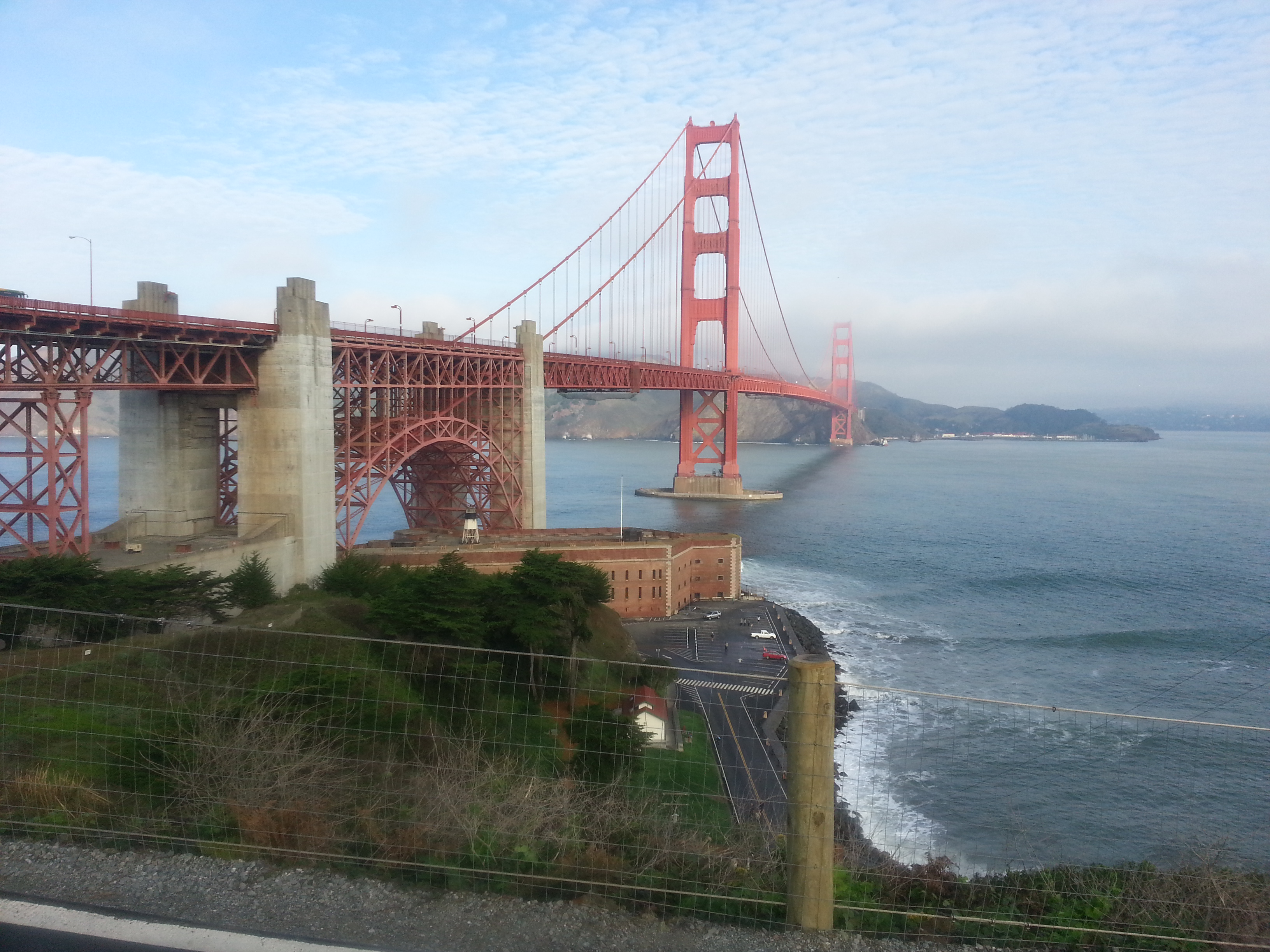 Bib  20558 for Sunday! and come see me at the expo on Saturday from 12-4!