Non-running-related nonsense
Non-running-related nonsense
Most of my entries are along these lines: I'm training for this race, it's going really well, I'm really super stoked to see what I can do in X number of weeks or I ran this race, it was really awesome, I'm really happy I can do this nonsense in the first place, and yay yay yay all the happy emotions and heart explosions and good times with special people… rinse and repeat.
Some galpals back in Chicago (lookin' at you, Corey and Xaar) periodically publish posts (what up, alliteration!) that basically talk about the good stuff/bad stuff/whatever stuff that's happening in their lives beyond running, and I personally enjoy reading entries like those because there's good stuff to talk about besides running (shocking, I know)… and hey, they're my friends, and I like to know what's going on with my friends. Here's my attempt at the here's what's going on in my life, beyond running post…
1. Fundraising. Well, this is running-related somewhat, but I'm so stoked to say that I met my $1800 fundraising goal for the Leukemia and Lymphoma Society! From July onward, I was fundraising for LLS for the Nike Women's San Francisco half marathon, and I'm really stoked to wear a purple Team in Training singlet for the first time in a few years come 10/19. Asking people for money is a bit awkward, but just like most things in life, you don't know how successful (or not) you'll be until and unless you try. The crazy thing? Over $2,400. And the crazier thing? I had an anonymous $500 donor. That's badass… and unbelievably humbling and inspiring.

2. Reading. In my next life, I may very well just read all day, every day, because there is so much good stuff out there, and I love talking books. I've recently finished Relentless Forward Progress, a book that has been recommended to me by virtually every ultra runner I know, and it has been a great resource to me thus far with training. Some good non-running books? For starters, To Rise Again at a Decent Hour. It's interesting, which admittedly is one of the least helpful words in the English language to describe something, but this narrative is kinda in its own class. I don't know how really to describe it; maybe a crappy catch phrase like "believe in doubt" would suffice. It left me scratching my head in bafflement, laughing out loud, or rolling my eyes–among other reactions–so it's worth at least a consideration.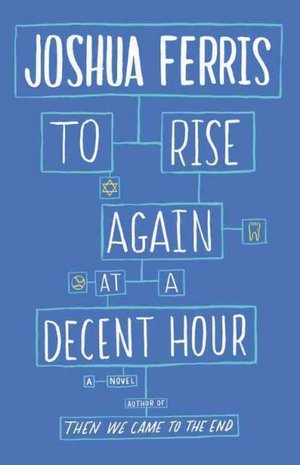 I rarely read fiction, but apparently I'm on a small kick for it because another good one that I just finished in a hot minute was Dave Eggers' Your Fathers, Where Are They? And the Prophets, Do They Live Forever?  I generally enjoy Eggers' work but sometimes don't enjoy how he fucks with formality–it just makes for hellaciously abrupt reading, kinda like these jarring interruptions I keep including–but I really enjoyed this one from the start. It's an incredibly fast read because it's entirely dialogue-driven, and if you're into the whole "unstable narrator" thing, you'll have a ball with it. To be fair, I think the political commentary underscoring the book cheapens the experience a tad, but again, still worth a read. A purchase, eh, but a read, for sure.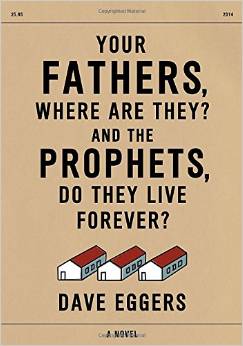 3. Braiding! My daughter's hair is slowly getting longer, and since I've always wanted to learn how to do cool french braids, fishtails, and other hairstyles beyond my very limited hair-stylin' repertoire, Youtube and I, and the various "easy ways to do your toddler's hair" channels, have become BFFs. I get stupid excited every time I do something new that I take pictures of it to document it. I want to be able to do hair as well as my sister (and I always send her the pictures to document my  fledgling progress). The technique definitely needs some work still, but my little guinea pig doesn't seem to mind (most days).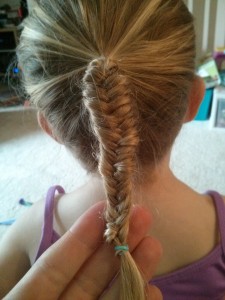 4. Baby on board signs. One of the weirder things I've noticed about SJ/the south bay compared to Chicago is the very high number of "baby on board" signs I see on vehicles everywhere. The funny thing is that often, the baby on board signs' placements create little mini blind spots, so I gotta think that they've defeating their initial purpose–please drive safely because I have a child in my car, but here, let me voluntarily create yet another blind spot for myself–but anyway. I've taken to photographing any that I see because I find it so amusing and because they all just so perfectly smack of this notion of Silicon Valley exceptionalism that apparently extends from tech companies to people's progeny. Who knew. It's so weird to me. Can anyone explain this???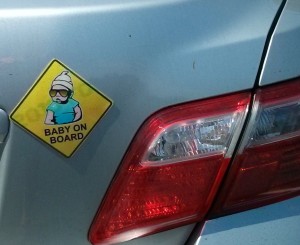 Otherwise, all is well in these parts. What's shakin with you?! and GOOD LUCK and RUN LIKE HELL, Chicago Marathoners!!!!!!!!!!!!