the first couple weeks back
the first couple weeks back
So cliche I know, but man, time flies — and especially when you have a newborn. Rationally, I know that Spike (what I'm affectionately calling the littlest one; seriously, her hair is impressive) is nearly 8 weeks now, but man… that's hard to believe.  I just adore how much big sister loves being a big sister or a mini-mommy. It's so sweet.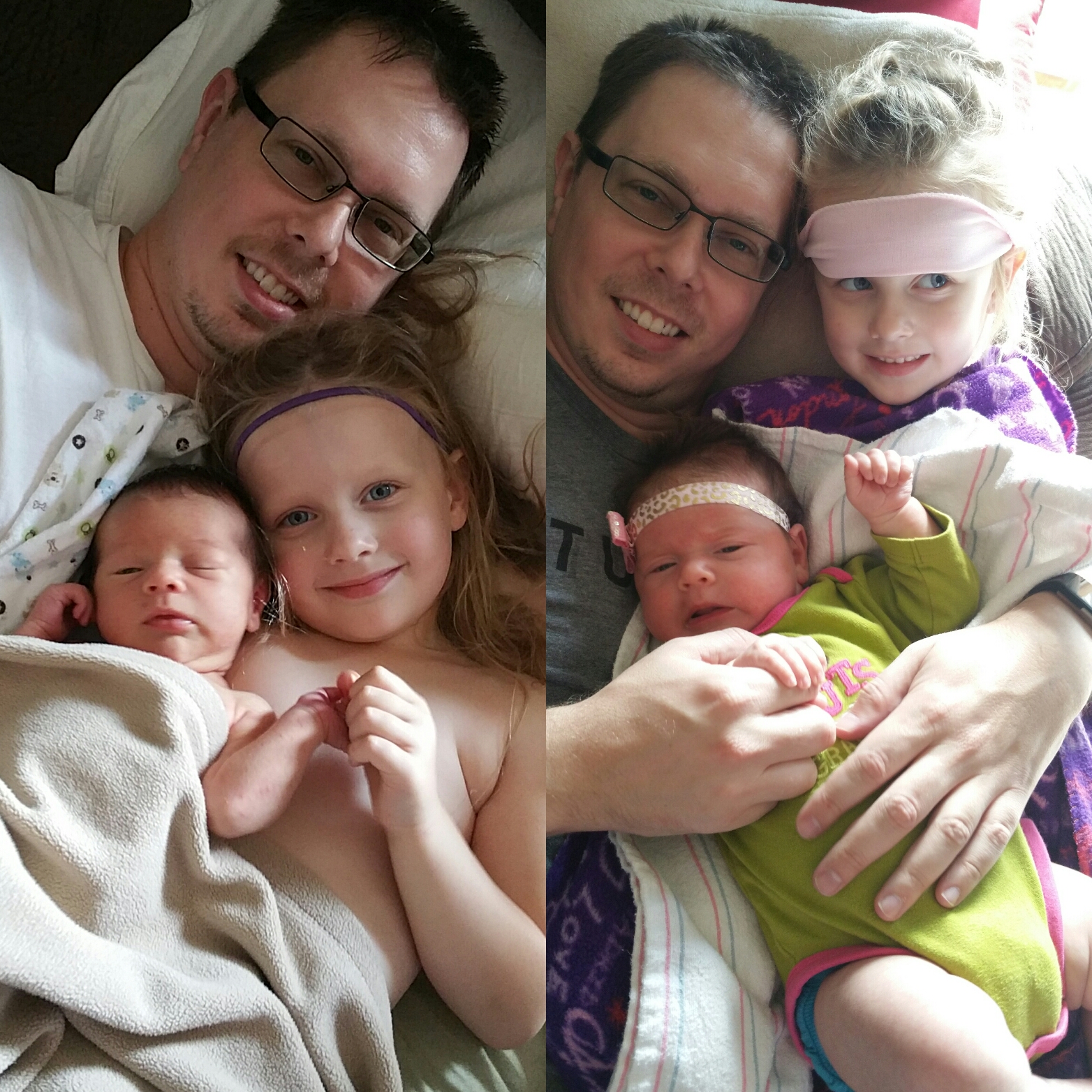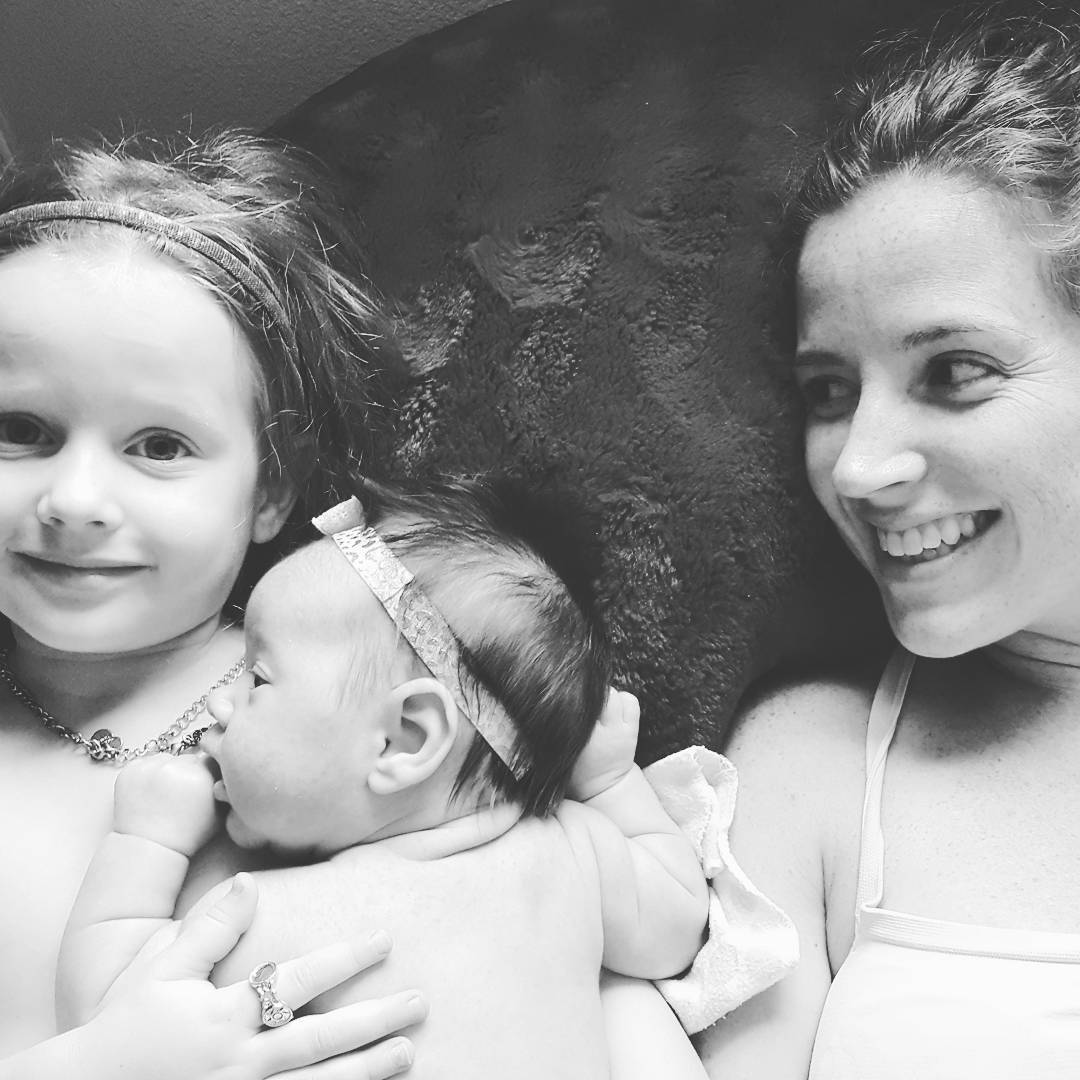 In one of my recent posts, I wrote that I got cleared to run at my 3-week check-up, ran a few times that week, then had surgery around 4 weeks postpartum and kinda laid low for a week out of pain-and-discomfort-dictated necessity. Once I got cleared at my 1 week post-op appointment, I began (or resumed) running and have been balancing that against the ancillary work that I'm committed to doing and getting into a routine on (hashtag not being a lazy-ass runner)…as well as against the whole "life with a newborn and 4 year-old" thing.  Right now, my runs have been fairly short, like 3-5 miles or so, maybe 4 or 5 times a week if I'm lucky, usually after my husband gets home from work. I'm erring on the side of caution here; I don't want the engine to get ahead of the chassis. I know I'm more likely to injure myself or tweak something by doing too much, too fast, too soon, than I am by building gradually, so that's my MO: all tortoise, no hare right now.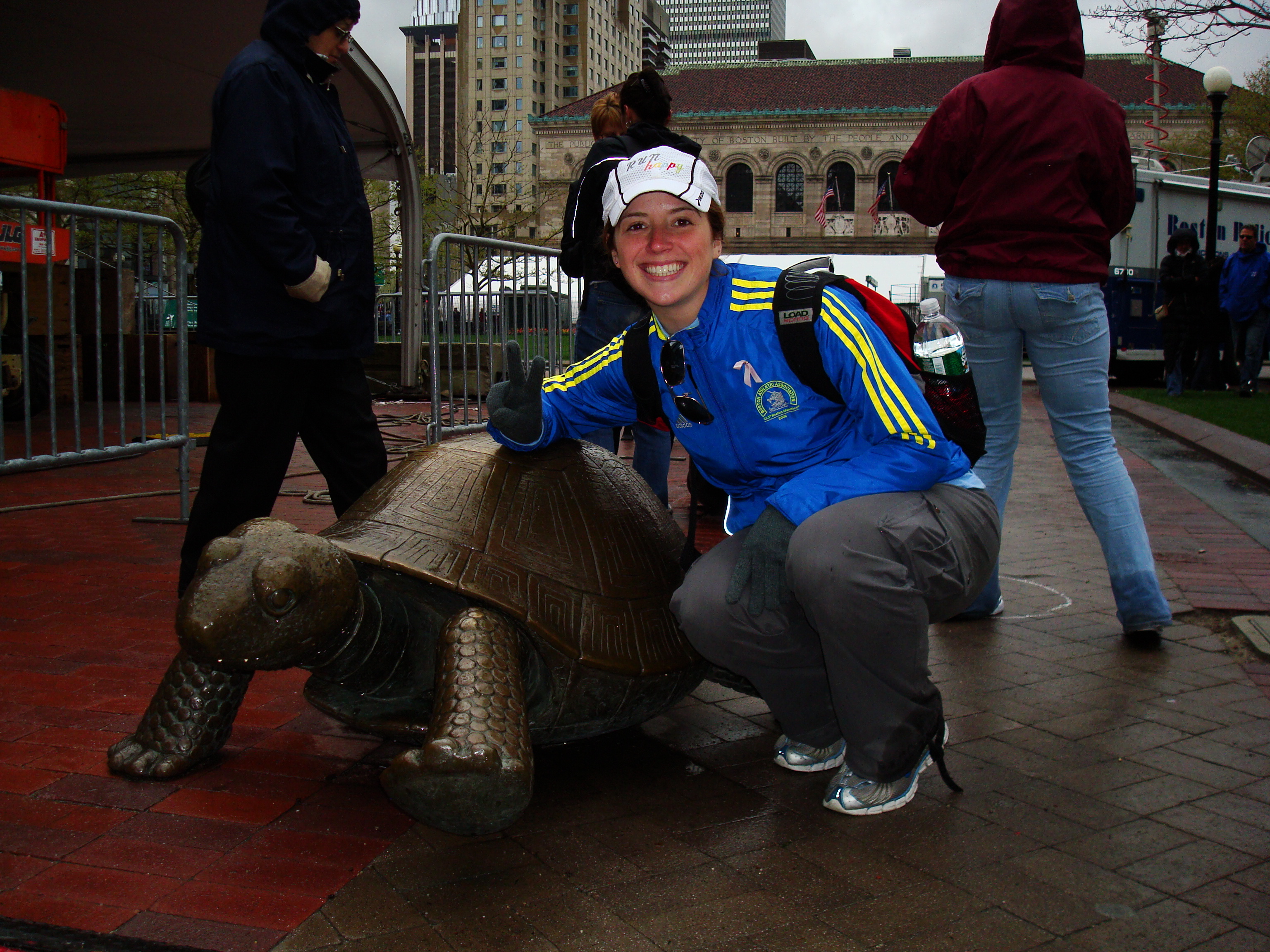 I can be an extremely patient person, but I won't lie: even though I know I'm doing the right thing right now, some days, many days, it's tough. I want to be hitting paces and distances that I did before, but like I said, I also know that it's really not in my best interest to… not yet, anyway. The nice thing is that it's HIGH TIME for fall marathoning season, and with so many friends racing all over the country (and world!), I feel like I'm channeling a lot of excitement their way. That's one of the great things about running and the greater running community; it's a family affair because at any given time, it seems that one person might be on the top of his or her game while someone else is coming back from injury or setback or something. Sure, you can be bitter or jealous that your fitness isn't where XYZ's fitness is right now–but remember that comparison game thing I talked about before? Yeah, that's shitty, and unproductive, and generally not worth engaging in. Abstain at all costs. The flip side of jealousy/embitterment is that it is so easy to be supportive of our friends in the running community and our/their endeavors — wherever we are on the healthy/injured continuum — and I personally think that the support can do wonders for our confidence going into race day (or even day-to-day training)…which is why I find dailymile and strava so awesome. Maybe that's me though.
Anyway. Here's how things have looked over the past couple weeks. I don't really have a plan for how often or detailed I'll document my postpartum running here, especially since I already basically do the same thing through dailymile and strava, but we'll see. If it helps someone, then why not.
week of 9/14 – 16.06 running miles

Monday, 9/14: 3.36 mi @ 8:21 avg, 15 pushups as part of a challenge I'm doing with my sister :), lunge matrix stuff + foam rolling
Tuesday, 9/15: 3.42 mi @ 8:25 avg, 16 pushups, 40 minutes of family yoga (that was way more challenging than I expected for 'family'!)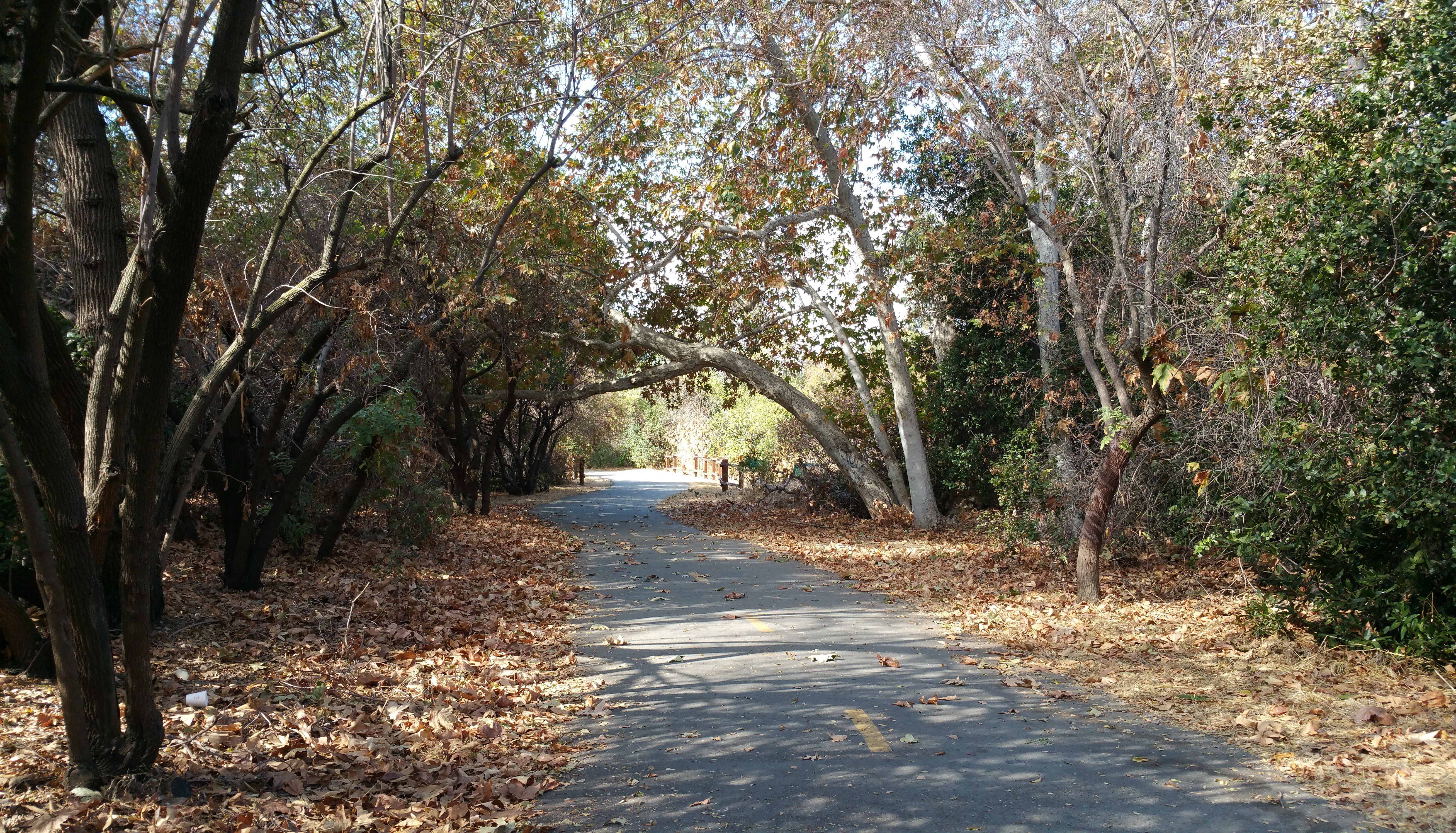 Wednesday, 9/16: 2.57 mi @ 8:19 avg, 17 pushups
Thursday, 9/17: 1.3 mi Spike-wearing walk while A was in dance; 18 pushups; 2.66 mi run @ 8:06 avg
Friday, 9/18: just 19 pushups. being lazy
Saturday, 9/19 (six weeks postpartum): 4.05 mi run @ 8:15 avg; 20 pushups
Sunday, 9/20: 21 pushups. slept in the a.m.
week of 9/21 – 20.8 running miles

Monday, 9/21: 2 rds of week 1 Moms Into Fitness postpartum interval circuit + pilates/yoga; rest day from pushups challenge. I used Lindsey Brin's MIF prenatal yoga stuff pretty regularly in the third trimester, so I thought I'd try her postpartum stuff. The music is wretched, the camo attire (going with the 'bootcamp' theme) is obnoxious, but it's a good workout and I feel like she knows what she's talking about. Plus, I can do it when the girls are sleeping, so that's a win in my book. I'm making it a habit to get into doing strength-based stuff more regularly, so this is a step in the right direction anyway… even if I am rolling my eyes the entire time.
Tuesday, 9/22: MIF (I always read that as MILF, ha) core stuff- pilates 1 + 2 routines plus floor work 1 + 2 routines; 4.35 mi @ 8:01 avg after 9:30 pm!! I haven't run that late since the last time I did a relay!; 23 pushups
Wednesday, 9/23: 24 pushups; sore as hell from the interval stuff on Monday and felt run-down
Thursday, 9/24: 1.7 mi Spike-wearing walk during dance; 25 pushups; 4.35 mi run @ 8:27 avg; remembered to foam roll again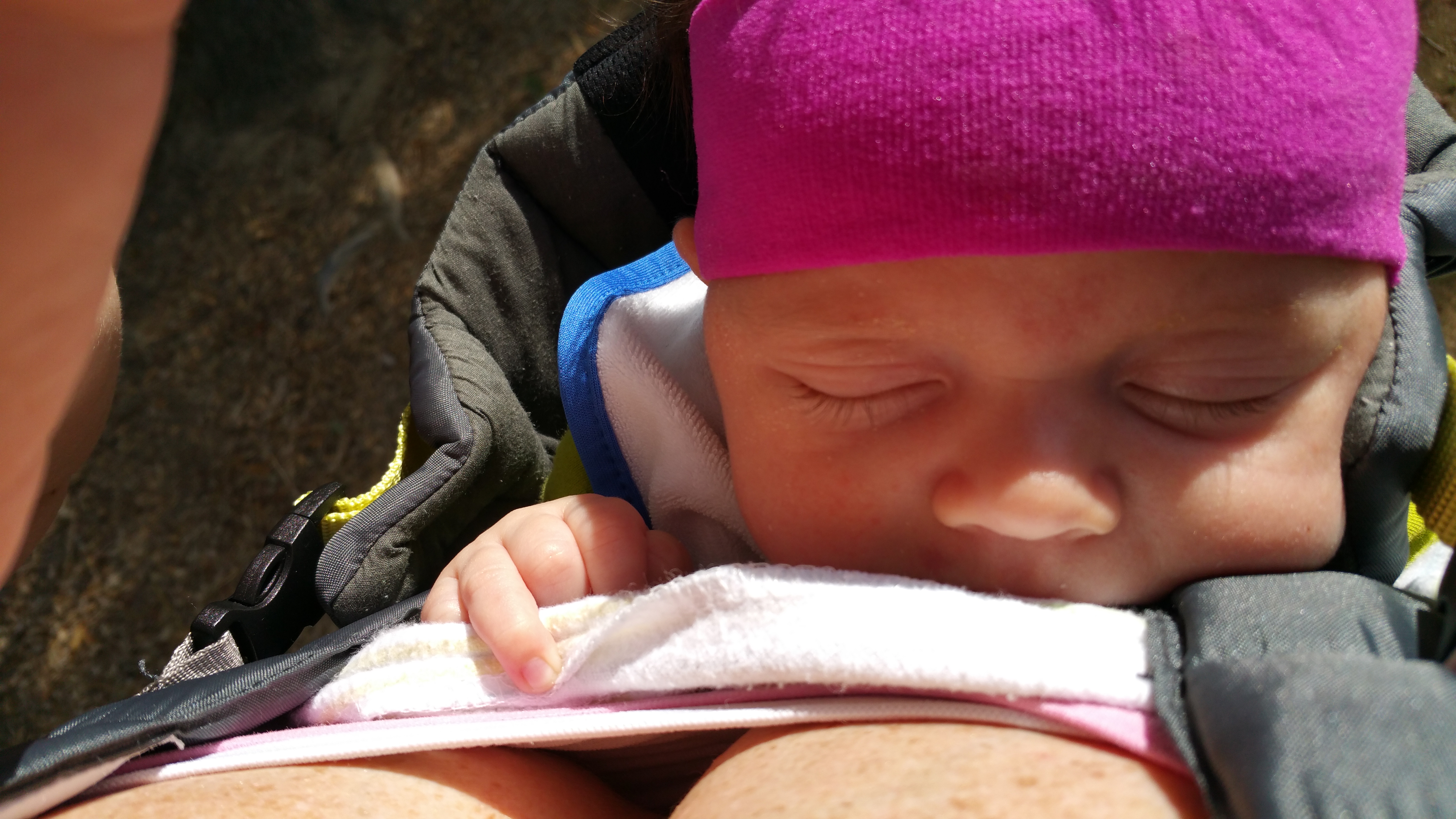 Friday, 9/25: core stuff again – pilates 1+2, floor work 1+2, 26 pushups
Saturday, 9/26: 12.1 mi trail run at Alum Rock with Saurabh and Kowsik, both training for 50 milers, @ 11:33 avg. Left home thinking I'd only run no more than 8 miles but felt great and just went with it. The beauty of trail running is that you're constantly changing gears and speeds, and throwing in some good elevation also keeps your body working in a way that I don't think you get as easily just running roads. It was GLORIOUS to be back in the foothills that I can see from my window — like legitimately see, not Sarah Palin/seeing-Russia-from-Alaska see. 2,434 of elevation gain according to Garmin, and every step was worth the work. SO HAPPY. 27 pushups in the p.m. and I remembered to roll again, too. Hello, soreness!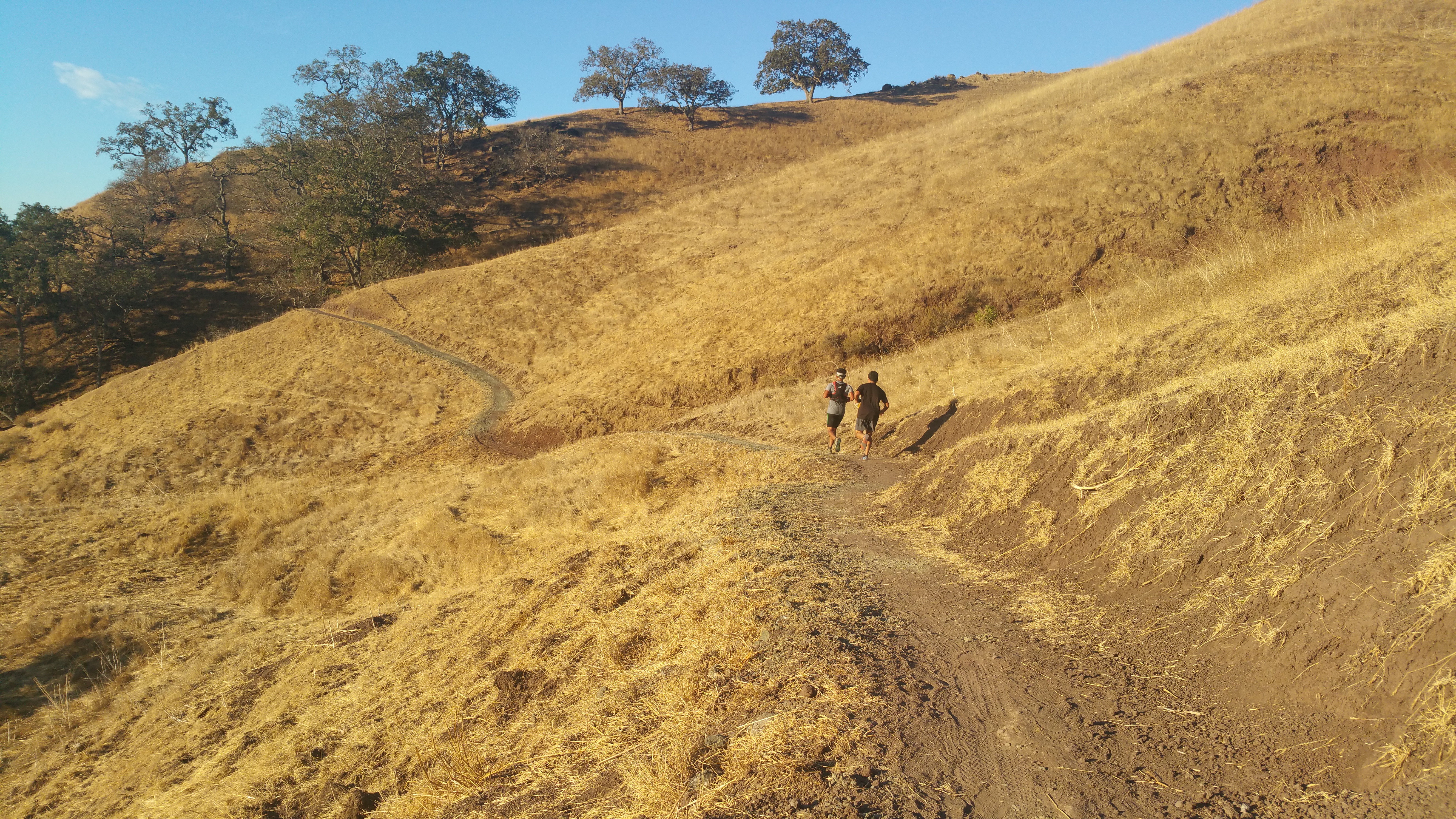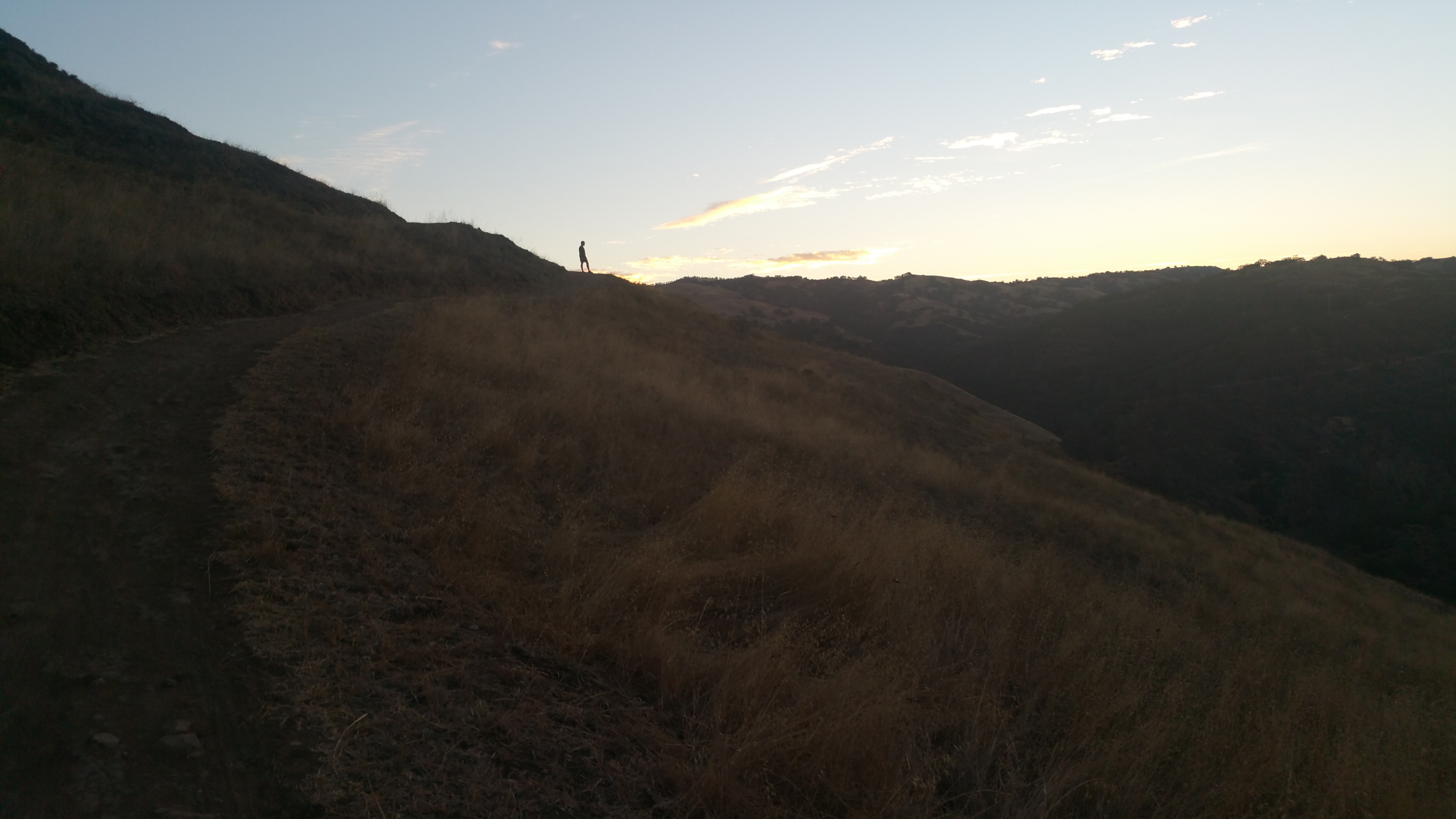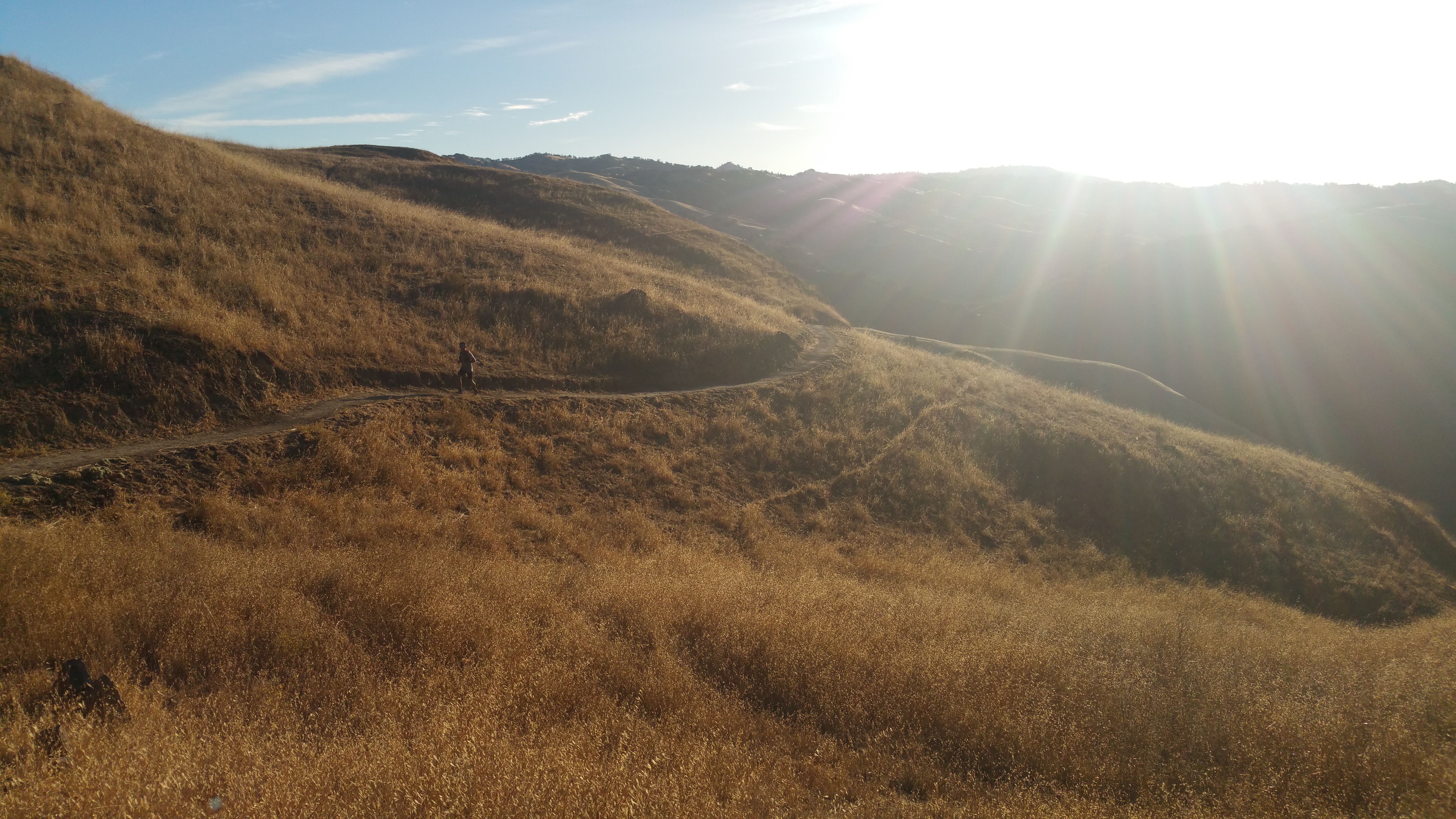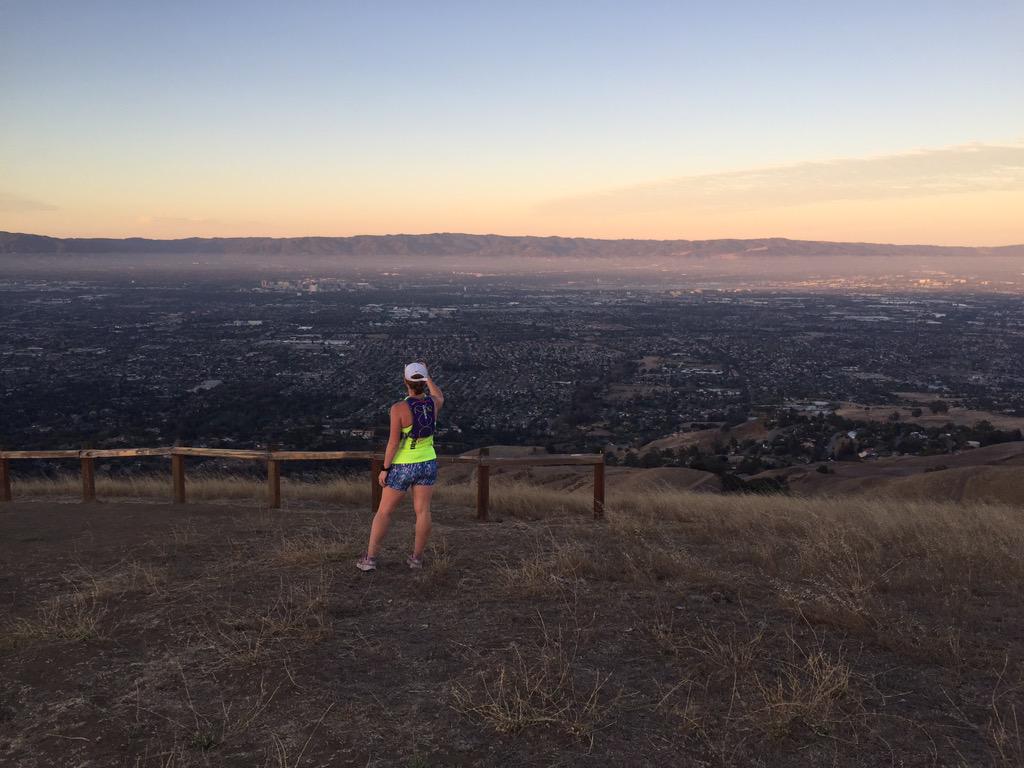 Sunday, 9/27: holy DOMS. rest day from the pushup challenge and a complete rest day otherwise from working out. Spent 6am-12pm spectating and course monitoring the RNR San Jose half marathon and 10k with Wolfpack and got to see a ton of friends and Deena Kastor (who smiled at A!) and Meb. Such a fun morning.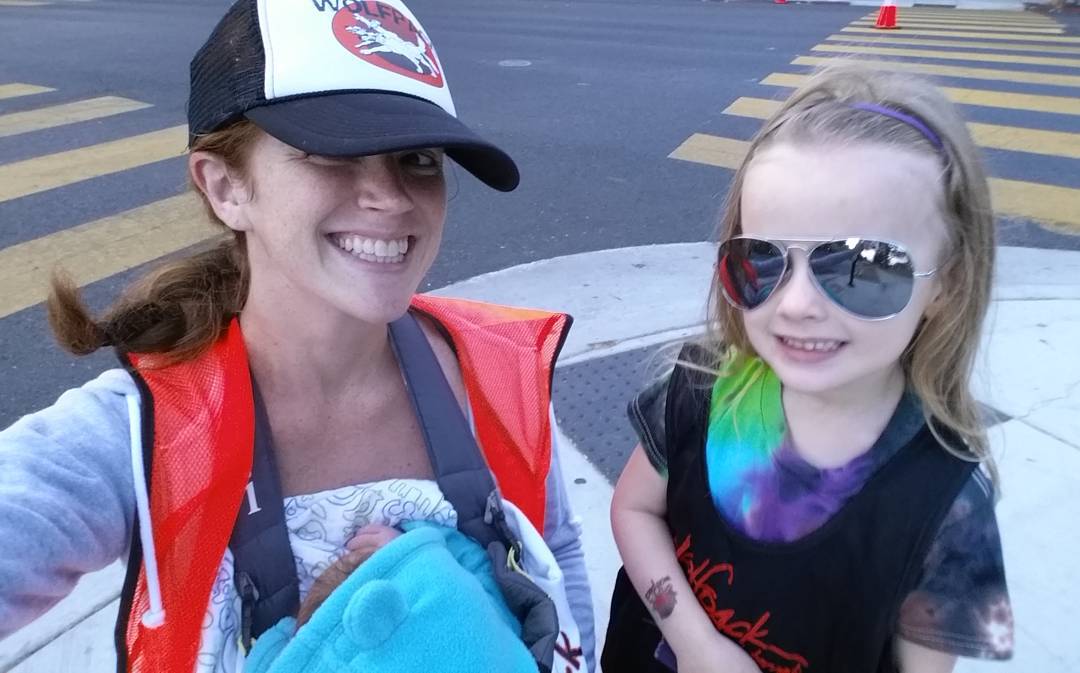 Overall, feeling pretty content. I wanted to run more last week (naturally) but am putting off beginning the 4am runs as long as I can. Nighttime running is too unpredictable for me and for my family's schedule, so if I really want to begin to build my mileage and my running frequency, the predawners have to happen. Thank god for tea… and two kids who nap fairly predictably.
I've got one race on the calendar in October – the Let's Go 510k (a 10k) up in Berkeley at the end of the month – which probably means I should begin incorporating some semblance of speedwork into my runs. We'll see. I'm all about that conservative postpartum build (tortoise, not hare), so we'll see how this all pans out. I'm taking it a day at a time.