2014.  Ahhh, 2014. You were good to me.
In many of my posts throughout 2014, I kinda jokingly-kinda seriously wrote that I signed up for a lot of Bay Area races in 2014 as a coping mechanism to moving from Chicago, but it wasn't until I looked at stuff as I was preparing this post that I realized that, holy shit, I ran and raced and paced and trained a lot last year — to the tune of about 2,567.26 miles, a new yearly personal distance record for me by about a few hundred miles, if memory serves. That's more mileage than what it'd take to drive from our home here in SJ to my folks' place in northeast Ohio! Crazy stuff.
What matters more though is that the miles were healthy, injury-free, (super important) and very fun (also important) and that 2014 was a solid year for my training and for my long-term goals. While I didn't realize that sub-3:20 marathon, I'm actually quite pleased with how the year played out and how my races went (for the most part); that sub-3:20 would have been vegan icing, but really, I'm floored. I'm smart enough to realize that if I only run to net PRs that I'll be disappointed about 99% of the time, so fuck that. Running's about more than PRs; it's about discovering new places, testing ourselves, meeting new people (lots of that for me in '14)… you know what I'm saying. At the end of the day, whatever numbers my Garmin watchface is throwing at me only matters this much.
Anyway, in 2014 I notched a couple new distances (12k, 50k, trail half) and naturally, everything I ran here was on brand new courses/in brand new-to-me locales, so it made the 2k+ mileage from the year pretty fun and exciting. Unlike my Chicago-based running, I did most of my training here by myself because not many people are into meeting up at 4am for a morning jaunt before work (note: where are you, SJ-based predawn runners?!).
I present to you my year of running, in 2014, a la statistical and photographic highlights. Cheers!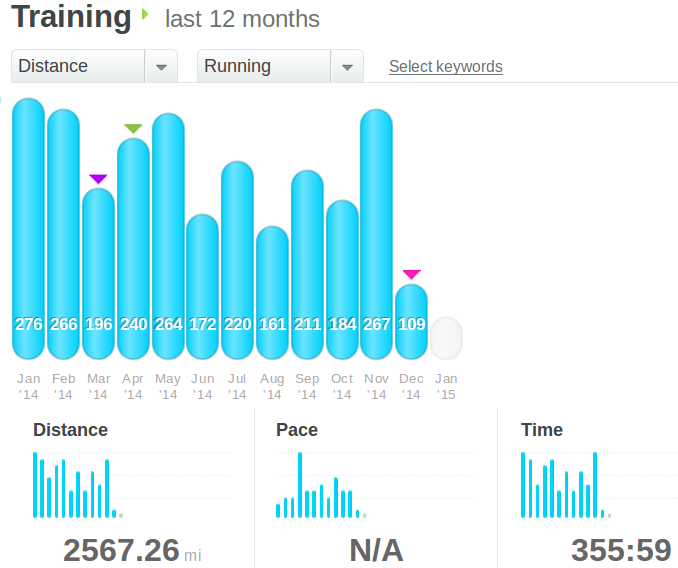 First run in CA, on 12/21, just a few hours after my daughter and I had flown in from Chicago. I generally don't take pictures of my feet (because… why?), but I also generally don't run in shorts in 50-degree weather in December, either. Helluva way to welcome me in, CA.
 ————————————————————————————————–
A year's worth of racing… 17 (!) in all, with 2 DNSes
January: no races, just lots of training  mileage for the Oakland Marathon
The pic below is from one of my first runs in CA, and I was obviously stoked to be reunited with my E-twin for the first time since we trained together for Boston & Chicago '10. She was one of the only people I knew who lived in the Bay Area before we moved out here. This was from the run in the Marin Co. Headlands where we met up with other folks who were also TSFM ambassadors. It was awesome.
February: SF Kaiser Permanente Half with Erin, Foxy, Chicago Meredith, and Austin and friends. You know what's fun? Running a half in the cold and windy rain. You know what's not fun? Getting horrible diarrhea around mile 10 of the aforementioned half marathon and having to shit outside a locked bathroom. bleh (at least I had the lovely view of the ocean…)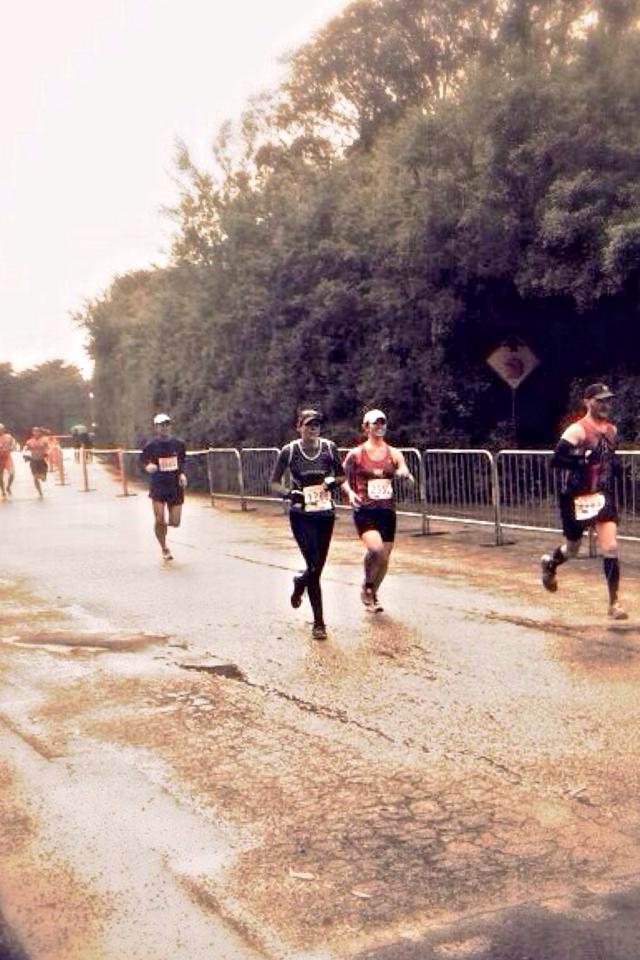 March: Race to the Row/408k. I kinda love 8ks because they're such a weird distance–not as killer as 5ks, but not as calculated as 10ks–and doing this as a race ambassador and the day after a 20-miler (and in the throes of a 70+ mi week) set me up for low expectations for how I'd perform. To be sure, it was my slowest 8k in many years, but it was awesome! Seeing so many Wolfpack teammates before, during, and after the race was also wonderful. And! The 408k was my first race actually in SJ proper.
Of course, the big event in March was my first goal race of the year, the Oakland Marathon. I had trained like hell for it in hopes that I'd break 3:20, even knowing that the course was pretty tough, and while it ultimately didn't happen, I had a total fuckin' blast during the race, had a fun time that weekend with Chicago-based friends old and new, and placed as the third woman OA. If all that wasn't enough, I also was part of the winning team (RunningAddicts) for the marathon competition. It was incredible, and that race has a special place in my heart. 🙂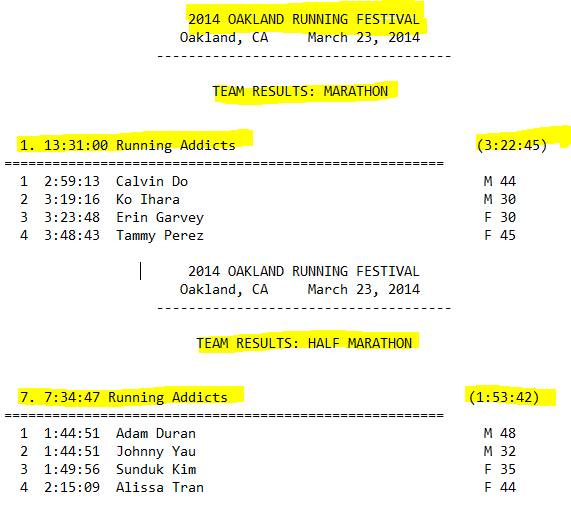 April:  A team of San Francisco Marathon ambassadors and I ran the Ragnar 200-mile SoCal relay in early April, thanks to the flurry of businesses who had sponsored us (TSFM, Zensah, Gametiime, Nuun, Fitsok, and Skechers). Relays are typically draining as hell but, predictably, a lot of fun, and spending a good 24 hours in a van with other runners is just a party… especially when you inadvertently abandon your team captain in the middle of the night somewhere. (Sorry, Chris). That little oopsie aside, Ragnar SoCal was a great experience!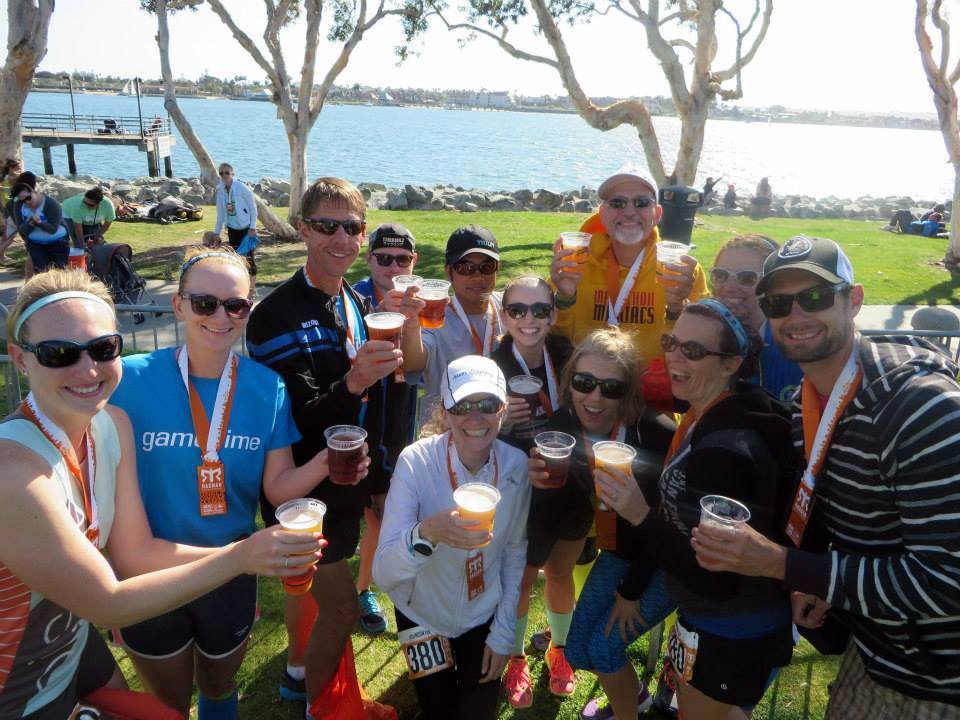 April also brought me my first opportunity to be a pacer, and it ruled!  I got the 1:45 group at the Santa Cruz half marathon with Adam, and the pretty course, combined with a great group of runners, made for an excellent experience. I can't recommend pacing enough; it is so much fun and deeply gratifying.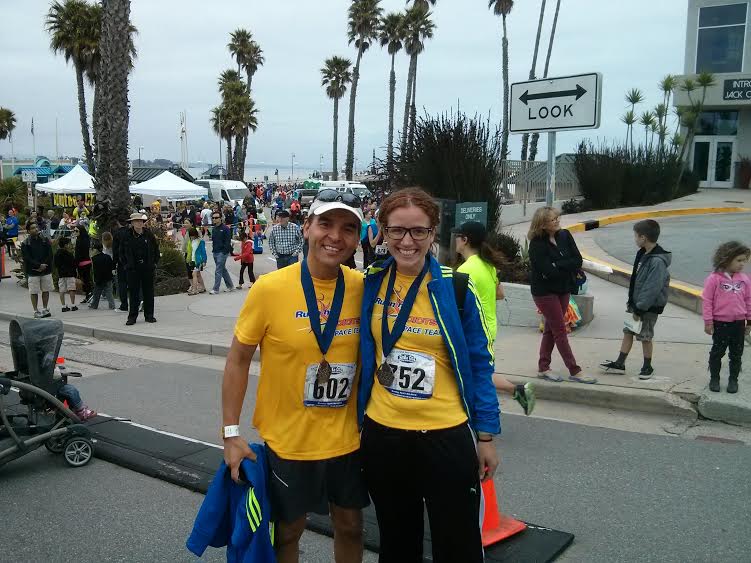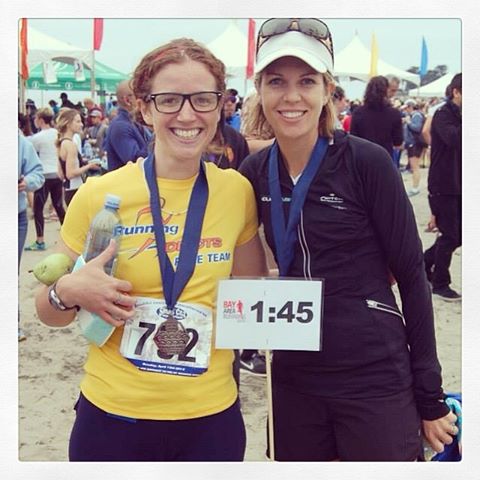 I also made a last-minute decision to run a local 10k in late April, and I fared decently and kinda unofficially PRed, but the course measured really short (annoying). At any rate, it was enough for an AG and podium finish. 10ks are killer little beasts, but I kinda like 'em. I think this was the weekend before Boston, and since I knew so many people running it in 2014, I felt like I had to get in on the racing action.
May: Another opportunity to pace a 1:45 HM group at Brazen's Western Pacific races. This time would be my first go at pacing by myself, and it was way more nerve-wracking than when I had done it with Adam in Santa Cruz a month earlier. Dealing with mile markers that didn't line up with my Garmin, along with my horrible inability to do mental math on the run, while entertaining very nervous runners… yeah, slightly stressful, but ultimately still super fun.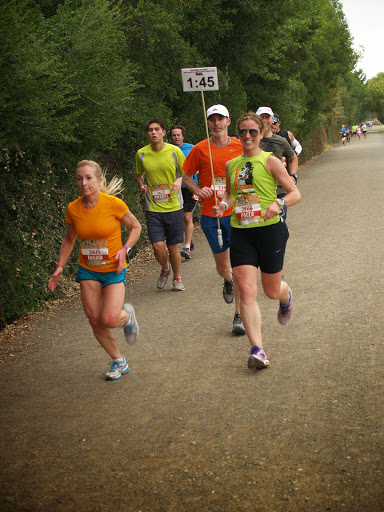 Also in May was the ever-popular Bay to Breakers, the world's oldest footrace, allegedly. I signed up for the craziness that is B2B without any real expectations because, well, it's Bay to Breakers. Well, I take that back; my goal was to "not run like a moron." I had never before run a 12k (automatic PR?), and I didn't really know what the course would be like in SF, nor did I know how to pace the thing, but the weekend with Erin, Foxy, and Ryan was a blast, and running the race in my old Girl Scout vest from elementary/middle school was clutch. The race, by the way, is goofy as hell but really… do it once. It's kinda an experience.
Aaaaaaand finally, in late May I headed up to the fine state of OR to "run"dezvous with my people Austin, Kelly, Traci, and friends for another go at a sub-3:20 marathon, this time in Newport. It was an incredible weekend, and Austin and I both managed to fare well in our AGs and OA–with a shiny new PR for him!–even though I managed to dehydrate myself mid-run and foolishly kick much, much too early. All good stuff though–a lovely weekend with friends and a pretty good marathon to boot: my idea of a good time.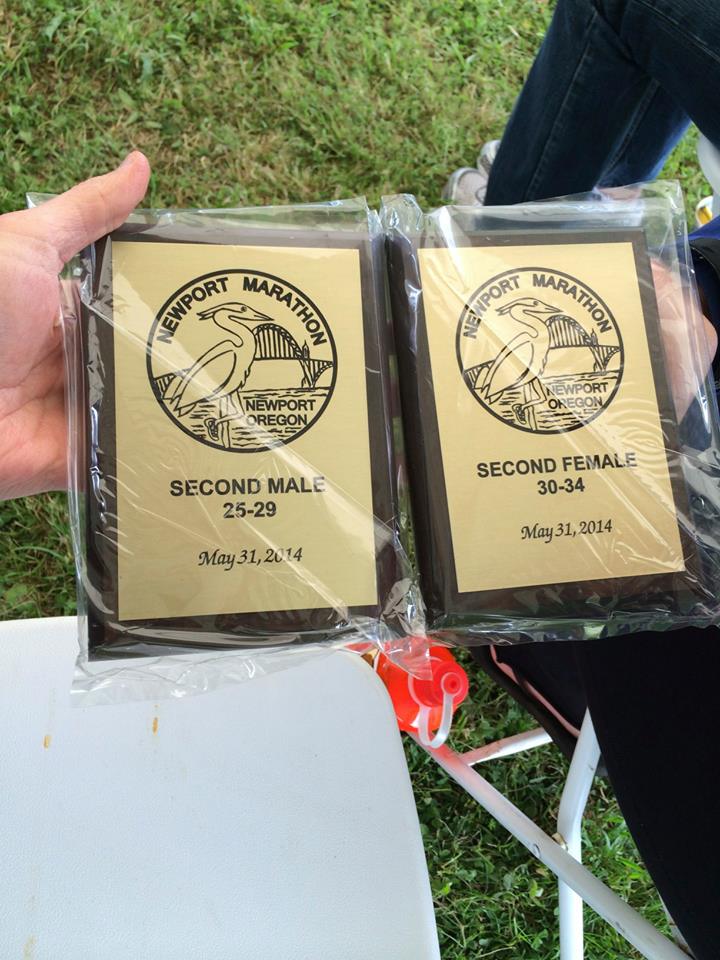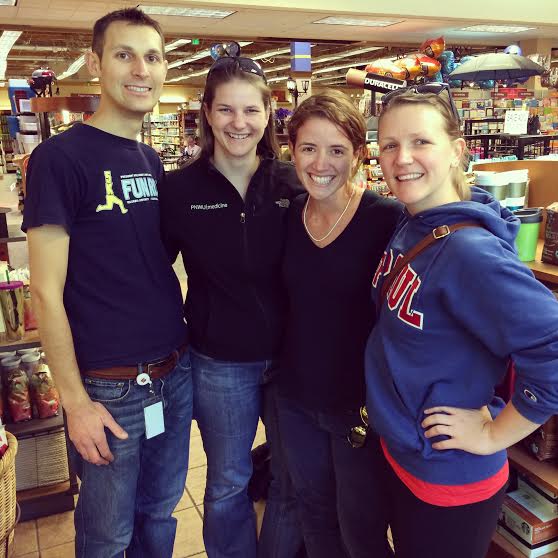 June: June gave me the opportunity to head up to Napa Valley for the first time to run the ZOOMA Napa Valley half marathon as a social media ambassador. Being a social media ambassador for this inaugural race allowed me to meet a bunch of super cool women, and I was impressed with how smoothly the race went. I raced like absolute shit, but hey, the race was pretty as all get-out. Napa in June is just hot hot hot. I pulled another AG and high OA finish here but was too frustrated and irritated with myself to be happy about it. I've since filed this race under "don't run like a jackass" and "come back to fly on this course because it's really effing fast."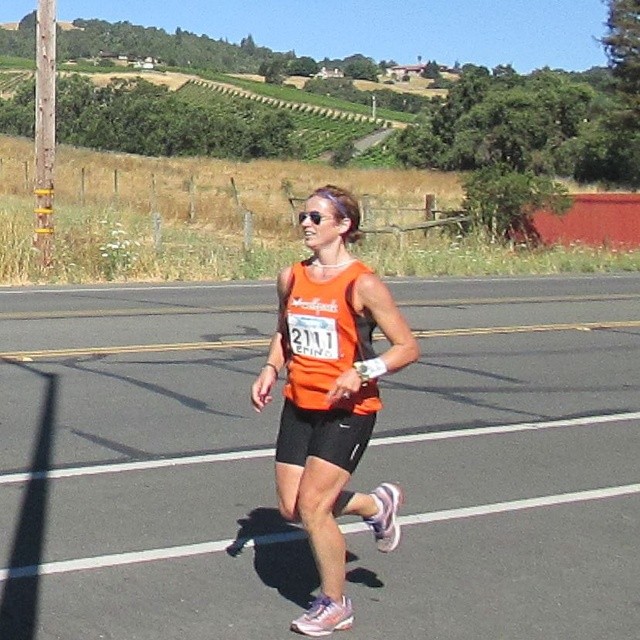 July: Just a few weeks after ZOOMA Napa Valley, I had a comped entry to run in Los Gatos at the Jungle Run half marathon, so I figured it'd be a decent tune-up race in advance of The San Francisco Marathon. Los Gatos is a pretty area, and the course isn't very flat, so again, I figured that it'd give me an idea of what was in store for me at TSFM. Things were going well until, surprise surprise, around mile 7, my stomach decided that then and there would be just fucking perfect to have rip-roaring diarrhea mid-race (remember the Kaiser half in February? Yea, deja vu). That was horrible, but somehow I still squeaked in with a decent time (high 1:37), though I had been on pace for something faster prior to the gastrointestinal debacle. bleh.  At any rate, seeing lots of Wolfpack and RA on course was great, and I secured another AG finish. The JR was a harder course than ZOOMA NV, but I was faster at JR (even with the shit stop), so it was also kinda redemptive.
Of course, the big race in July was The San Francisco Marathon, which became another target race for me because I had learned that I'd be pacing the 3:35 group at Santa Rosa a few weeks later. TSFM is awesome, and super tough with about 1,000′ of gain, but it's one of my favorite marathons to date. Being a social media ambassador for the race allowed me to meet lots of people in the months preceding the event, and the weekend was just a blast, as marathon weekends usually are for me. Chicago Meredith was in town, Erin B came in from Chicago to run the full, Erin and Foxy and Foxy's sister all ran the full (with Foxy's sister doing it as her 35th marathon before she turned 35), and yea… just awesome. Again, the goal was for a sub-3:20, even with the tough course, and while I whittled away time from what I had posted at Oakland and Newport (and TSFM ended up being my fastest 2014 marathon on probably the toughest course, go figure), I still was just a jiffy shy of a sub-3:20. Whatever. It was awesome… and hey, I was on the winning team (RunningAddicts) for the marathon competition again and pulled a high AG and OA finish. woot!
August: About four weeks post-TSFM, I paced the 3:35 group at the Santa Rosa Marathon up in Santa Rosa (wine country) with Ko, another RA buddy and sub-3 guy who was actually one of my 3:20 pacers at Oakland in March. SRM is one of the top courses in the country in terms of how many folks in its field BQ each year, and leading a huge BQ group was just remarkable for me. I honestly never thought I'd be a strong enough runner to comfortably pace folks to a 3:35. To say it was surreal is kinda an understatement. Anyway, SRM would be my first full marathon pacing opportunity, and I was stoked beyond belief. Austin also came down from Portland to run the full in an attempt to sub-3 for the first time. Our rundezvous again was a lot of fun–we're good at that–and he netted another marathon PR and secured his Boston '15 slot, Ko and I brought home our 3:35 group with time to spare, and I experienced my first California earthquake: seriously, talk about a crazy, crazy, crazy morning. Pacing a full marathon is a lot of work–no surprise there–but man, this shit's good for the soul.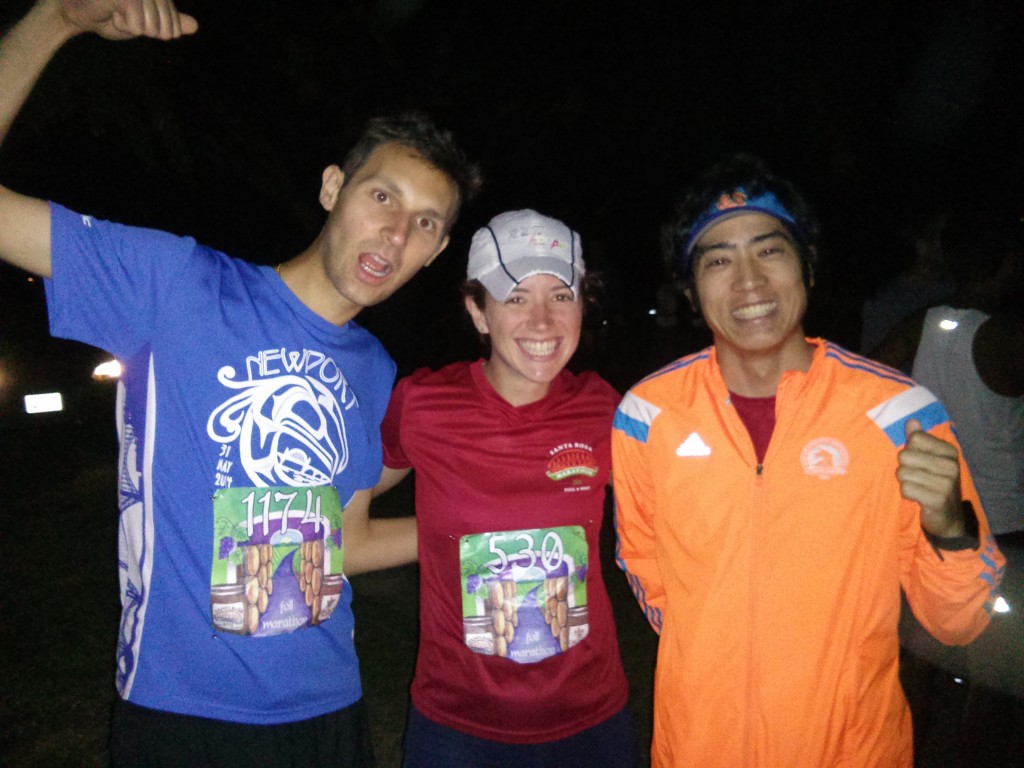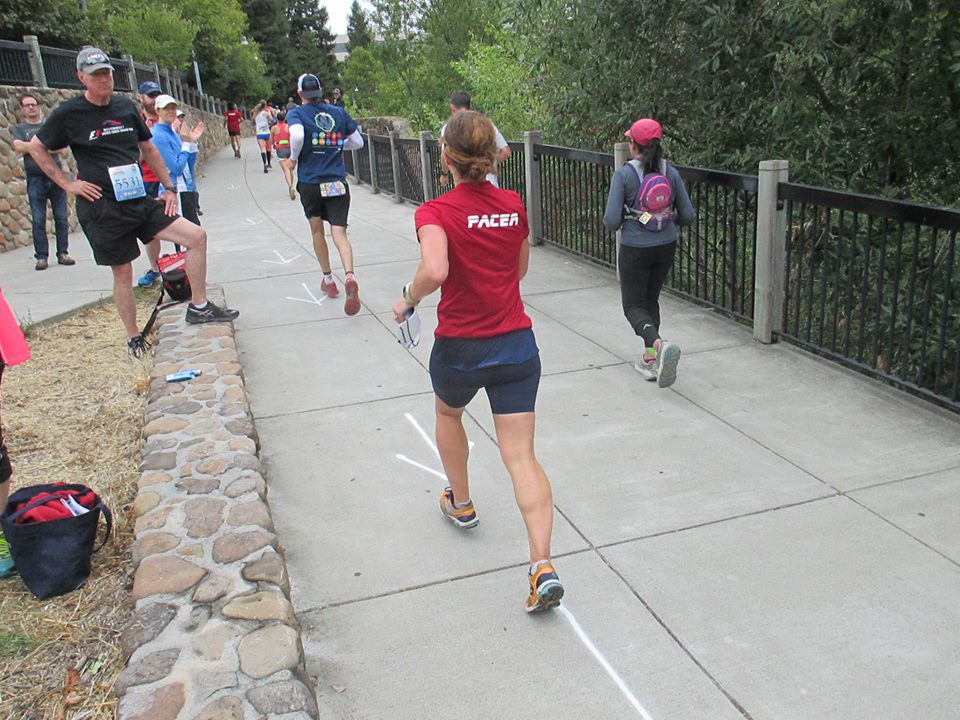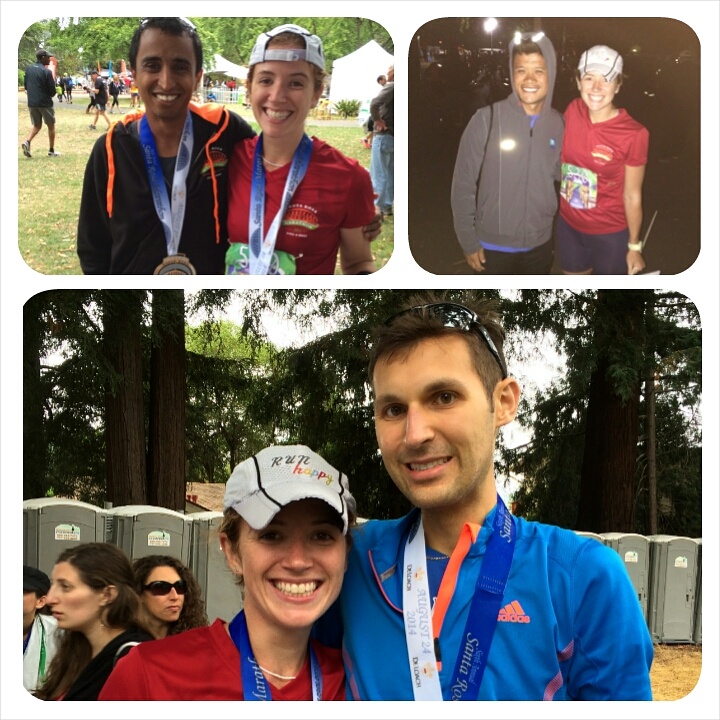 September: Shortly after SRM, I was going to begin training for CIM, my goal race of the fall/winter, but I learned that life/family would necessitate a DNS this year. Instead, I shifted focus from road marathons to a trail 50k and thought I'd try my hand in the beginning of training at a trail HM+bonus (13.5 miles), Brazen's Trail Hog race here in SJ at Mount Hamilton. It was fun and super dirty–the drought was horrible, making everything super dry and super dusty–but it was a good way to kick-off 50k training and get an idea of what the hell I was getting myself into.
October: I had two races in October, both half marathons, but neither was an actual race for me as much as they were just training runs for the 50k. Rock n Roll San Jose was part of a 20-miler, and the Nike Women's Half to benefit the Leukemia and Lymphoma Society was part of an ~23 miler and was really more about the fundraising I did for LLS than it was about the actual footrace. RNRSJ was fun–it's a fast course, and I saw lots of Wolfpack and RA friends–and Nike Women's was hilly, and foggy, beautiful, and personally meaningful, given my connection to the cause.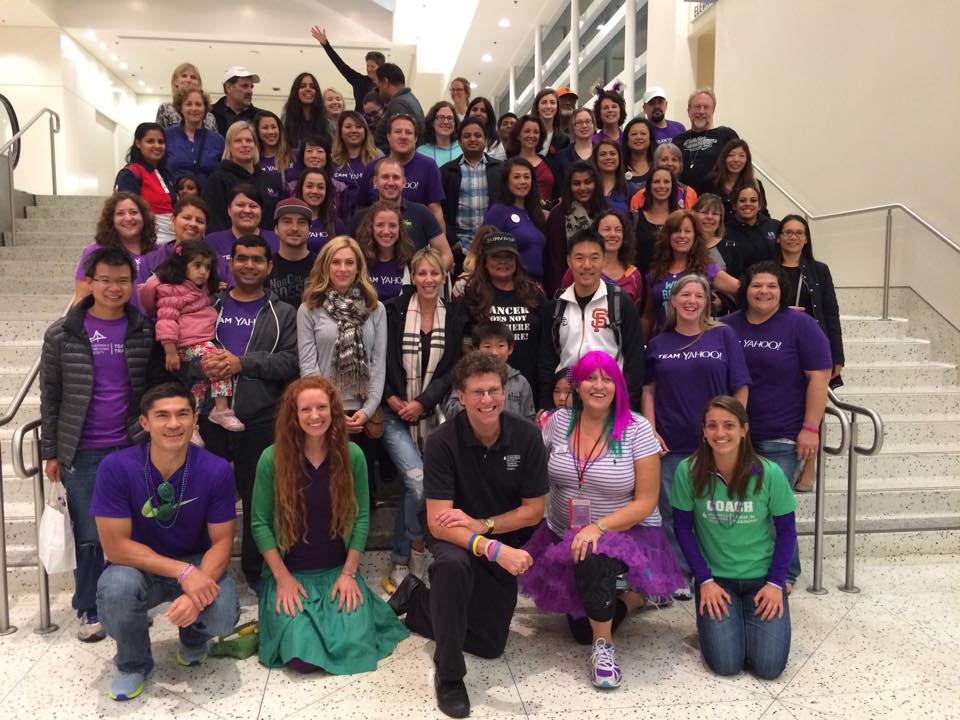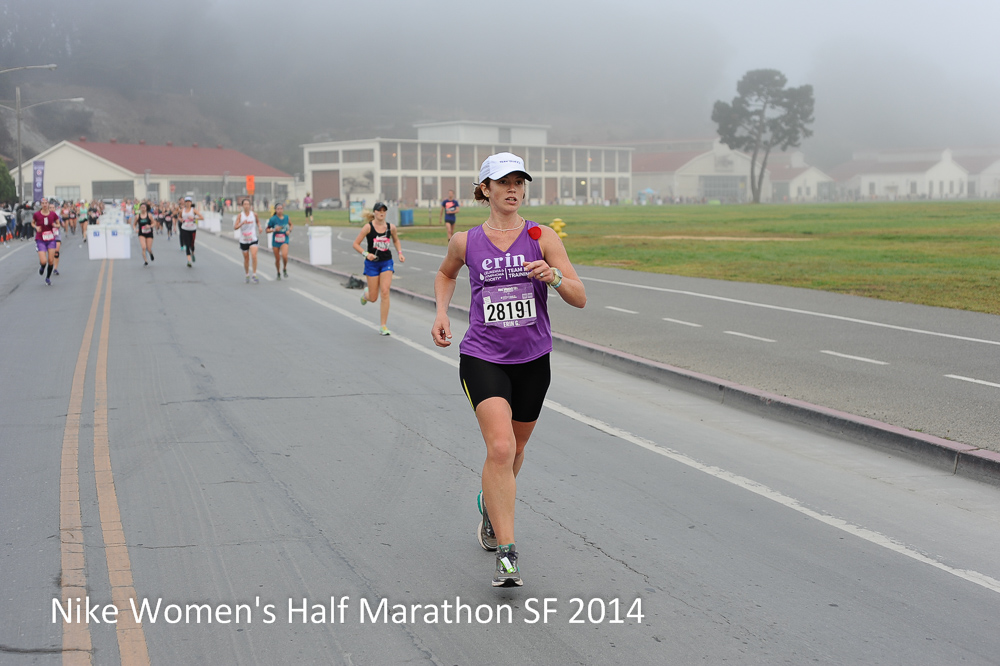 November: No racing for me in November, just more training for the 50k. I posted a DNS for the Silicon Valley TT 10k because of some last-minute travel to Disney. Lots of trail action in November though.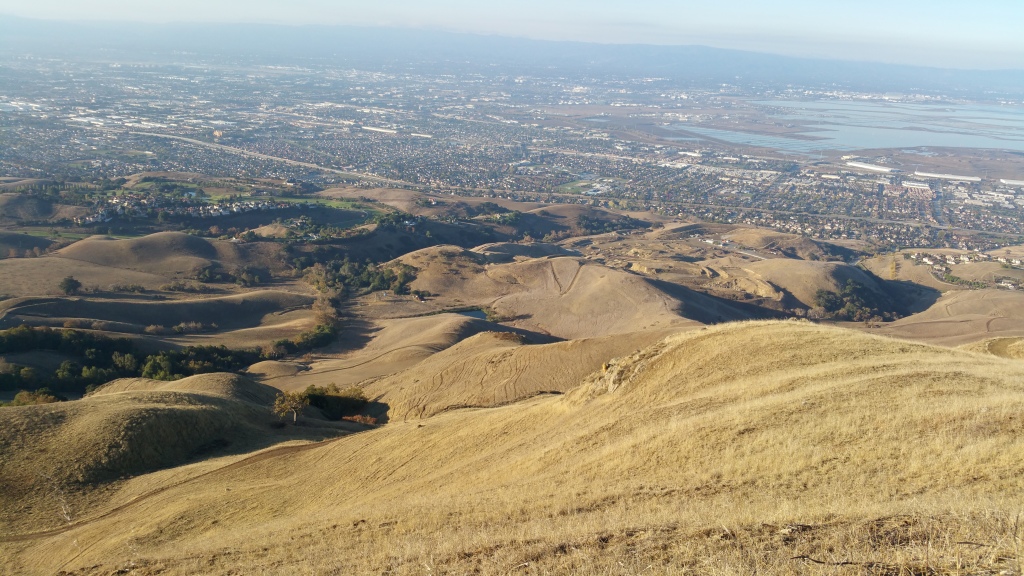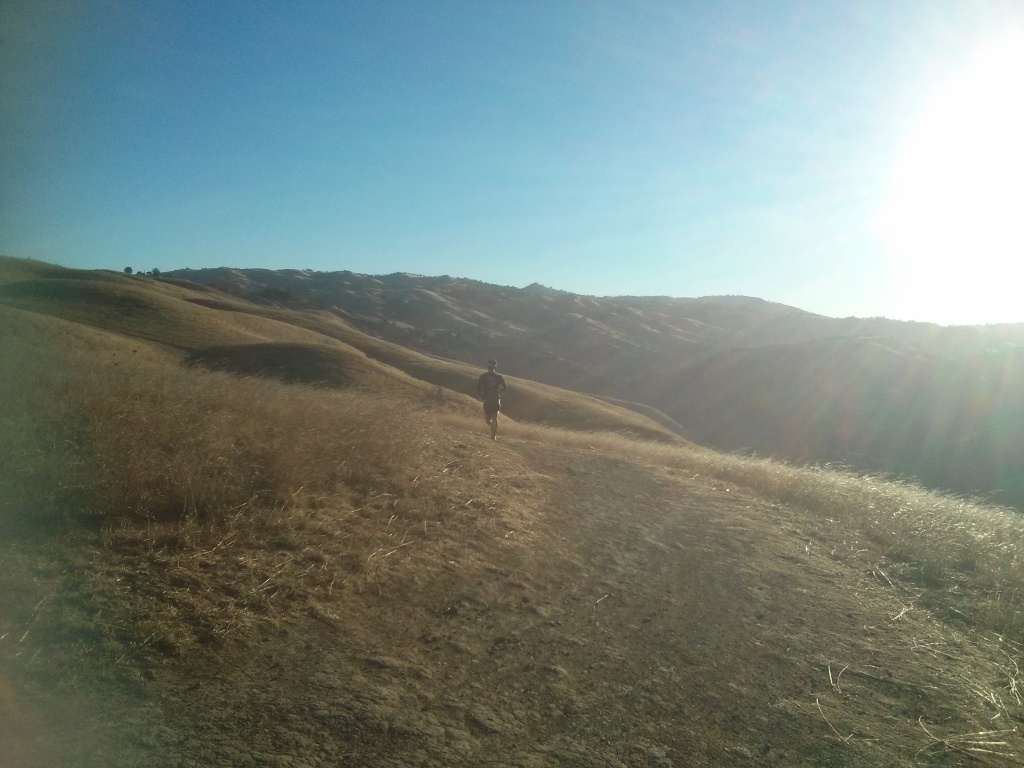 December: And finally, the big one of the year: the Woodside Rambler 50k. The DNS for CIM meant that I'd be left without a target race for the fall/winter, and Woodside made a lot of sense, even though (or because?) it'd be my first 50k and first real trail race. I can't speak highly enough of the race organization, trail running, or the ultra scene or ultra community, but seriously. It was fuckin' awesome. Meeting another twitter/strava buddy Kowsik was a nice touch, too. The race made for about 5,000′ of gain in just under 6 hours of running and was absolutely incredible and totally worth every minute, second, and hour of it. And hey, another AG. 🙂 icing, baby.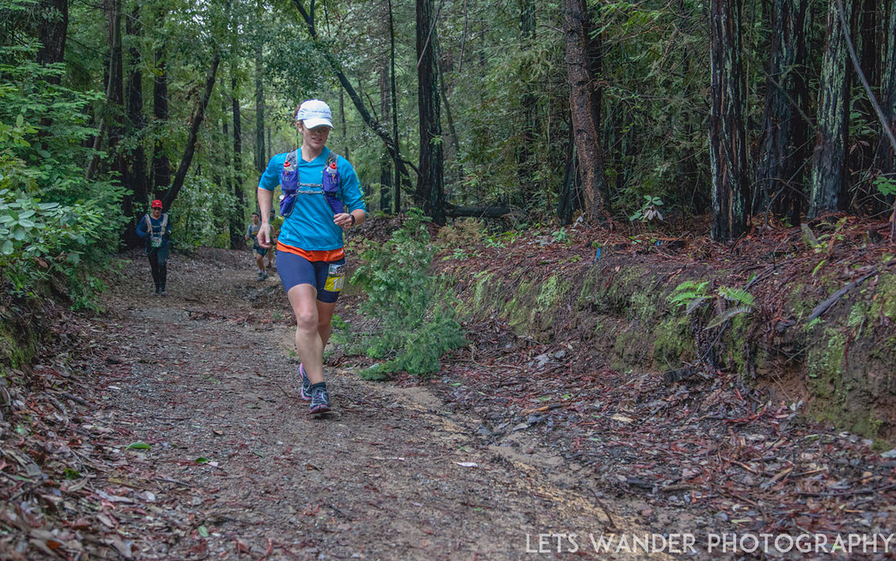 2014, you ruled were fun were fuckin awesome.
Gracias por todo.