35 by 35: A Runner's Quest by Taryn Spates
35 by 35: A Runner's Quest by Taryn Spates
One thing (among many) that I love about running is our community. Over the years, I have had the pleasure to get to know and befriend many people through running, training, and racing across the country, and I'm pretty sure that with many of those people, I wouldn't have had the good fortune of interacting with them otherwise. That's the cool thing about running; when we're not on the trails together, we all lead such distinctly separate lives as parents/employees/whatever, but when we're on the run, our singular identity becomes that of a runner, and that's what binds us together. It's kinda cool, really.
Soon after my family relocated to the Bay Area, in July 2014, I had the pleasure of running the San Francisco Marathon as a member of TSFM's race ambassador group, and in the process of being an ambassador for the year leading up to the race, I got to meet many runners, some of whom were Bay Area-based and others who were not. As I wrote about in my recap, I had an excellent second TSFM, and more importantly, it was a really fun weekend with friends old and new.
One of those new friends I had met over the course of TSFM weekend was Taryn Spates, sister to also-new-friend Sarah, who is friends with old-friend-from-Chicago-who-now-lives-here Erin. Finishing TSFM meant a lot of different things for our little gaggle of women that weekend – including some BQ or PR victories – but for Taryn, it signified the culmination of finishing her thirty-fifth marathon by the time she turned 35 years old.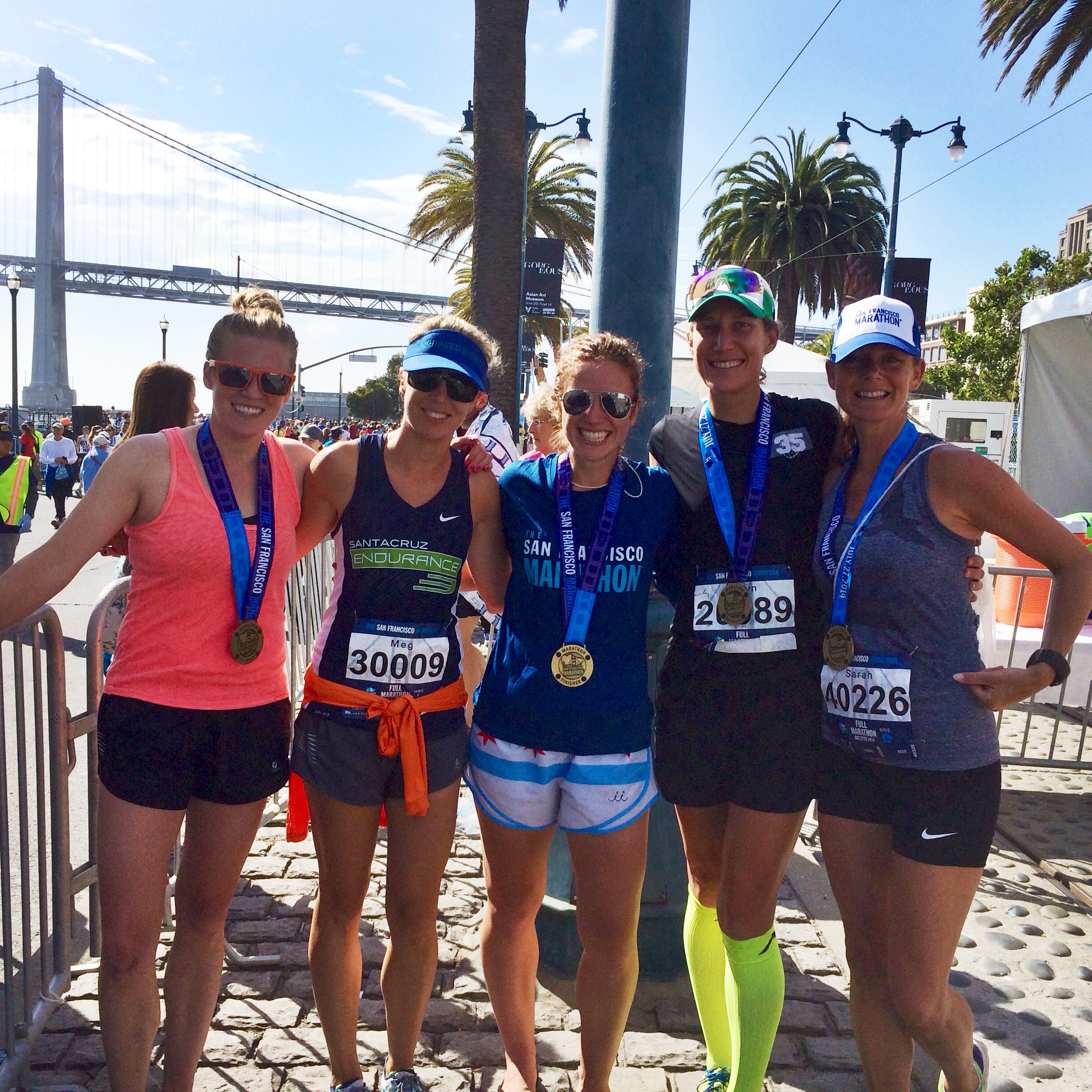 Let that marinade for a minute.
What have you ever done willingly 35 times?
Prior to the race, Erin had mentioned to me that Taryn was in the throes of realizing this "35 by 35" goal of hers and that she was working on a book about it, but I think it was one of those unfortunate in one ear and out the other things for me. Knowing that Taryn had completed her 35th marathon on TSFM race day was cool in and of itself; eventually learning (re-learning) that she was working on a book about her adventures was like the icing.
Earlier this year, when I was posting some book reviews up here about some running-related stuff I had read lately, Taryn dropped me a line and offered to send me a copy of her book, aptly titled 35 by 35: A Runner's Quest. I won't say that this is a "sponsored post" or anything like that because while yes, it was free, there was no expectation of me posting a review – it was a gift – but I wanted to take some time to share Taryn's book because I think it's a gem. Honestly. I wouldn't spend my precious time dropping a couple Ks worth of words if I felt otherwise. I think many readers of this blog would appreciate Taryn's writing and would be equally inspired by her drive to realize her endurance athlete goals.
The executive summary: 35 by 35 is an inspiring, motivating quick read that captures Taryn's pursuit of finishing 35 marathons – stand-alone marathons and those completed as part of Ironman races – by the time she turned 35 years old. Not every race was pretty, as any runner can attest, but Taryn shows us how she walked away from each experience having learned something about herself as an athlete but also as a person and how each experience further stoked her drive. Along the way, we learn about how the "external factors" of Taryn's life outside of racing and training – such as her employment (and sometimes, unemployment) in the entertainment industry or her getting married and becoming a stepmother – positively and/or negatively affected her ability to pursue her goals, which, at one time, included becoming a professional triathlete. While we may not be able to understand her unflinching love of the most grueling endurance pursuits out there (we're talking about a woman who has completed at least nine Ironman-distance races), we can relate to how dearly she holds the endurance community in her heart. I read Taryn's book in the days leading up to the Modesto Marathon, and I apparently couldn't have chosen a better time to be reading a book that would help get me back into the marathon mentality. Her ruminations are honest and insightful, funny and refreshing, and when I finished reading her book, I was all-too-eager to go gulp down that marathon koolaid that was awaiting me at Modesto.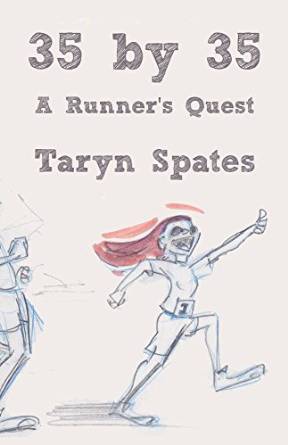 Taryn divides each race experience into its own chapter, with the book going in chronological order, and each race reads like a bird's-eye-view story or perhaps even like a fairly general race recap that you might encounter on a blog post (but with far less obnoxious language). I got the impression that each chapter/race experience entry could be its own disparate, stand-alone entry (again, kind of like a blog post) and read on its own, since each chapter/race usually doesn't build much upon the preceding. It's an interesting balance that Taryn struck here because while each unit could stand alone, the book pretty seamlessly transitions from race to race and isn't jarring or abrupt.
With endurance events becoming increasingly popular in recent years (particularly at the half marathon distance), more and more people will be able to proudly call themselves endurance athletes, but for the large majority of the population, how and why people could become interested in, if not also addicted to, gruelling events like the marathon or the Ironman distance is beyond comprehension. I totally get it with marathons; with Ironman-distance events, not so much 😉 Taryn's book shows readers how relatively easy it is to fall down the rabbit hole in this community – particularly after you run your first event and you begin to think about all the ways you can improve at subsequent events. Taryn's entries unfold this phenomenon nicely, and the conviction in her love of the run permeates her writing in a way that makes it accessible to even the strongest naysayers out there. Dare I say that she helps people "get it," even when they don't think they can (or want to).
From her first marathon in San Diego in 2001, when she had "become a grown up" to her thirty-fifth at San Francisco in 2014, so much about Taryn's life had changed – career, marriage, motherhood, you name it – but one of the only things that remained constant was her drive to be a better athlete, in part inspired by her brother and other friends and family members. This is again something where many of us can relate; like Taryn, we run our first marathon for the experience, and soon after we cross the finish line, we begin scheming about how much time we could imagine taking off by tweaking our training. Once that happens, then we begin to think about what it would take to qualify for Boston. Then once we realize that goal, it becomes about AG placing, and the list goes on.
This isn't to say that this book is just a laundry list of goals realized; Taryn is quite candid about when things didn't go well or when shit just sometimes happens – quite literally, as it were – in races. When you've been an endurance athlete for so long, as Taryn shows, sometimes you have good seasons and good races, and sometimes things just don't go according to plan. It's the ebb and flow of training and racing, much as we all seem to have an ebb and flow of life. There's a reason that so many runners are also writers; the sport is like one big freakin' metaphor.
As a multiple-marathoner myself, I enjoyed reading Taryn's book a lot and found myself nodding in agreement with so much of the sentiments that she captured. The parts I found especially interesting were about her Ironman training and the times that, thanks to some employment/family life stuff, she was able to train for her events on a nearly full-time basis in an attempt to become a pro triathlete. Never in my running career, even at my most zealous, have I thought I stood a chance in hell at going pro, so these sections were pretty eye-opening.
Since completing her 35 by 35 quest, Taryn has re-run the Boston and LA Marathons and has also run her first trail 50k. She has no intention of hanging up her running or triathlon shoes, and I'm sure it'll only be a matter of time before we hear from her again as she sets off to realize her Next Big Goal and who knows, maybe that'll mean there will be a sequel! If you're looking for a quick and fun read before your next big event, I think Taryn's 35 by 35 fits the bill (and plus, hey, how cool, I'm in it! I'm "Ambassador Erin" in the SF Marathon '14 chapter). Likewise, I think this book would make a thoughtful gift for someone who's about to complete his/her first marathon or Ironman-distance event. Meeting Taryn on the final leg of her 35 by 35 journey was a treat, and seeing her hard work come to fruition in the 35 by 35 manifestation has been as exciting as another marathon finish.