2016 Berkeley Half Marathon race report (!)
2016 Berkeley Half Marathon race report (!)
A week ago now I ran what's probably my last race of 2016: the Berkeley half marathon. In the two weeks post-Two Cities Marathon (and sidenote, thank you so much for all your sweet and supportive messages!), running felt strangely comfortable, considering I had just run my fastest marathon ever. Historically, at least for the past three years, I typically haven't felt very sore after marathons, which has led me to believe that I've finished most races with more in the tank than I realize — kinda cool, I guess, but also kinda disappointing. So it was with TCM: for as elated as I was with my finish, the negative split, the PR, how I felt, all of that, it has been really tough to not get into the hypothetical scenarios that have been playing out in my head. I finished that race super happy and feeling super strong, but I also finished that race with a cloud of you really should have pushed harder because there's so much left here hanging over me. I guess if nothing else, it's fuel for future marathon fires.
Taking all of this into account, going into the Berkeley Half Marathon on Sunday, I didn't have any expectations. I typically don't race right after a marathon out of respect to the recovery process. Plus, realistically, BHM is a tough and hilly course. I figured if nothing else, I'd quickly learn on the streets of Berkeley whether I had been pushing too hard and running too much in these subsequent 2 weeks post-TCM or if I had, in fact, recovered and potentially could rumble. I thought that based on how I ran at the ZOOMA half (1:35, as a workout) two weeks before TCM, and how I fared at the marathon, that if things really went well and the stars aligned, that I could potentially threaten my three-year-old half PR (1:33), but it was a very distant thought.
On race morning, I fetched Meg in Alameda before going to Meredith's in Berkeley, where we'd do about a 2 mile warm-up from her place to the race starting area. The skies were overcast and the temps comfortable, and my body seemed to be feeling good. Meredith was running 18 that day as her last LR before CIM in two weeks' time, and Meg was running the half as her first big postpartum race (at about 16 weeks). BHM was special to me not only because of the fun stuff from being a social media ambassador at the race for the second year in a row but also because like Meg, BHM for me last year was my first big postpartum race (at about 3 ½ months postpartum for me). BHM '15 helped me decide the course of the '16 running plans/calendar, so my only real "goal" for Sunday's race was to (hopefully, if not a bit presumptuously) see how much better I could do at 15 months postpartum than at 3 ½ months. Similar to the ZOOMA half and TCM, I didn't affix a hard-and-fast time goal to Berkeley; it was going to be a race more about "feel" than about anything else.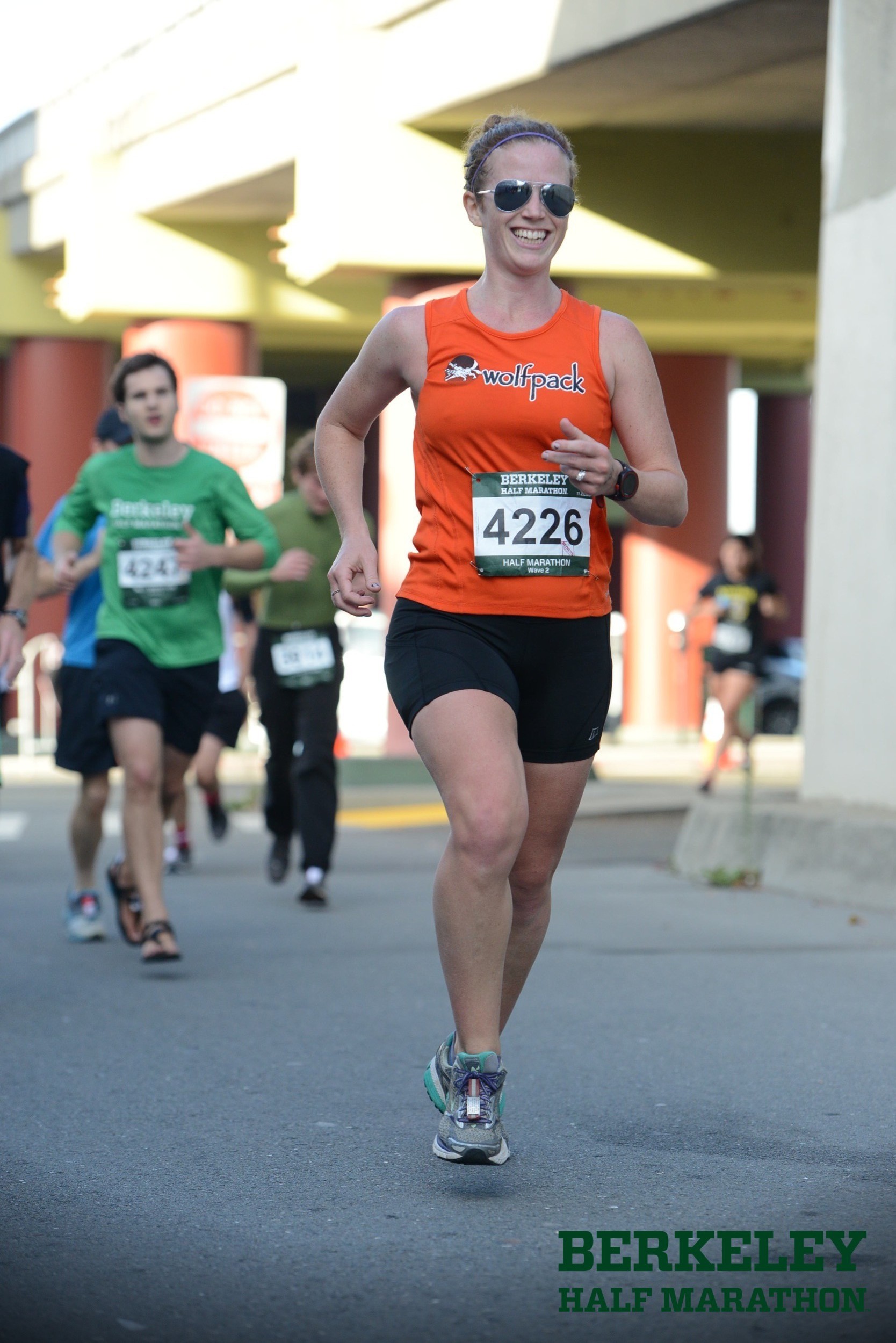 In the starting corral, I ran into my Wolfpack teammate Krystal (KB) and our team coach, Lisa, the latter who'd be riding her bike throughout the course. I also saw a lot of my pacing buddies, including Albert, who was pacing the 1:35 gang. KB and I decided that we had similar goals – GMP the first 5 miles through the really big hills and then see what's left for the final 8 – so we figured we'd be within a few paces of each other for most of the race. Before we knew it, the gun sounded, and we were off.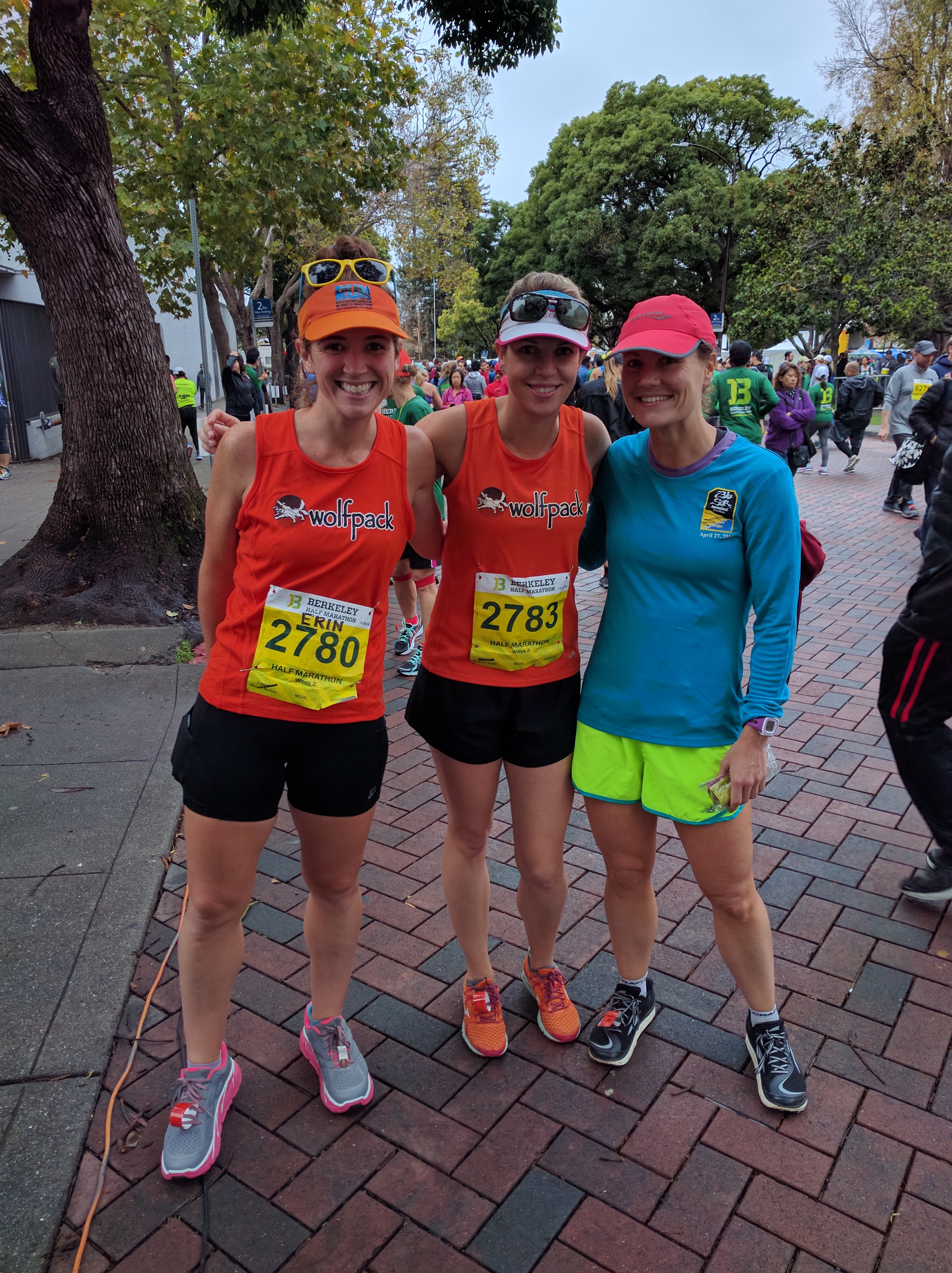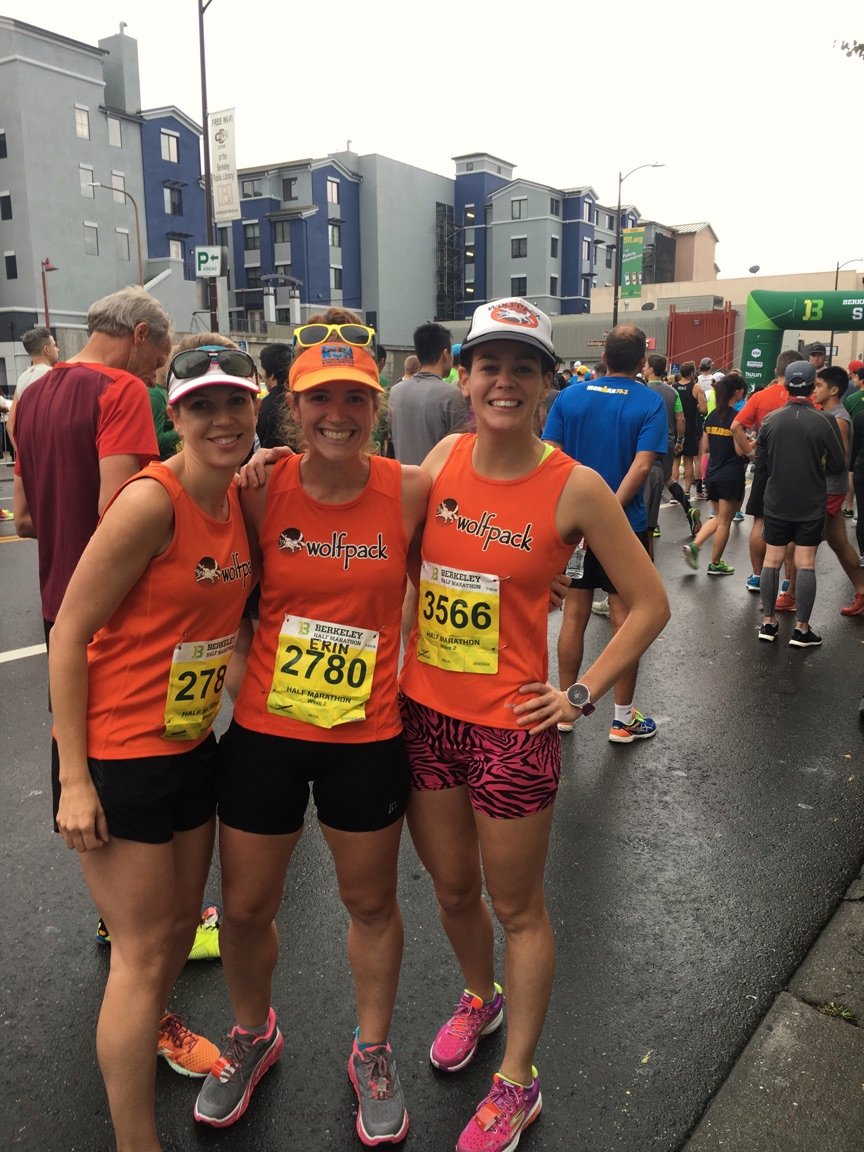 A note about the course: Berkeley isn't flat. As far as road half marathons go, it's one of the harder ones that I can recall racing. The total elevation gain for Berkeley is about 500′, give or take, which is enough to feel it for a road half. The biggest hills – the steepest and longest ones – are within the first five miles, but it's also in these first five miles that you run through some of the more iconic streets and 'hoods in Berkeley. This year's race eliminated running through the Cal campus, so we instead ran on a street parallel to it but still in the same general area, as far as I know. If you're racing BHM, it can be difficult to adjust your pace expectations for these first 5 miles because it's near-constant up-down-up-down: making it a very fun course, absolutely, but also a little shellshock-worthy right outta the gates. One of my favorite parts of Sunday's course was seeing a little girl standing on the curb with her family, on one of the streets with a pretty long and steep hill, with a sign that said something like "small distraction for this big hill!" It made me smile, so her job was done. The placement just couldn't have been more perfect.
KB and I were running back and forth with each other for the first 5 miles, with Coach Lisa leapfrogging us along the sidelines, yelling words of encouragement, which was a lot of fun. When we crossed through the first 10k marker, a woman on the sidelines remarked that KB was the 25th woman and me the 26th, which (assuming she was right), was a nice uplift because I think there were about 4k runners in the half. I think it was sometime after the 10k marker that I pulled away, feeling both a bit worried (omg I'm gonna blow up I should take it easy I shouldn't be running this pace two weeks post-marathon PR) but also incredibly excited (omg I haven't felt like this while racing a half in so long! Hold this, turn off your head, and just run!! Start chasing people down!!).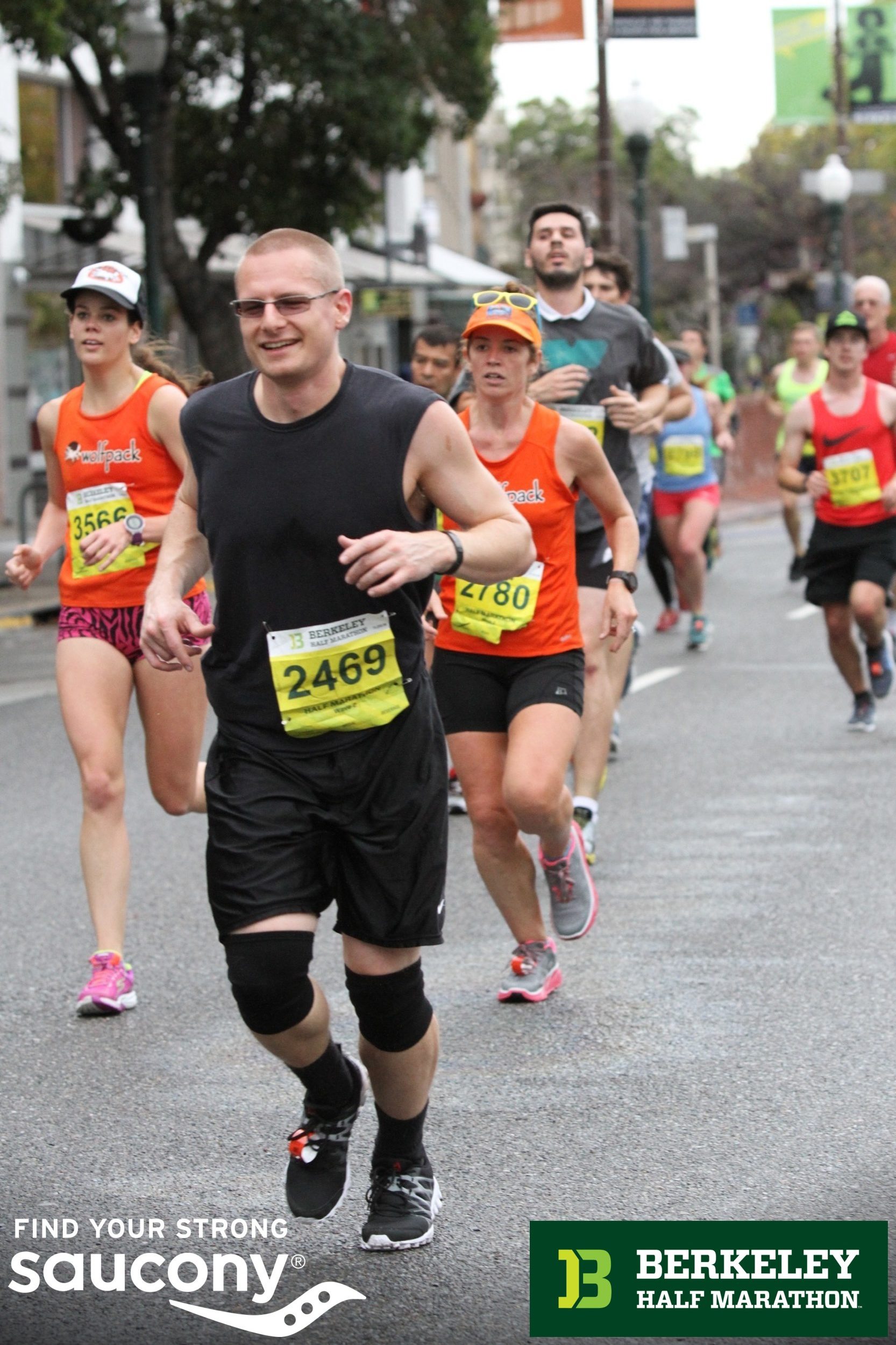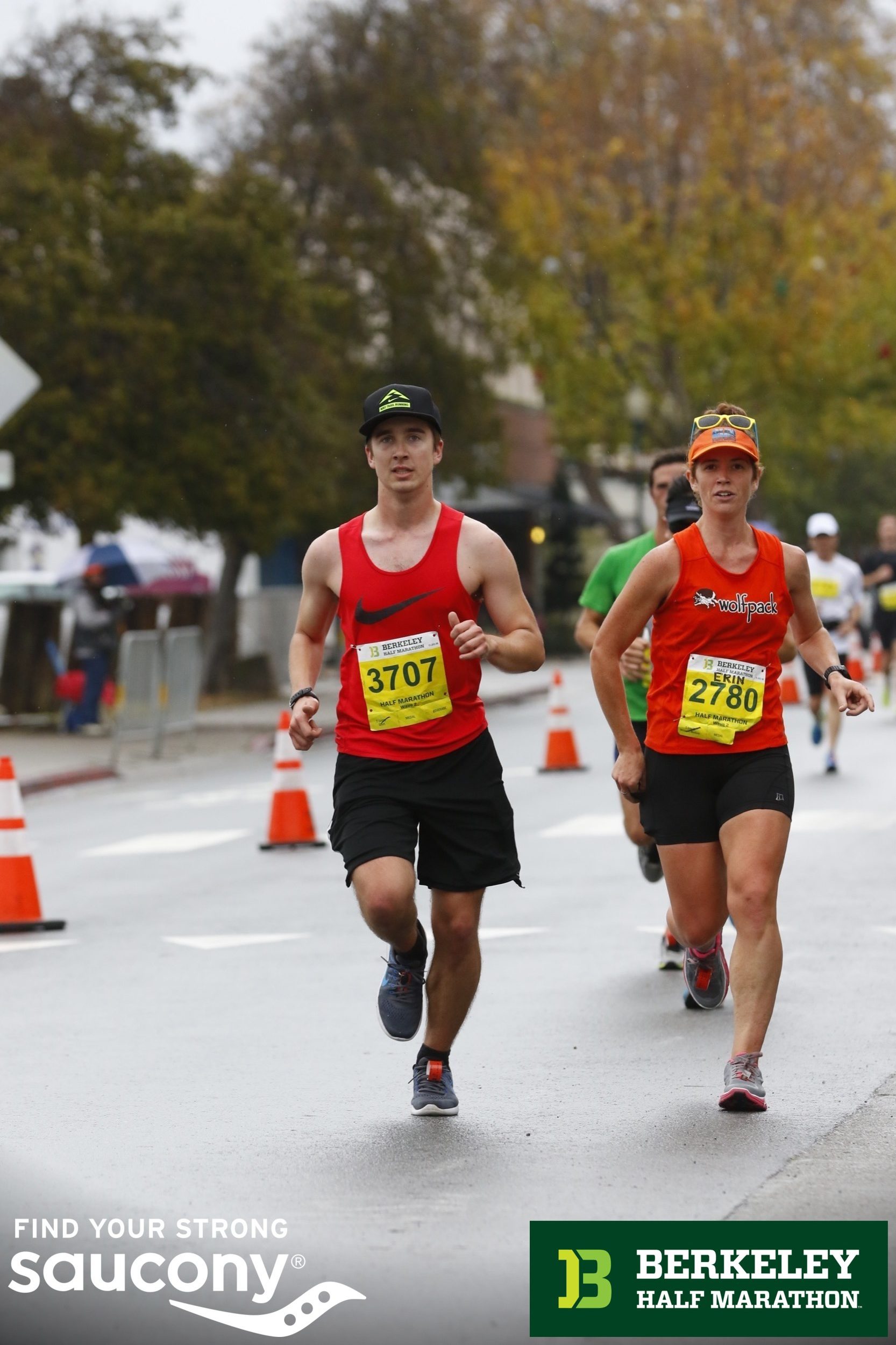 I started having a conversation with myself that weighed the merits of running responsibly – slowing down, taking things a bit more conservatively and actually running GMP splits (which I hadn't done at all) – versus running fairly recklessly – just letting my legs turn over and see what happens, inviting potential catastrophe, but also working with gravity. Shortly after those first 5 hilly miles, there's a massive downhill (look at the Garmin details: it's huge), and I feebly started doing mental math around the mile 7 mark, thinking what I'd need to do to stay at sub-1:35 or even go sub-1:33, and assuming I steered clear of catastrophe or idiotic mistakes, I thought I actually – very surprisingly – had a shot. I had long ago relegated myself to having that 1:33 be my half PR forevermore, so the possibility that it could fall was entirely surprising — especially given the Berkeley course, coming off a marathon two weeks prior, and everything else. I willed myself to again get outside my head, to *for once* not make running and racing a cerebral event, and just fucking run and move my legs. Easier said than done for me, guys. Oh, and it started raining around the 10k/7 mile marker because why not (and for funsies, this is probably the first race I've run in precipitation in nearly three years). There wasn't any pain or really even discomfort: more than anything, it was a lot of hold this pace or step it up; turn it over; use your arms; it's ok to get yourself (slightly or totally) uncomfortable.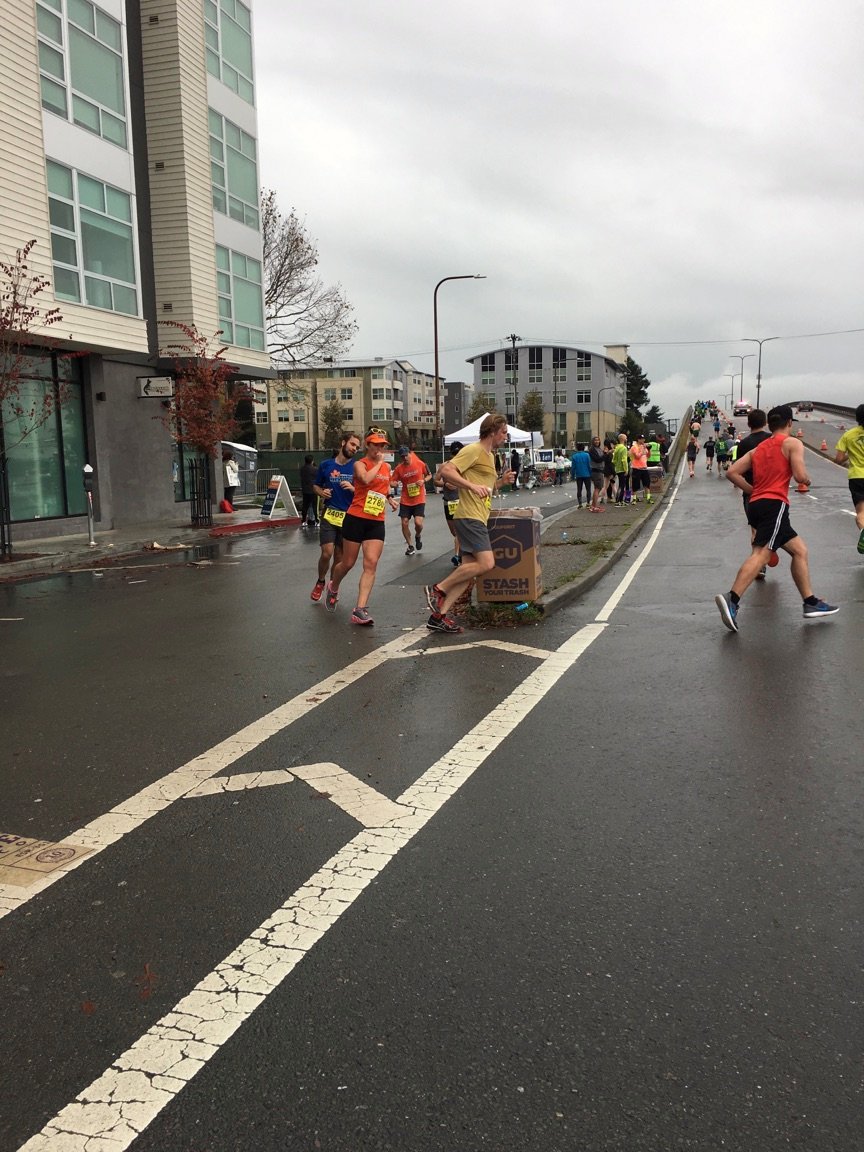 We eventually made our way out of the residential areas and went up and over a highway bridge (mile 7-8ish) that connected us to an out-and-back on the baytrail, on a frontage road. I started counting the other runners on the back portion, figuring that I had moved up to some place in the low 20s/high teens for the women, which was encouraging. I distinctly remembering going over the bridge and thinking to myself this isn't where hope is going to die — positive self-chat for the win — and when I eventually started having a nasty side cramp or stitch or gremlin thing that had seemingly lodged itself under my right ribcage and was only able to be exorcised by me basically stabbing myself with three fingers, I made an effort to pay attention to all the other runners on their "out" portions and cheer for them accordingly. In doing so, I got to see Meredith, Meg, and another teammate, as well as lots of pacing buddies, all looking great and just absolutely soaking wet from the ongoing rain. Seeing familiar faces was a great boost and a perfectly-timed distraction, and before I knew it, we were going back over the bridge and returning to the more residential/downtown-y areas for the final 5k.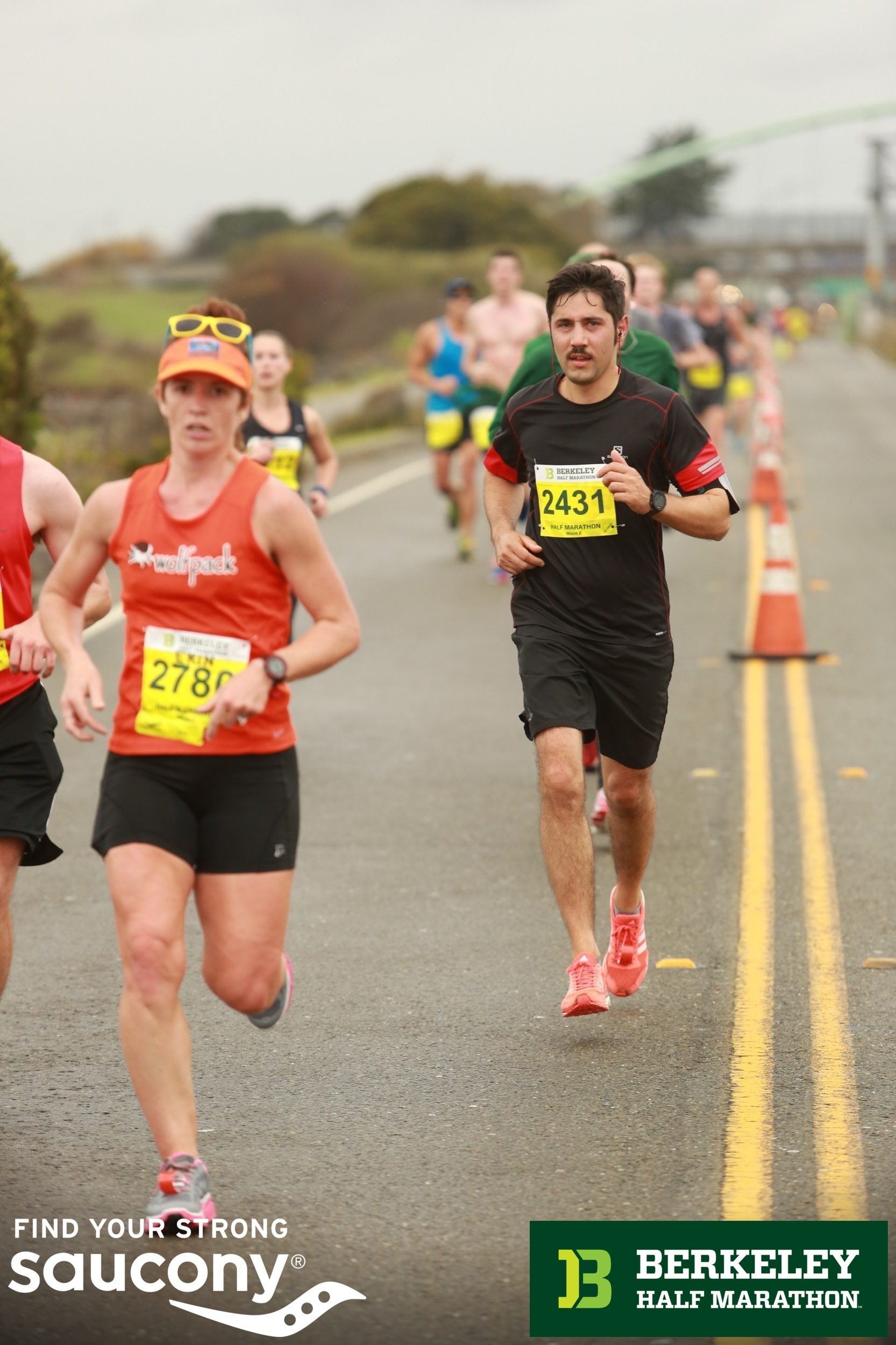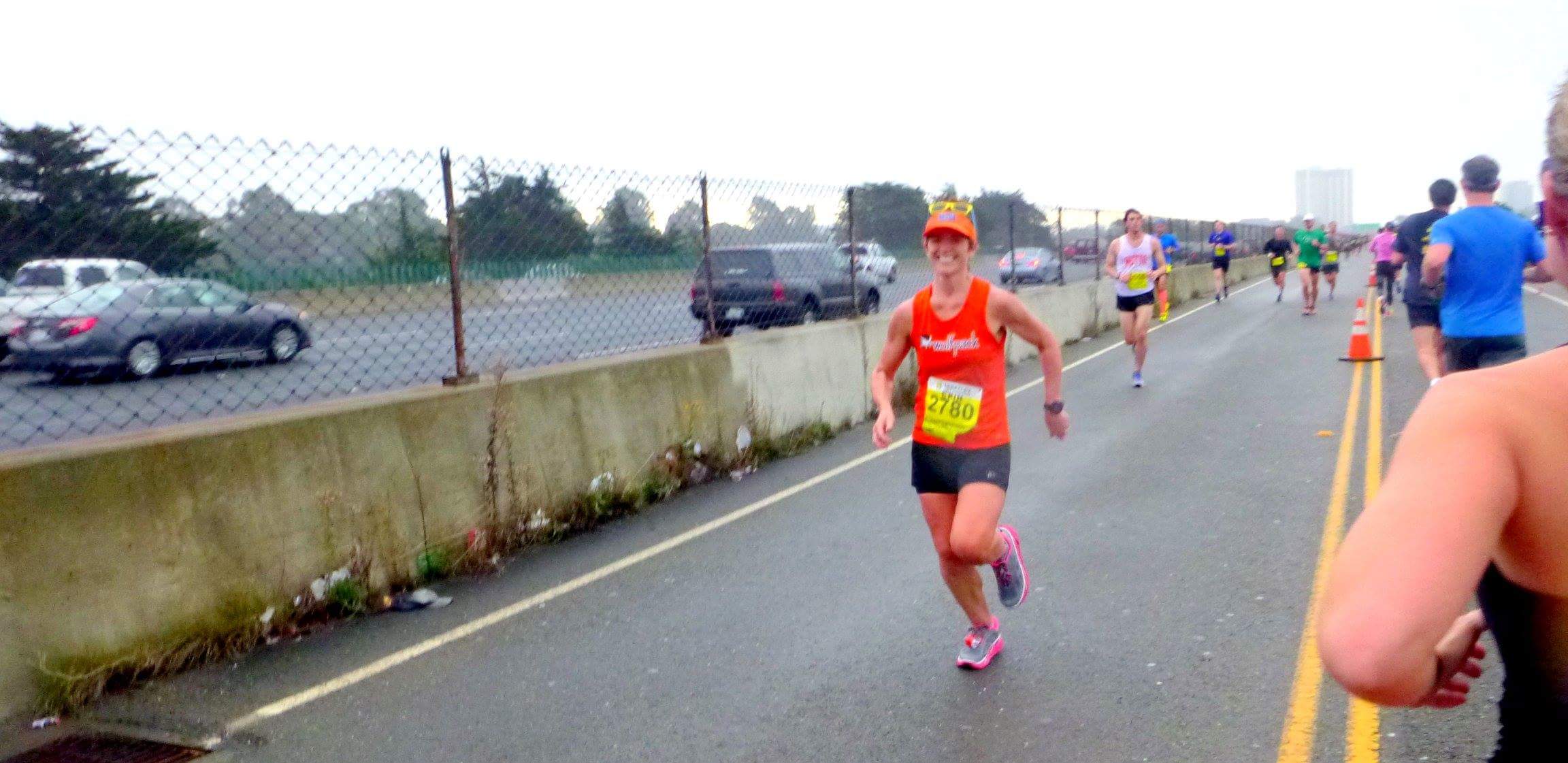 Most of the course's hills are within the first 5 miles, but I vividly remembered the very long and slow climb back over the final 5k from last year, so I mentally was preparing myself for it as we were making our way there. It's nothing drastic, and on paper, it looks inconsequential, but man, when you are racing, it feels like you're stuck driving in first and are just grinding that shit out. It's just long, and slow, and gradual, but enough of an incline that you can literally see the road rising before you in the distance and your tiring muscles can register the uptick in elevation. I rarely looked at my watch, save for when it beeped at the mile markers, but I managed to catch a few glimpses and see that today very well could be the day to demolish the 1:33 once and for all, as long as I held my mental shit together. I periodically asked myself, a la Matt Fitzgerald, "how badly do I want this today?" and my one-word answer, on repeat: "enough."
My effort at making this race an actual thing just about running and not some cerebral affair was totally gone at this point — there was so much cheesy self-talk that I'm surprised it wasn't spewing out of my ears — but sure enough, after feeling like I was sputtering around in first gear for fucking ever, passing some more folks, and continuing to get drenched, we made the final couple turns, and boom — we were done. 1:31:01. Nearly a two-minute PR (1:33:00 from Chicago's F3 in '13) and beautiful negative splits, no doubt thanks to those first five miles, and about a nine minute improvement from my '15 time.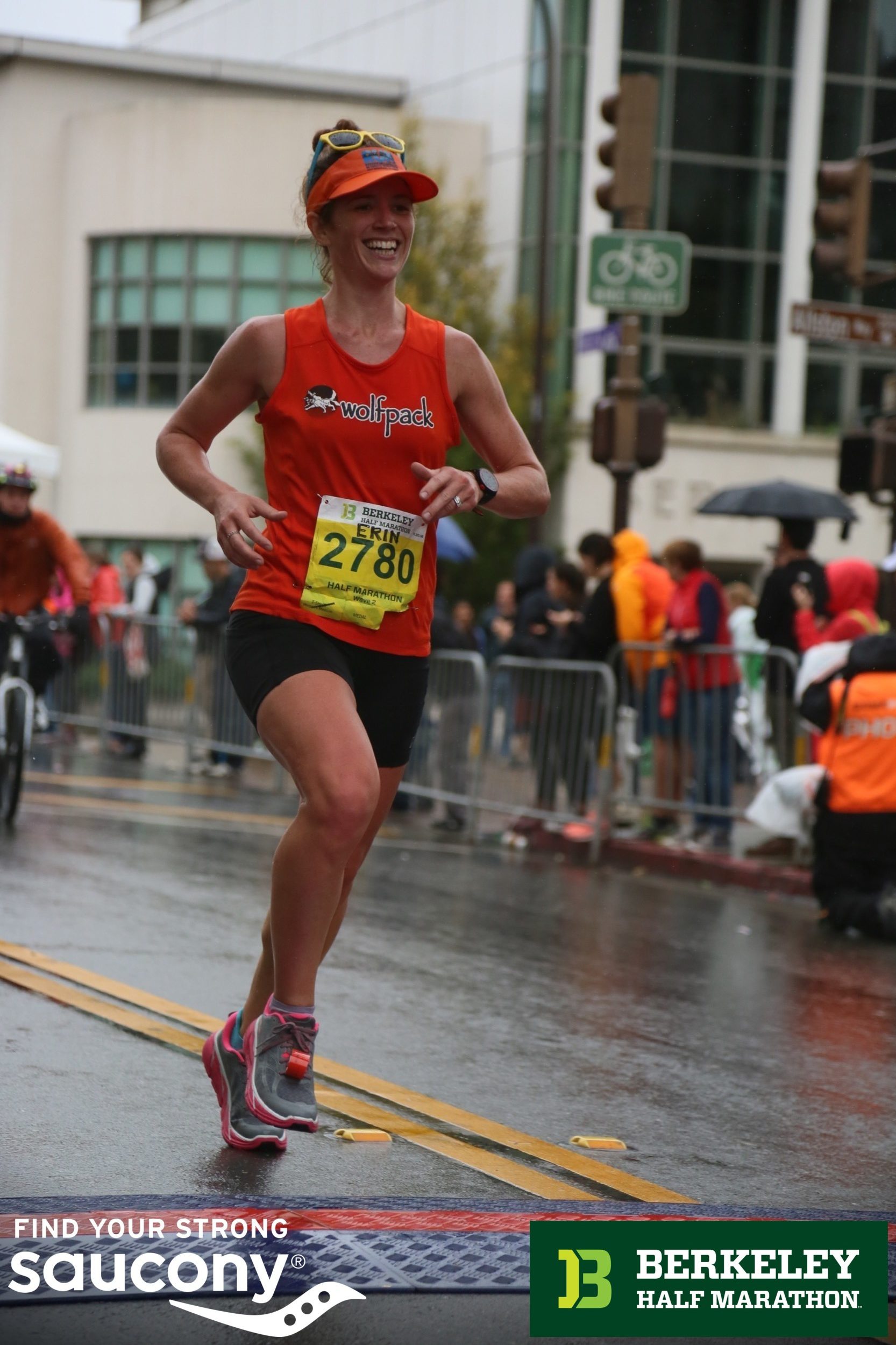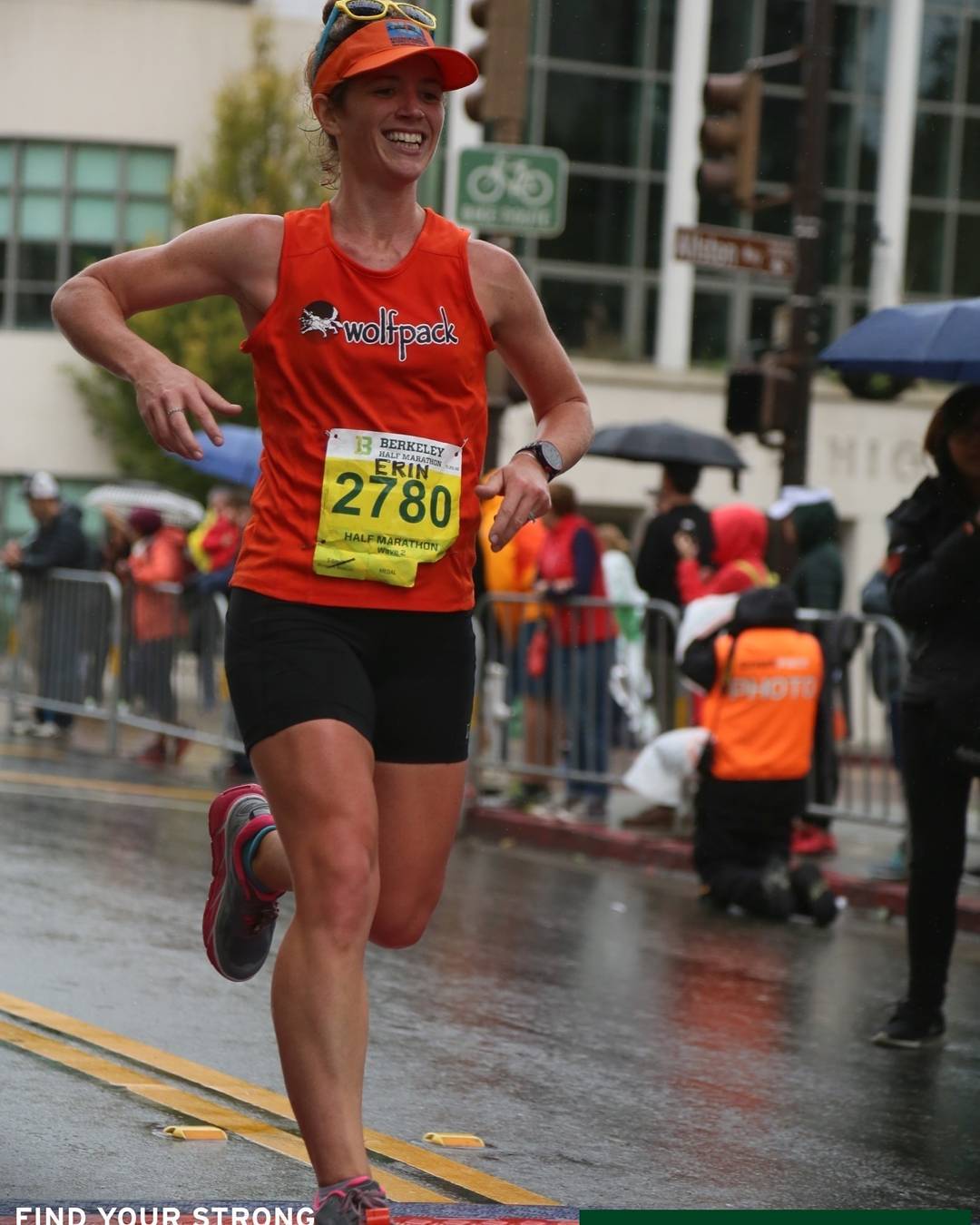 It wasn't until after I had finished that I looked at my watch and saw that my GPS had measured the course short — I think 12.97 — which was a little gutting (shit! Does this PR not count?!) but also not. I got to hang in the finisher's chute and watch Albert's and Linh's pacing groups, KB, Meredith, and Meg all finish, which was awesome, and eventually, I did the math and figured that even if the course was in fact short, it'd still be a PR performance. Whatever. I don't think the course was certified, but that distance difference is so negligible that it's also very likely we went through a dead patch somewhere (or not. It could very well be short. It's hard to tell. It's important to remember though that GPS watches are fallible). Regardless, I had a fun morning run through the streets of Berkeley, got to see some friends (and didn't see others! Try as I might, I couldn't find Angela or Jen for the life of me during the race — sorry, gals), and I'll never complain about the opportunity and fun of running 18 miles (between the warm-up, cool-down, and race) in rain and with very blue lips (thanks, thyroid disease, for messing with my circulation).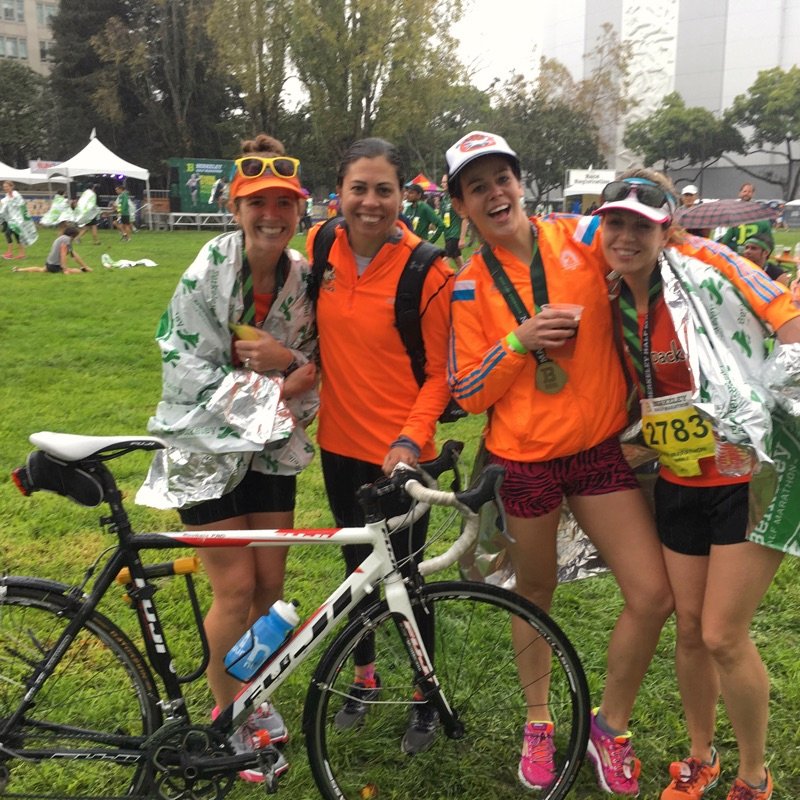 Racing Berkeley with no expectations or hard-and-fast goals was a really nice way to close out my 2016 racing calendar. I'm tempted to throw in another shorter distance sometime in December, but we'll see. I can't lie: it's really gratifying to look at where I was for Berkeley '15 and compare to where I am now, a year later, and see how the work I've put in in this first year postpartum has been shaping up. I talk about this so much that I'm sure it makes for shitty blog reading, but honestly, I am so happy to be capable to do this stuff in the first place, and to have the opportunity afforded to me to be able to do it, that the times I post on the clock really matter the least at the end of the day. I'm happy to post PRs when I can because I know how elusive they can be, yet just like I said after Two Cities, the PR matters, but it really doesn't. What I find more gratifying, or more challenging, is putting in the work day after day, week after week, month after month.
It doesn't matter to me if you're a sub-3 marathoner or a 5+ hour marathoner; that you show up, do the work, and arrive on race day with your best foot forward, ready to rumble, is what I find so inspiring. Being able to run at all is both a gift and a privilege, and it's one that isn't lost on me. Perhaps it's fitting, then, that Berkeley has fallen on the Sunday before Thanksgiving because it's a timely reminder of how thankful I am.
Hope you all had a wonderful Thanksgiving. xo